With a Stroke of Red Marker, Zinke Leaves Interior to His Deputy
The new acting Interior Secretary, David Bernhardt, has been described as a "walking conflict of interest."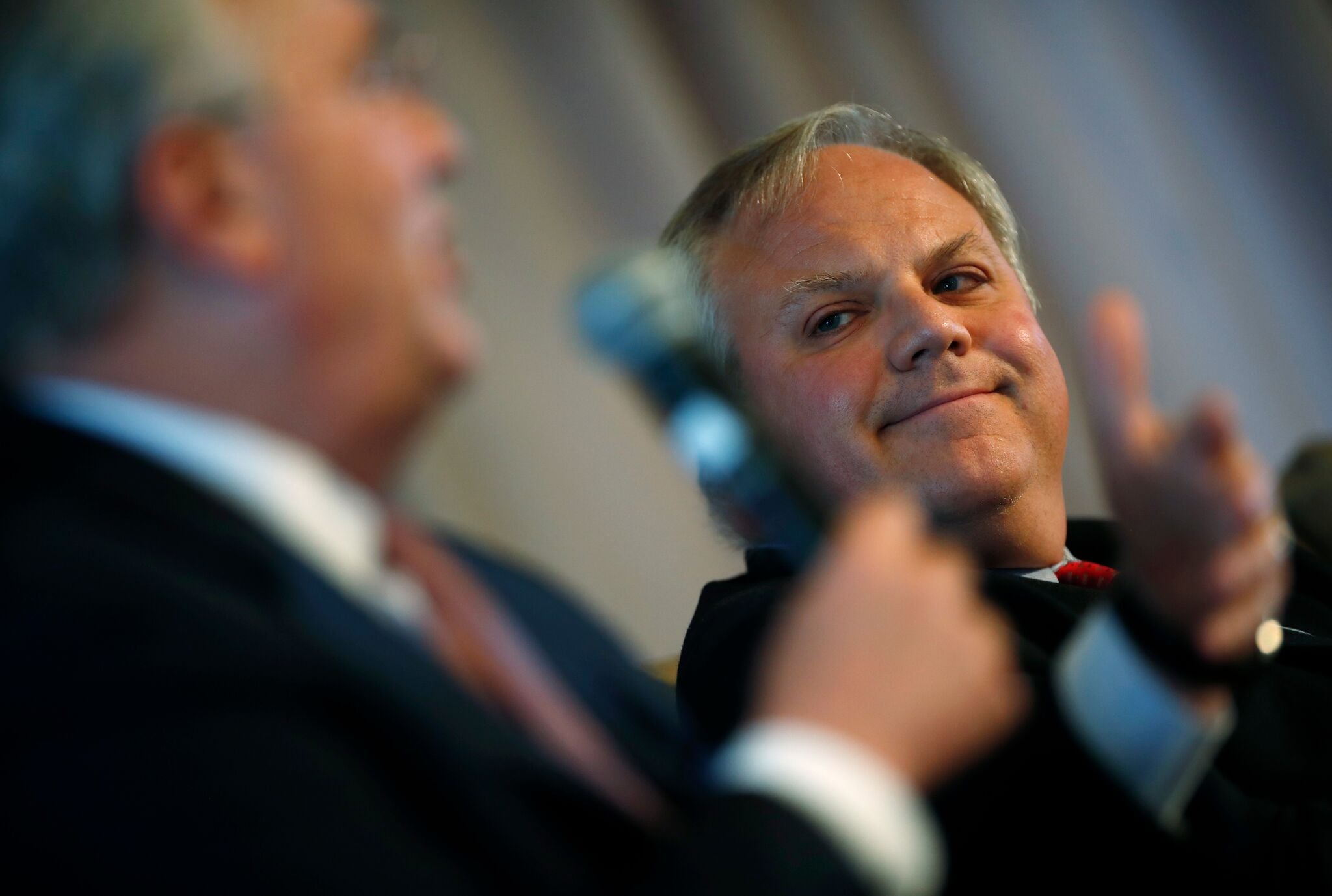 Update, Feb. 4: President Trump announces his nomination of Deputy Secretary of the Interior David Bernhardt to lead the Department of Interior. "The Trump administration's dirty industry favor factory is working harder than ever with the nomination of David Bernhardt," said Martin Hayden, Earthjustice's VP of Policy & Legislation. "The Senate should reject this industry-sponsored hack and send him out through the revolving door of Washington for the last time."
As 2019 begins, it's out with the old and in with the same old, same old. Scandal-ridden Secretary of the Interior Ryan Zinke released a brief farewell letter today in red marker. With Zinke's successor not yet named, David Bernhardt becomes acting secretary. The move swaps out one political insider closely aligned with deep-pocketed special interests for another.
Bernhardt, who became Deputy Secretary of the Interior in August 2017, is "a walking conflict of interest" who served as the Interior Department's top lawyer under George W. Bush — and went on to a lucrative career as a legal adviser for timber companies, mining companies, and oil and gas interests. Since returning to the Interior Department under Trump, he has quietly implemented policy decisions that benefit his former corporate polluter clients.
"As Deputy Secretary and now as acting Secretary, David Bernhardt never intended to adhere to basic standards of ethics and accountability. Instead, he is hell bent on continuing Zinke's work of dismantling bedrock environmental protections and selling off our public lands to the highest bidder," said Martin Hayden, Earthjustice VP of Policy and Legislation. "This is business as usual for the Trump administration and Earthjustice will continue to fight them every step of the way."
The Interior Department is currently facing litigation from Friends of the Earth, Western Values Project, and others for failing to release ethics documents under the Freedom of Information Act that could help explain why Bernhardt's former lobbying clients have received regulatory and policy decisions in their favor.
"It is noteworthy that many of the Deputy Secretary's former clients began receiving sudden and dramatic windfalls only months after his swearing in," the complaint reads. "By failing to respond to FOIA requests concerning Deputy Secretary Bernhardt, DOI has violated the law."
One month after Bernhardt took over as the No. 2 at Interior, the Bureau of the Land Management announced a change that made it easier for Cadiz Inc., to go forward with a controversial water project. Cadiz, a former client of Bernhardt's at the lobbying firm Brownstein Hyatt Farber Schreck LLP, has been trying for decades to push a dubious scheme to sell possibly contaminated water from beneath the Mojave Desert in southern California. The plan would not only imperil the desert's fragile ecosystem, but also would endanger people who drink the water, which is contaminated with hexavalent chromium, a cancer-causing chemical.
Now, thanks to the BLM's reversal of an Obama administration decision, Cadiz has cleared one legal hurdle that would allow them to build a pipeline to carry the water through the Mojave Trails National Monument to the Los Angeles area.
Bernhardt's old lobbying firm has already earned 200,000 shares of Cadiz stock for their involvement with the company, and stands to earn 200,000 more if the project is completed.
Bernhardt was also a lobbyist for the Westlands Water District, a politically influential irrigation agency that has long battled the federal government on behalf of big agribusinesses in California's arid western Central Valley. Westlands has paid Bernhardt's firm $1.27 million in lobbying fees since 2011. Its demands for increased water flows to farms jeopardize endangered species in the ecologically compromised San Francisco Bay-Delta Estuary, particularly in times of drought.
In October, President Trump signed a memorandum to review water regulations and speed up review of the rules about how water is pumped through the Sacramento-San Joaquin Delta, in order to facilitate more water allotments for Westlands' large commercial farmers.
"What's happened there is disgraceful," Trump said of California's water situation, according to the Sacramento Bee. "They've taken it away. There's so much water, they don't know what to do with it, they send it out to sea …. They don't let the water come down into the Valley and into the areas where they need the water."
Westlands also is responsible for an environmental disaster in the early 1980s, when a half-finished irrigation canal built by the federal government carried tainted Westlands water directly into a wildlife refuge. Migratory birds were killed or hatched with birth defects caused by naturally occurring selenium and heavy metals in the water. A long-running legal battle over the disaster finally culminated in a proposed settlement between the Interior Department and Westlands in 2015, which put the onus on Westlands to deal with the aftermath of the pollution while forgiving its roughly $375 million debt to the government. Bernhardt represented Westlands in the negotiation of the settlement, which is yet to be finalized. A bill introduced in the House of Representatives last year would require the Interior Department to implement the proposed settlement.
Another former client, the Independent Petroleum Association of America, benefited when Bernhardt oversaw proposed revisions to agreements for the management of sage grouse habitat across 10 Western states. The revisions eliminate protections for the imperiled bird in favor of petroleum development. And while the sage grouse is not listed as endangered, it has been protected by the Endangered Species Act, a law that Bernhardt has been dead set against since his time as the Interior Department's Solicitor General in the early 2000s. Bernhardt has continued his campaign against the Endangered Species Act since returning to the Interior Department, with proposals to allow regulators to consider the economic impacts in decisions about listing particular species, rather than just looking at available science. In a Washington Post op-ed authored by Bernhardt, he calls for "creative, incentive-based conservation" to bring "our government's implementation of the Endangered Species Act into the 21st century."
In a similar vein, Bernhardt has continued efforts to open the Arctic National Wildlife Refuge in Alaska to drilling. During his career as a lobbyist, Bernhardt represented the state of Alaska in controversial litigation that aimed to open the Arctic Refuge to development. Since assuming his position as Deputy Secretary, Bernhardt has described environmental review of drilling in America's largest wildlife refuge as "just nuts" and has led efforts to rush legally-required analysis of drilling in this pristine area. To this end, Bernhardt introduced a policy aimed at curtailing the National Environmental Policy Act — which dictates that all NEPA work must be completed within one year and be limited to 150 pages.
With his pro-polluter, anti-environment track record, Bernhardt is the wrong person to lead the federal department charged with natural resource conservation. We will work with our allies to continue to hold the Trump administration accountable in the courts.
Emilie has spent the past two decades as a journalist, speechwriter and communications strategist in Washington, D.C. At Earthjustice, she shares the stories of the people and issues at the heart of our clean energy litigation and policy work.
Established in 1989, Earthjustice's Policy & Legislation team works with champions in Congress to craft legislation that supports and extends our legal gains.