Young Activist Raises Funds to Fight Climate Change
Anna Brezhneva didn't ask for gifts for her birthday this year; instead, she raised almost $4,000 for Earthjustice using online crowd funding.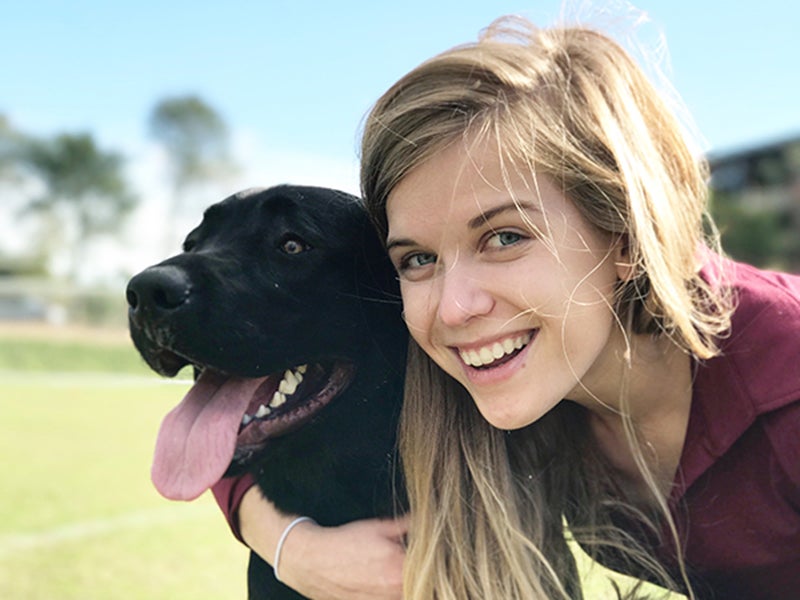 For her 23rd birthday, Anna Brezhneva didn't ask for gifts. Instead, she raised almost $4,000 from 69 donors to give to Earthjustice through GoFundMe—an online crowd-funding website.
Her goal was to "make a larger difference" in the ongoing fight against climate change, especially after the election of Donald Trump for president. On Giving Tuesday, November 29, GoFundMe selected Anna's campaign as one of the winners of its Go Beyond Giving competition, offering an additional $1,000 to her cause.
I sat down with Brezhneva to ask what made her want to give back in 2016:
Caeleigh MacNeil: This was a pretty dramatic election cycle, as you mention on your GoFundMe page. What about this year's election inspired you to raise money for charity?
Anna Brezhneva: I think a lot of companies and people were confident that if the Hillary [Clinton] administration were elected they would be able to pass policies to regulate fossil fuels and enforce the Clean Water and Clean Air Acts. But the election of Donald Trump put all of that into question. Given his loose stance on a lot of policies and his background of going back and forth on certain issues, it was just nerve-wracking to try to predict what was going to happen. I personally felt very emotionally affected by the election results.
I thought, 'Maybe I can use this as an opportunity,' and I had maybe three weeks until my birthday, so I combined the two ideas into one to create this GoFundMe campaign. And in case people wanted to give me a present and didn't particularly care about climate change, I could steer them into donating to a cause they wouldn't necessarily donate to otherwise.
CM: It's awesome to see our generation getting involved in important issues like fighting climate change. What drew you to this particular cause?
AB: This year is when I started reading more and learning more about the food industry, so initially I came at it from a food perspective. And my boyfriend works for an electric car company now, so I also see him trying to make a difference on climate change, but through engineering. I also think this cause is one that affects people without borders, and has a huge affect on every single country.
CM: Why did you choose Earthjustice to receive the money you raised?
AB: I feel like we really have to fight this thing on a policy level because it's hard to change people's attitudes. For example, I can tell someone that eating a hamburger is equivalent to six months of showering, but they're not going to stop eating hamburgers, right? Or they might, but that's very rare.
Especially when you're fighting fossil fuel companies and restricting the use of certain precious resources, you really have to do a lot of these things on a policy level because it's hard to get organizations to be naturally incentivized just for the good of it. That's mainly what drew me to Earthjustice; I felt like [my donation] would have a lot of direct impact.
CM: How did you promote your campaign?
AB: I promoted it on Facebook and Instagram, and I would post updates every week to try to keep people engaged. I also used #GoBeyondGiving to enter GoFundMe's contest for Giving Tuesday.
I felt a little hesitant about advertising [my campaign] at work because A) I didn't want people to find out how old I was becoming (laughs) and B) I felt sort of vulnerable asking for donations in a work setting. So one of my co-workers went ahead and started advertising on my behalf.
CM: What went through your mind when GoFundMe decided to give additional money to your campaign?
AB: My jaw literally dropped. I didn't think it would ever happen because I'm not the type of person who generally wins any of those contests. And honestly, there are so many people on GoFundMe raising money for others. I felt like this one was really far out for GoFundMe to notice, but they did, and it was awesome!
CM: What are your plans for the future?
AB: Right now I'm really enjoying working in the biomedical space. I work in the [medical] diagnostic industry, so I'm seeing my work pay off and seeing patients who are able to get a diagnosis using the products we are building, which is definitely one of my personal and career goals. I also hope that I can continue to be a growing philanthropist.
CM: Who is your greatest inspiration?
AB: I really, really admire Michelle Obama. She's a wonderful first lady and I admire everything she's done throughout the Obama administration. She hasn't been a typical first lady; I think she rocks it in terms of having the brains and being able to give these amazing and inspirational speeches, while also having fantastic fashion sense and a garden that she created at the White House. Right now she's my greatest female inspiration and inspiration in general.
I just hope other people are inspired by this campaign, and take the time to reflect on what issues they care about and what they can do. It doesn't have to be fiscal, by any means. If people really care about an issue, I hope they at least take the opportunity to speak up, and if they can, donate to the awesome nonprofits like Earthjustice that are doing great work. 
From 2015–2017, Caeleigh MacNeil was part of the Editorial team at Headquarters in San Francisco. She is a graduate of Duke University, where she studied English, journalism and environmental science.