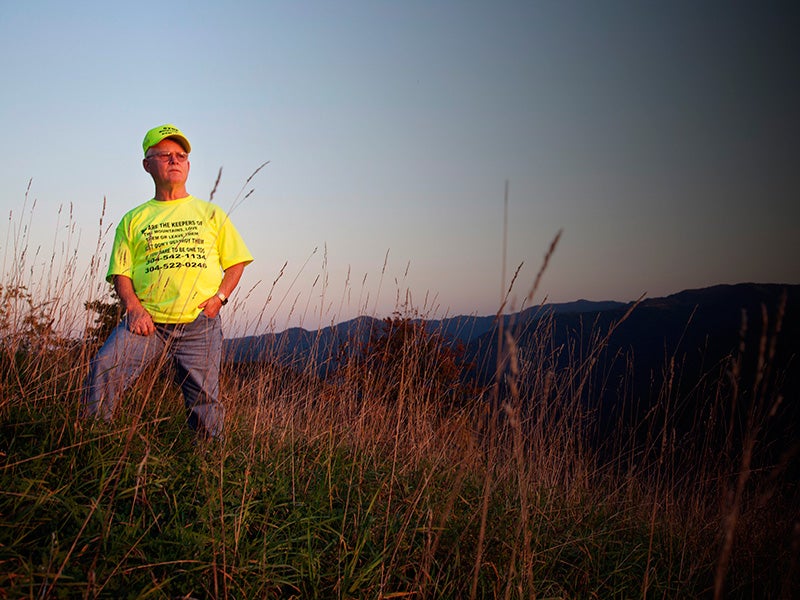 Chris Jordan-Bloch / Earthjustice
Imagine for a moment that you live in a beautiful forest. Your home is on the side of a big mountain. All around it are tall trees and elegant flowers. After a long day of work you come home. You are tired. Dinner smells delicious. You smile at your family. Everyone sits down at the dinner table. You are happy.
Suddenly there is a loud noise.
"What was that," you wonder.
The noise rings out again. The walls begin to shake—a little at first, then a big shake. You grab your family and hold them close. The shaking continues. The cabinets open. The dishes start falling from their shelves. The sound of exploding glass and ceramics is deafening. You are terrified.
Then everything goes still and quiet.
You walk outside. Everything looks normal. "What was that," you wonder again. You decide to walk up to the closest ridge and when you get there you see smoke and explosions happening on the mountain next to yours. The mountain is being blown up. You wonder if the world is ending.
This may sound like a fairy tale, but it is the story of mountaintop removal coal mining coming to Kayford Mountain in West Virginia
The man sitting at the dinner table was Larry Gibson. And when mountaintop removal arrived, Larry responded by becoming one of the most important environmental activists in America.
He refused to sell his land to the coal company that was blowing up all the other land around him. He attended local political meetings. He gave lectures. He taught others about what was happening to the mountains. He opened his land to all who wanted to come and see, first hand, the destruction caused by mountaintop removal.
Last weekend, he was out on his land when a heart attack took his life. His death is an incalculable loss to the fight against mountaintop removal. We lost a true hero, and we have a responsibility to carry on his passion.
I met Larry on Kayford Mountain. As he took my friend Liz and I on a tour of the land, he took us on a conversational tour as well. We talked about environmentalism, history, energy politics, heroism and more. My emotions ranged from deep happiness to true anger. We stood in golden sunlight under a glowing green tree canopy and laughed long at Larry's jokes about marriage and life in the woods. We looked at coal in the side of a hill, and I fumed when Larry told me about his dishes falling off shelves due to close explosions.
Eventually we walked up a small ridge and there before us was a giant mountaintop removal site. The place where we were standing had previously been halfway up a hill; now it was the edge of a 1,000-foot-deep, miles-long crater. My heart sank. The size of the problem is hard to put into perspective, but I'd say the crater was the size of a mid-sized town. It had been a mountain—a massive mountain 5-miles-wide and 10-miles-long. Now it was a giant hole. This was ecosystem destruction, community destruction, tree destruction, people destruction, mountain destruction. It was massive destruction, and it was wrong. We stood next to that earthen crater and talked. I participated in the conversation but in my mind I just kept repeating the same phrase over and over. "This has to stop," my mind said. "This has to stop. This has to stop. This has to stop."
We stayed there as the day ended. The sun dipped below the horizon and Larry started to cry as he looked at the destruction.
"I just can't get used to it," he said. "The truth is, my heroes are the people who don't get used to it. The one that gets used to it is the one that won't do anything about it. I pray to God I got a lot of heroes."
We all dried our eyes and walked back to the house, but there is a part of me that has stayed out on that mountain. That part of me sees Larry smiling at the woods and fuming at the destruction. That part of me sees Larry telling thousands of people about the destruction happening to America. That part of me sees Larry gathering heroes in his fight to end mountaintop removal. This need for action and heroes is only stronger now that Larry is gone. The injustice of mountaintop removal has not ended with Larry's death, and so his fight against it must not end as well.
We have a responsibility to honor him, we must become the heroes that he prayed for. Tell everyone you know about mountaintop removal and add your voice and photo to the movement for mountain justice. Be a hero. Larry deserves it.