A Rejuvenating Display of Ocean Abundance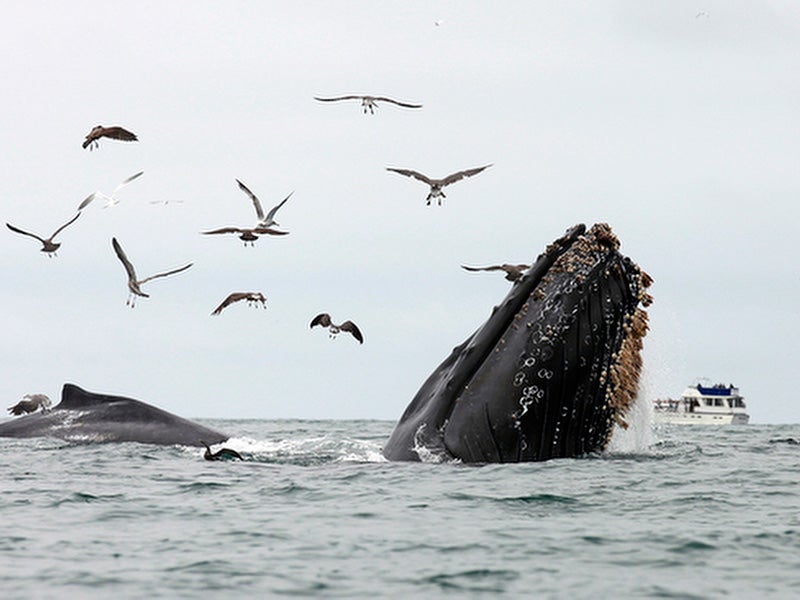 In the fight to protect the health of our planet and of our communities, we all need sweet moments of inspiration to refuel and rejuvenate us. I've just had one in Monterey Bay, California.
A gargantuan schooling of anchovies in the bay has attracted a spectacle of feasting humpback whales, dolphins, sea lions and birds. Visible from shore, and better seen by boat, the whales are leaping out of the water as they rocket through the anchovies with open mouths, breaching, tail-slapping, fin-waving. Hundreds of dolphins have joined them, as have literally tens of thousands of terns and shearwaters, circling like a cyclone around the school.
This miraculous display doesn't mean all is well with our oceans, of course. Just south of Monterey in the Channel Islands, the absence of anchovies and sardines is linked to critically low breeding success for the brown pelican, which only came off the Endangered Species list in 2009. No one has a definitive answer for their plight, including the U.S. Fish and Wildlife Service, which has failed to monitor the pelican's progress, as required by law.
Across the Pacific off Okinawa, Japan, the endangered dugong—a relative of Florida's manatee—has so dwindled in numbers that Earthjustice just sued in federal court to prevent a U.S. military base from paving over some of the last remaining habitat for this ancient cultural icon for the Okinawan people.
Going to court to protect species like whales, birds, the dugong, and crucial prey like sardines is a central part of what Earthjustice does in its mission to preserve the wild. Too often, however we find that we even have to  fight hard to protect the very laws we need for defending species.
One of those laws is the Magnuson-Stevens Act, currently under reauthorization in Congress. This law regulates commercial and recreational ocean fisheries 3–200 miles offshore. An early draft by Doc Hastings (R-Wash.) has earned the nickname "The Empty Oceans Act" because it proposes more "flexibility" and less oversight of industrial fishing. We believe this law, when fully enforced, is working well and does not require a major overhaul. Our Oceans Campaign is monitoring attempts to weaken the MSA. 
Our single most important law for protecting wildlife—the Endangered Species Act—is also threatened, by a package of bills proposed in Congress by oil and gas drillers. These bills would sabotage the use of best science under the act while jeopardizing its enforcement. We are putting up a vigorous defense to prevent their passage.
Faced with such challenges, it's easy to overlook the successes we have had in protecting species, unless you are in Monterey Bay, where humpback whales—once driven to the point of extinction by whaling—swarm before my eyes.
It stops the heart, brings joy to the soul, and provides a glimpse of what a healthy, restored ocean ecosystem might look like.