Tween Wolf Advocate Calls Out Secretary Jewell (Very Politely)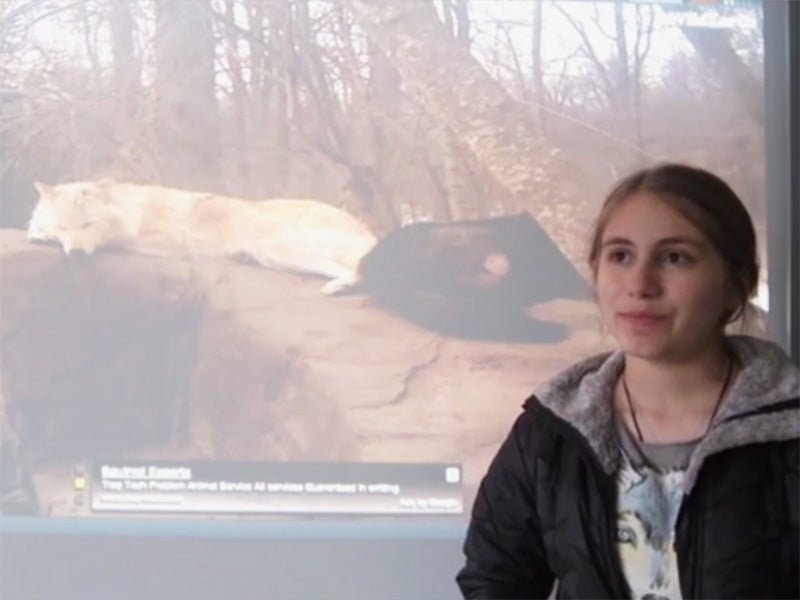 Image courtesy of Alyssa Grayson
There's something so wonderfully refreshing about the direct and earnest way kids comment on the world around them. They don't have the snark of so many online personalities, nor the posturing language of the politician always walking the line. Kids are still filled with clear-eyed wonder. Their observations tend to cut straight to the heart of the matter without assumptions and with a natural sense of justice.
Case in point, last year in Rhode Island, then-12-year-old Alyssa Grayson approached Secretary of the Interior Sally Jewell at an event and boldly handed her a letter asking her to reconsider plans to delist wolves from the Endangered Species Act. Jewell, who posed for a cheery picture with the young wolf advocate, chose to evade responsibility, telling Alyssa she only follows what the science tells her to do. The problem is Jewell and the U.S. Fish and Wildlife Service are doing the exact opposite.
A scientific peer review released in February unanimously concluded that the agency's plan to drop protections for gray wolves is not based on the best available science. The Fish & Wildlife Service commissioned the panel to examine the evidence and now seems poised to ignore these findings. Learning this, Alyssa filmed a video and called Jewell out. Unlike the mud-slinging and hand-wringing you'd see in Washington, Alyssa simply (and politely) asks the secretary to follow what the science says, just like Jewell told the young activist she would.
Watch the video from the Endangered Species Coalition:
Power to Alyssa for holding Secretary Jewell accountable for her statements. Jewell should set aside politics and listen to the voice of reason, even if it's the voice of someone still in middle school.