Como ayudar a nuestros aliados en zonas de desastres naturales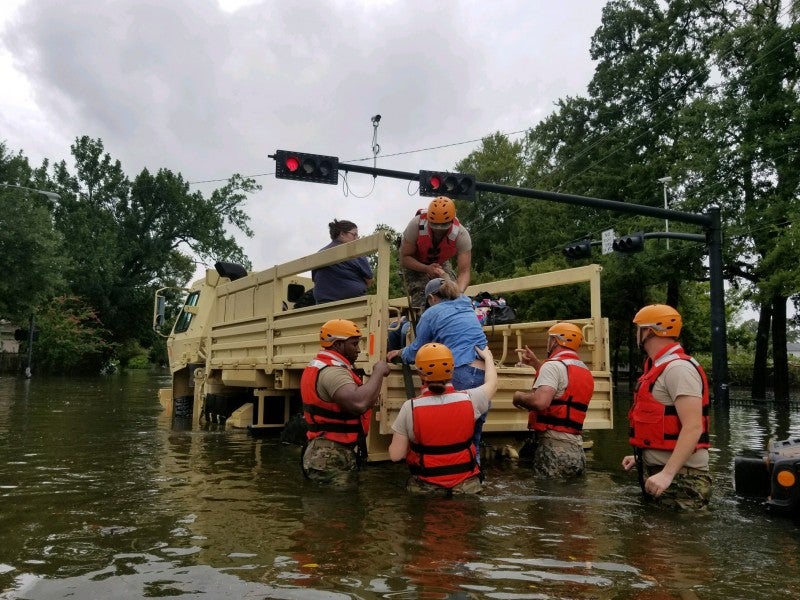 LT. ZACHARY WEST, 100TH MPAD / TEXAS MILITARY DEPARTMENT
Mi trabajo en Earthjustice me da la oportunidad de conocer a las personas que apoyan nuestra labor, y estoy continuamente inspirada por su generosidad. Una y otra vez nuestra comunidad en línea se ofrece con lo que puede para ayudarnos a luchar importantes batallas en los tribunales para así hacer del mundo un lugar mejor.
En este momento, millones de personas están sintiendo los efectos de tormentas masivas, inundaciones e incendios que nos muestran que el cambio climático es real y ya está causando destrucción en comunidades de todo el mundo. Nos hemos asociado con grupos de muchas de las regiones afectadas que, a pesar de sus pérdidas, están trabajando y apoyando a sus comunidades. Por eso les pido a ustedes, la comunidad dedicada a Earthjustice, que consideren apoyar a nuestros aliados en proporcionar alivio a las personas directamente afectadas por estos desastres.
A medida que los esfuerzos de recuperación continúan desde los huracanes, inundaciones e incendios en los Estados Unidos y el Caribe, mantendremos este blog actualizado con más oportunidades para ayudar.
Asistencia para María:
Sierra Club de Puerto Rico es una organización comunitaria que protege el corredor ecológico del noreste.
Hurricane Maria Community Relief & Recovery Fund apoya a las comunidades puertorriqueñas para la recuperación del huracán María. La organización se encuentra Center for Popular Democracy en Brooklyn, Nueva York.
Fund for the Virgin Islands fue establecido por la Fundación Comunitaria de las Islas Vírgenes en beneficio de los que están en crisis a raíz del huracán Irma y el huracán María.
El Puente es una institución comunitaria de derechos humanos con una oficina en San Juan que ofrece la opción de donar directamente para apoyar los esfuerzos de alivio de huracanes en Puerto Rico.
La Federación Hispana recientemente lanzó un fondo de alivio de huracanes para las víctimas del Huracán María en Puerto Rico.
Global Giving distribuye donaciones a su red de organizaciones sin fines de lucro en todo el mundo dando prioridad a aquellos con mayor necesidad. Ellos han establecido fondos de alivio de huracanes para los huracanes María e Irma, así como un fondo de socorro para los terremotos en México.
Asistencia para Harvey e Irma:
Texas Environmental Justice Advocacy Services (TEJAS) promueve la protección ambiental a través de la educación, el desarrollo de política, la conciencia comunitaria y la acción legal.
Community In-Power y Development Association (CIDA Inc.) es una organización sin fines de lucro que lucha por el derecho fundamental a respirar aire limpio.
United Steelworkers (USW) ofrece asistencia a los trabajadores de USW que viven y trabajan en zonas afectadas por de los huracanes Harvey e Irma.
Asistencia para incendios del Noroeste del Pacífico:
Friends of the Columbia Gorge protegen los recursos escénicos, naturales, culturales, y recreacionales de la garganta del río Columbia.