Defending the Gulf of California from "Mega Resorts"
Earthjustice is petitioning an international commission to investigate Mexico's recent approval of four mega resorts that threaten the wild character of the Gulf of California—one of the most diverse marine regions on the planet.
Regional Office / Program
Known as the "World's Aquarium," the Gulf of California is considered one of the most diverse marine regions on the planet and is home to thousands of species. Beneath the surface waters and along the sandy shores are unique coral reef and mangrove swamp ecosystems, home to endangered species such as humpback and gray whales, whale sharks, manta rays, sea turtles, sea lions, jaguars, crocodiles and many species of migratory birds.
But four "mega resorts" that were recently authorized by the Mexican government threaten this global gem. In a petition submitted to the North American Commission for Environmental Cooperation, Earthjustice and the Interamerican Association for Environmental Defense (AIDA), representing local and international environmental organizations, have charged the Mexican government with failing to enforce its own environmental laws. The Commission is an international body established under the North American Free Trade Agreement to promote cooperation among Canada, Mexico and the U.S. on environmental issues of continental concern.
The petition highlights the four projects as examples of the Mexican Ministry of Environment and Natural Resources' repeated failure to enforce environmental laws when approving large-scale tourist development projects in the Gulf of California. In particular, the government ignores laws requiring effective environmental impact assessment, protection of endangered species, and conservation of coastal ecosystems. The petitioners are requesting that the Commission investigate and develop a factual record to examine Mexico's lack of enforcement of its environmental laws when authorizing these projects. Such a finding would pressure Mexico to comply with its own environmental safeguards.
Specifically, these mega projects, two of which are already under construction, threatened the following critical areas in the region:
Cabo Pulmo National Park: One of the healthiest coral reef systems in the world, a UNESCO World Heritage Site and a Ramsar Wetland of International Importance, Cabo Pulmo is threatened by massive developments like Cabo Cortés. The Cabo Cortés proposal included the equivalent of nearly 30,000 guest rooms in its hotels, condominiums and villas, two 27-hole golf courses, a 490 berth marina, and a system of canals and artificial lakes. Additionally, because the region has a desert climate without sufficient water to accommodate such amenities and the expected population growth, the proposal included a desalination plant that could have discharged hypersaline brine into the reef. While the project was ultimately rejected in June 2012, Cabo Pulmo is threatened by similar developments still being considered.
The Marismas Nacionales Wetlands: Playa Espíritu, a project already under construction that includes three golf courses, two marinas, a wastewater plant, and additional infrastructure spread across more than 35,000 acres, threatens the Marismas Nacionales, the most extensive and well-preserved mangrove forest habitat on the western coast of Mexico, and home to more than 280 species of migratory and resident bird species.
The Bay of La Paz: One of the most productive water bodies in the Gulf of California and an important area for nesting birds, the Bay of La Paz is jeopardized by two adjacent projects, Paraíso del Mar, currently under construction, and Entre Mares, proposed for construction on a sandbar extending into the bay. Combined, these two projects will develop nearly ten thousand hotel rooms, plus 4,000 homes, two golf courses and a large marina and would bring an additional population of more than 10,000 people in high season.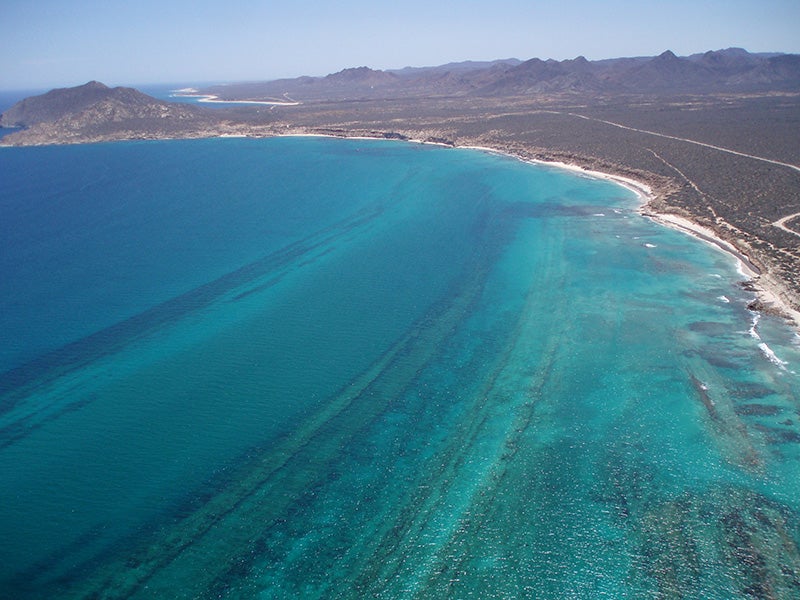 Case page created on April 11, 2013.