Defending Roadless Areas in the Tongass National Forest
The Tongass is filled with centuries-old towering trees. Clear-cutting old-growth transforms these ancient forests into carbon emitters that will fuel the climate crisis. Many Indigenous communities continue to rely on the Tongass for wild food harvesting and traditional lifeways. Tongass roadless areas are needed to maintain healthy populations of many wildlife species. It is vital for the region's tourism industry.
In a multi-year litigation effort, a diverse coalition of Alaska Native, tourism industry, and environmental organizations successfully challenged the Bush administration's 2003 rule "temporarily" exempting southeast Alaska's Tongass National Forest — the nation's largest and wildest — from the landmark 2001 Roadless Area Conservation Rule.
More than a decade later, Earthjustice and our clients went back to court to challenge the Trump administration's decision to again exempt the Tongass from the federal Roadless Rule.
The rollback jeopardizes the ancestral homelands of the Tlingit, Haida, and Tsimshian people.
The Tongass is a champion at absorbing greenhouse gas emissions, as long as its trees remain intact. Cherished as a crown jewel of the National Forest system, the forest could serve as a cornerstone for a national climate strategy incorporating forest preservation for carbon sequestration.
Eliminating the Roadless Rule across the Tongass opens some nine million acres of irreplaceable wild lands to timber industry logging proposals. This could usher in a new wave of clear-cutting, wiping out majestic centuries-old trees and degrading a key buffer against climate change.
Tongass roadless areas are needed to maintain healthy populations of wolves, bears, goshawks, deer, marten, and five species of Pacific salmon, among other species. The Tongass produces some 25% of West Coast salmon, and attracts millions of visitors from throughout the world.
The American public has overwhelmingly supported including the Tongass in the Roadless Rule.
The enormous cost of building roads into Tongass roadless areas greatly exceeds the value of the timber and requires unconscionable federal taxpayer subsidies. The Forest Service should stop building these wasteful roads and focus instead on restoring degraded watersheds and unmaintained roads resulting from decades of misguided forest policy.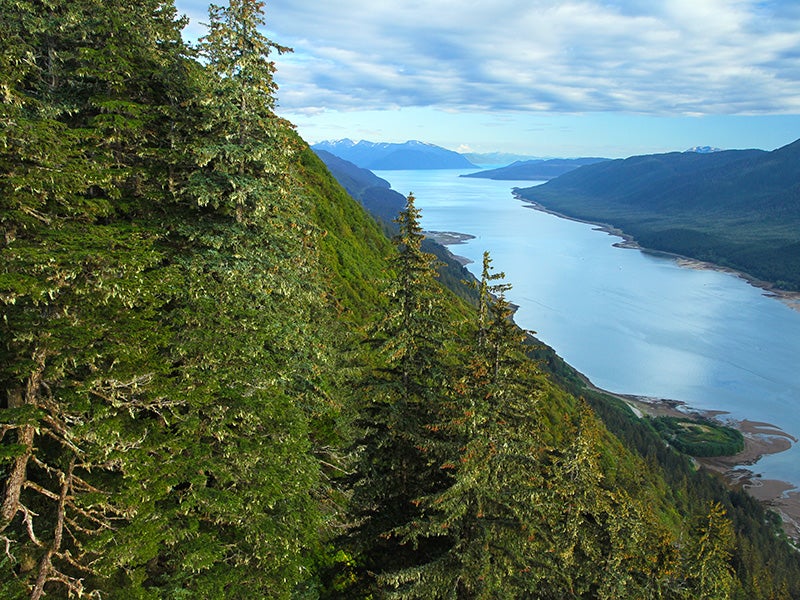 Case page created on April 23, 2021.