David Guest and Earthjustice's Florida office have braved alligator islands and hostile negotiating tables to defend the state's most precious resource. In more than 30 years of service, Guest and his colleagues have made Florida—and the nation—a better place.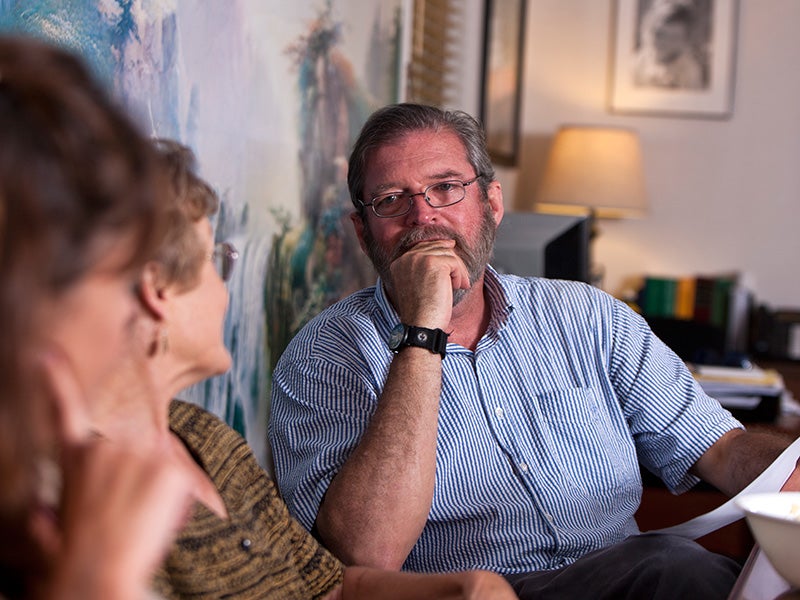 In two decades of legal work, Earthjustice's legal team in Florida has stopped a giant coal plant near the Everglades, battled overfishing in the Gulf of Mexico, prevented big landowners from blocking the public's right to traverse rivers, and more.
The alligator keeps circling closer to us, but David Guest blows off my concern.
"It's a little one," he scoffs. "It can't hurt you."
With my bare feet in the mud and the gator suddenly sinking out of sight beneath the swampy lake, I consider the source of this "it-can't-hurt-you" advice and quickly hop back into the boat.
Guest, Earthjustice's legendary Florida managing attorney, once went into a South Florida swamp to collect key legal evidence and slept on a little low island that, it turned out, was a favorite lounging spot for local alligators. Guest admits he didn't sleep much, with those alligators bellowing beside him all night.
When he tells this harrowing story, the 60-year-old Guest laughs, his head thrown back and shoulders shaking. His 33-yearlong legal career in Florida has been—and continues to be—a wild adventure.
"We were ecstatic when we won that case," he says, "but even more thrilled that we hadn't gotten eaten in the process."
These days, Guest has a herd of toothy predators on his heels: Corporate polluters. Members of Congress. State legislators. Florida's governor. All of them fighting Earthjustice's 10-year effort to limit the amount of phosphorus and nitrogen that comes from the excess sewage, fertilizer and manure flowing into Florida's public waters.
"This pollution is turning clear springs, lakes, rivers, and bays into green slime," Guest says. "It is an awful, heartbreaking sight to see this hideous green cancer spread over our beautiful, watery state. Fortunately I am in a position to do something about it."
The effect of this pollution is evident in Lake Miccosukee, where Guest's pontoon boat cuts through thick mats of nonnative weeds. A Great Blue Heron and a family of small black coots startle in the boat's wake and wheel before us in the thick air. Few other boaters have braved the lake this day: It's 100-plus degrees, and the heat index, they say, will reach 115. We are sweating buckets but no one dares jump in the gator-rich lake.
Guest likes to come to this lake at sunset, where he putters around and thinks things through. It's important to get out of the office sometimes to remember why he takes on the developers, the phosphate miners, the utilities, the oil drillers, and all the other environmental despoilers in the first place. It's for these cypress trees, these hanging vines, this wide blue sky, this dark water, this wildlife, the whole crazy, ancient mirage that is Florida.
"Florida's beauty," Guest often says, "invited its consumption."
Two years ago, Guest and the four lawyers in Earthjustice's Florida office in Tallahassee reached a historic settlement with the U.S. Environmental Protection Agency that forced the agency to set limits on the pollutants nitrogen and phosphorus for the first time in history. It has become a charged legal and political fight that's reached the Congress, with some politicians finagling to block the EPA's budget money and authority so that their polluting campaign contributors won't have to comply.
"What's interesting about Florida is that you have a very strong conservation movement, but you also have this anti-environmental extremist movement," Guest says.
No kidding. Today, Florida extremists are publicly targeting, of all things, adorable and rare manatees. They claim that boat speed limits and restrictions proposed for a manatee refuge are "against the Bible and the Bill of Rights."
Guest is unfazed by such absurdity—he's pretty much seen it all.
"The wheel of history always turns," he says as he maneuvers the boat into the shade of a cluster of old, bell-shaped cypress trees at the lake's edge.
Cicadas buzz heavily and a bobwhite quail calls from the woods beyond. Here is what keeps Guest going, case after case: "Inevitably, at some point, I believe that the people of Florida will recognize that we need to preserve and restore the magnificent places of the state. Everything we can hold onto until that day, they will get to keep forever. You have to protect the family treasures until the Visigoths leave, and that's what we do."
"I wouldn't call it optimism, I'd call it realism," he adds. "We expect to win, and, over the course of time, we have. That's real change."
The Miami Herald once pictured Guest in a paper boat with a paper spear, facing off against a giant Mobil oil tanker fitted with gun parapets. He was quoted: "Let us darken the sky with spears." He won that precedent-setting case, which preserved the public's right to traverse the scenic Peace River, a waterway that corporate interests were desperately trying to privatize.
"We fight like Roman soldiers," he says. "A lot of our cases are big, serious cases with deep-pocket opponents. We win because we care more. I don't know how people can get emotionally motivated about protecting the sewage plant's ability to contaminate water."
"When the lawyers on the other side are out drinking martinis, we are reading documents. If we have to work all night, we do."
Guest and his highly talented team are famously night owls, in any case. They work out of a nondescript, homey office with a kitchen and a leafy deck. Guest has couches near his desk for strategy sessions, and the staff regularly gathers for lunch around the conference table in Guest's office, which is full of old topographical maps and photos. The pace is often frenetic and the cases are endless and wide-ranging.
"In litigation, there's no such thing as luck," he says. "The closest thing to luck is at 2 a.m. in the law library when you find the thing you are looking for, the thing that will win the case."
They have doggedly dug for evidence in dusty county historical society offices, in water management district files, in the National Archives. They found the key document in a case against one of Florida's most powerful families—the Lykes—buried in a mismarked Everglades Drainage District file.
His law-partner, Monica Reimer, is an ace at this sort of detail work. She was Guest's neighbor, a mom with a degree in theater and creative writing, when Guest recruited her to help research a case in 1987. Guest headed the environmental division at the Florida Attorney General's office then. Reimer went on to law school, became a Florida Assistant Attorney General herself, and later joined Guest at Earthjustice. She's been the point person for offshore drilling litigation, among other key environmental cases.
A network of committed environmental activists, many of them Earthjustice clients over the years, operate around Florida, taking pictures, investigating environmental crimes, and building political support for environmental protection.
In Tallahassee, Guest and his wife, Jody, have a 21-year-old son and a 25-year-old daughter. The family home is 15 miles outside downtown, on the edge of a remote swamp. It's anything but isolated—the Guests live in an "intentional community," the 300-acre Miccosukee Land Cooperative, which was established in 1973 as part of the "Back to the Land" movement.
Guest has been a colorful and enthusiastic leader on several projects at the land cooperative, including building a swimming pool for hot Florida summers and boardwalks for a five-mile hiking loop throughout the land. He's also been known to grab a guitar and belt out sea shanties and folk tunes once in a while, recalling a youth spent in the counterculture 1960s.
Living in unspoiled wild woods inspires Guest's day-to-day quest to protect the best of Florida.
In two decades of legal work, Guest's Earthjustice team stopped a giant coal plant near the Everglades, enforced speed zones for manatees, kept sea turtles from getting caught as by-catch in shrimp trawlers, battled overfishing in the Gulf of Mexico, protected ancient, endangered sturgeon in the Suwannee River, defeated leases to drill for oil and natural gas in near-shore waters, , prevented excess drainage of underground aquifers, worked to keep water pollution from destroying the Everglades, and prevented big landowners from blocking the public's right to traverse rivers.
"Developers, phosphate miners, and timber companies were poised to steal almost all of Florida's navigable rivers and streams and convert them into private property," Guest says. "If it is a public waterway with public access, you have a constituency to protect it. They wanted to turn Florida waterways into industrial ditches, and we were able to preserve the waterways in the face of the great wave of development that happened."
That frenzied development—which occurred in the go-go 1980s and 1990s—was "a flesh eating bacteria" destroying Florida's charms, he says. "Our role is to be the rear guard action to slow them and stop them."
Guest was galvanized by the scientific discovery that phosphorus and nitrogen running off cattle, poultry, sugar, and vegetable farming operations, as well as from outdated sewer plants and over-fertilized lawns and golf courses, were relentlessly poisoning the state's waters.
"Now that we know it's happening, we have a responsibility to fix it," he says.
The fight to set pollution limits on phosphorus and nitrogen is the kind he's prepared to wage against big polluters and their substantial roster of political friends. Florida's biggest business lobby, Associated Industries of Florida, has put big bucks into killing the pollution limits. When the Association's head cynically called Earthjustice a "communist-inspired environmental organization" and said EPA chief Lisa Jackson "thinks she talks to God," Guest promptly framed the quotes for display in his office.
"Since before recorded history, if your neighbor was destroying your property, you had a right to make them stop," he says. "It is a basic legal right. If you have your next door neighbor coming out every Sunday and throwing his garbage over the fence, you can stop him.
"A lot of water cases are polluters damaging the property of their neighbors. The ancient law can be wielded in those circumstances."
Back at his Tallahassee office, an urgent phone call comes in. It's the staff director for a certain U.S. congressman from Florida. He wants Guest to testify at a hearing on the EPA limits for phosphorus and nitrogen. The congressman has been publicly criticized for stacking his hearing with polluter-types and including no one from the public to testify about the benefits of the EPA pollution limits. Under political pressure over the one-sided hearing, the staff director is now inviting Guest—at the last moment—to be the lone environmental defender. He wants Guest to appear tomorrow morning, with prepared testimony for the record, in a city that's a five-hour-drive away.
Guest is supposed to be leaving the next day on vacation. Instead, he drops what he's doing, gathers his team, and prepares for the hearing. At the end of the day, he grabs the going-to-court suit hanging on the back of his office door, stuffs some clothes into a grocery bag, and is on the road by 7 p.m.
"We're still winning," he barks into his cell phone. "Right now, the Clean Water Act is still good law."
First published in the Earthjustice Quarterly Magazine, Fall 2011 issue.
About the Author
Julie Hauserman is a longtime Florida writer who lives in Tallahassee. Twice nominated for a Pulitzer Prize, Julie received the Scripps Howard National Journalism Awards' top environmental prize in 2001. She spoke with David Guest in the fall of 2011.