New York's Transportation Future is Electric
How the transition to zero-emission vehicles protects public health and the environment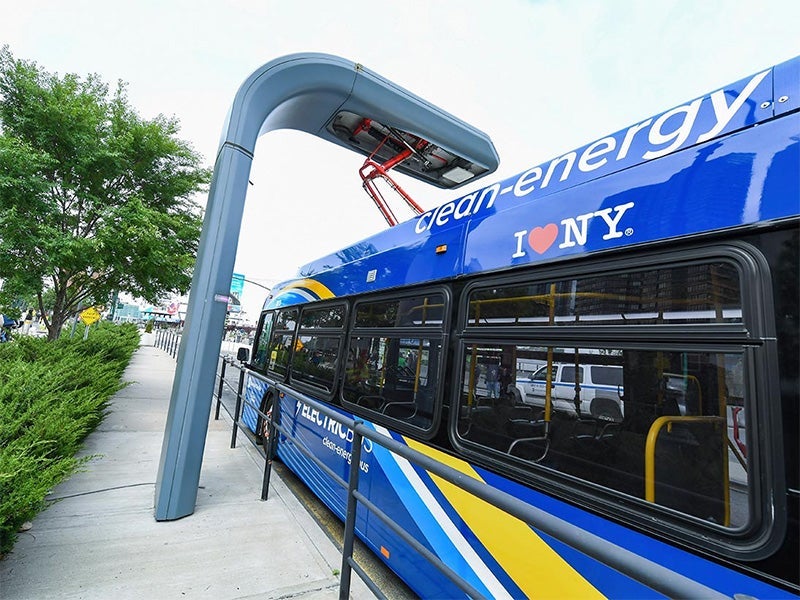 Resources on this page
Understanding the public health issues
New York's actions
Recommendations
At a critical moment in our fight against the climate crisis and for a healthy environment for all, Earthjustice, partners, and clients are joining forces in advocating for clean transportation policies in New York State. Achieving a zero-emission transportation future will eliminate harmful air pollution emitted by diesel trucks and buses, improve public health, and bring us closer to our state's climate mandates.
Toxic air pollution and greenhouse gas emissions are highly concentrated in neighborhoods that contain warehouses, shipping ports, and heavily trafficked areas like highways and truck routes.
A study found that after a new warehouse opened in the Bronx, truck traffic increased by 10% to 40% depending upon the time of day. Electrifying transportation and freight distribution can end harmful pollution that is damaging public health and the climate.
The good news is that New York is making progress in reducing greenhouse gas emissions and protecting public health through the Climate Leadership and Community Protection Act (CLCPA).
Our Partners & Clients NYC-EJA, UPROSE, New York Lawyers for the Public Interest (NYLPI), Red Hook Initiative, NYC Clean School Bus Coalition, ElectrifyNY, Last-Mile Coalition
The transportation sector is the largest source of New York's carbon dioxide pollution.

Source: NYSERDA
Public Health Issues
Environmental Justice Implications
It's important to understand the detrimental public health impacts of air pollution from transportation and combustion engine vehicles.
Transportation pollution and poor air quality are associated with increased risk of a wide range of negative health outcomes including asthma attacks, pulmonary and heart disease, and premature death.
In New York, lower-income communities and communities of color are more likely to live near major roadways and thus face disproportionate exposures to harmful pollution, along with poor health outcomes, making transportation electrification key for achieving health and climate equity.
Vehicle emissions are a major driver of health disparities and exacerbate the climate crisis. Policymakers must move with urgency in updating regulations and passing laws that are consistent with a zero-emission, clean transportation future.
Asthma

Black and Latino New Yorkers are 7 and 4 times more likely, respectively, to visit the emergency department for asthma than white New Yorkers, and 3–4 times more likely to die from asthma.

Source: NYS Dept. of Health

PM2.5

In New York state as a whole, approximately 2.7 million Latinos, 2 million African Americans, and 1.2 million Asian Americans experience concentrations of toxic particulate matter 2.5 (PM2.5) from transportation above the state average.

Source: Union of Concerned Scientists

$4M

Every ton of particulate matter emitted by buses in the New York–Newark–Jersey City metropolitan area causes an average of $4 million in heath damages.

Source: UNC Institute for the Environment, Harvard Chan C-CHANGE
What New York has achieved
New York's Action on Climate, Environment, and Zero-Emission Transportation
CLCPA
Passed into law in 2019, the Climate Leadership and Community Protection Act (CLCPA) sets legally binding emissions reductions standards for New York to phase out fossil fuels by 2050.
It also mandates that 35% of state climate and energy funding be invested in environmental justice communities.
Details: NYS Climate Act
Clean Trucks
In December 2021, the New York State Department of Environmental Conservation adopted the Advanced Clean Trucks rule.
Beginning in 2025, the Clean Trucks rule will require manufacturers to produce and sell an increasing percentage of zero-emission trucks and buses annually through 2035.
Details: Clean Trucks Rule Fact Sheet
Electric School Buses
In April 2022, New York became the first state in the country to require a fully zero-emission school bus fleet. All school buses in the state will be electrified by 2035.
Details: NYS mandate
Electric Vehicles
In 2021, New York State enacted a goal to phase out new sales of fossil fuel-burning cars by 2035, with a 2045 target for trucks and buses.
Details: Assembly Bill A4302
Recommendations
Further State Action Needed
To comply with the CLCPA's emissions limits as well as its mandate to prioritize reduction of co-pollutants in disadvantaged communities, we recommend the following actions:
Pursue an electrification-first policy and avoid reliance on false solutions like biogas or biodiesel.
Opt into California's electric vehicle sales mandates for light-duty passenger vehicles, diesel medium- and heavy-duty vehicles (MHDVs), and other non-road vehicle sectors as soon as feasible.
Prioritize efforts to turn over diesel MHDV fleets, especially those that impact disadvantaged communities, to maximize the air quality benefits of electrification.
Enact policies to ensure good jobs in the transition to electric vehicles such as public transit buses.
Support facility-based and other local strategies to promote electrification of vehicles in areas with significant volumes of car and truck traffic, including green zones and rules targeting emissions from warehouses.
We applaud New York for committing to being a climate leader.
But we will need concrete and transformative actions to meet the State's binding mandates.
Earthjustice, partners, and clients will be there every step of the way to ensure fossil fuel pollution is a thing of the past, as we accelerate the transition to a zero-emission transportation future.
Media Inquiries: Nydia Gutierrez, Earthjustice Communications Strategist, ngutierrez@earthjustice.org@earthjustice.org
Icon Credits: Bus by Llisole. Oxygen by iconfield. Lungs by BomSymbols.