The Fight To Defend The Sunset Roadless Area—And Our Climate
Will the Forest Service's legacy be to protect our public lands to be enjoyed by all? Or to sacrifice them for long-term climate costs and a single coal company's short-term profits?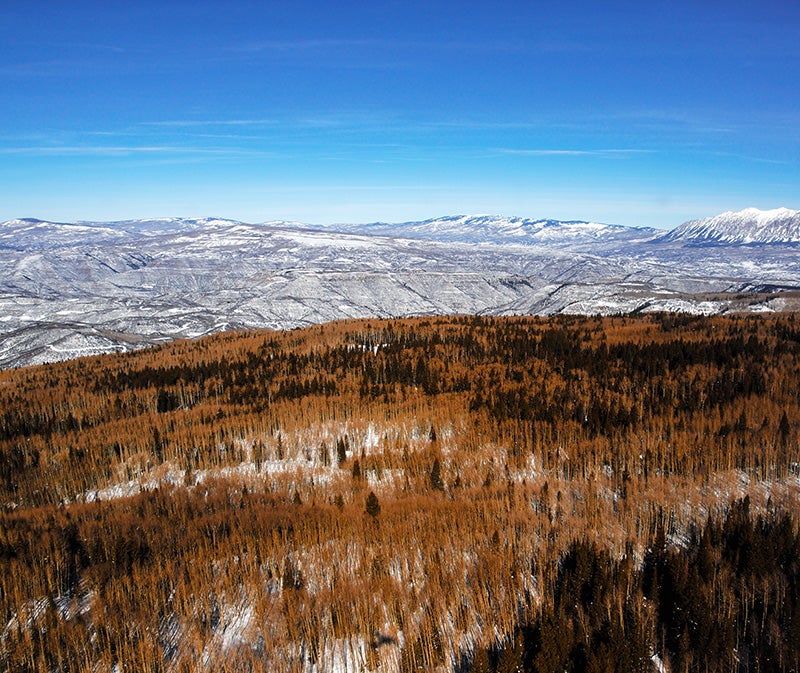 In one of the first opportunities three years ago to push back against the devastating on-the-ground impacts the Trump administration's fossil fuel agenda, nearly 45,000 people across the country spoke up to save pristine roadless forests in Colorado from coal mining.
The U.S. Forest Service persisted in carving out an exception to Colorado's roadless area protections in order to pave the way for expansion of a destructive coal mine. Earthjustice filed a legal challenge later that year, on behalf of five conservation groups.
Now, a federal appeals court has ruled the agency acted illegally, giving new hope for the protection of these wild lands — and for the climate.
Our Clients High Country Conservation Advocates, WildEarth Guardians, Center for Biological Diversity, Sierra Club, Wilderness Workshop
"This is a victory for the remarkable wild forests of the North Fork Valley," explained Robin Cooley, the Earthjustice attorney who argued this case on behalf of our clients. "As a result of the ruling, the Forest Service must go back to the drawing board and consider whether to protect more of the Valley's irreplaceable roadless forests."
The Forest Service attempted to give Arch Coal, the nation's second largest coal company, the right to expand its mining into 1,700 acres of the Sunset Roadless Area — lands that belong to all Americans.
A rolling landscape of aspen and spruce-fir forests and beaver ponds, the Sunset Roadless Area is within Gunnison National Forest, 40 miles from Aspen, Colorado. The lush, wild forest is public land — prime habitat for goshawk, black bear, elk, cutthroat trout and the imperiled lynx, and enjoyed by hikers and recreationists visiting from near and far. Some of the spruce may be centuries old.
Arch Coal has repeatedly sought to mine this area. Legal and advocacy work over the past decade by Earthjustice, our partners and clients, and our supporters, has saved the Sunset Roadless Area from each of Arch Coal's attempts. (See timeline: The Long, Winding Road to Save The Sunset Roadless Area)
But with a fossil fuel-friendly administration, the Sunset Roadless Area — and the climate-polluting coal and methane gas under it — was again at risk.
The 3 Things To Know About Roadless:
1. What is 'Roadless'?
Specially designated public land protected from damaging new roads and clear-cuts of intact forests under the 2001 Roadless Area Conservation Rule. Defined as "large, relatively undisturbed landscapes," roadless areas cover about a third of our national forests.
Some economic development, including tourism projects, is permitted.
Roadless areas belong to the public and are to be enjoyed by everyone. They provide vital habitat for 1,500 wildlife species—and are protecting the drinking water supplies for 60 million people.
2. If roadless areas are protected, why is the Sunset Roadless Area at risk?
A "special" Colorado Roadless Rule supersedes the national Roadless Rule.
This state rule weakened protection for roadless lands in the state—and included a 20,000-acre loophole for extractive industries, allowing mines to bulldoze roadless areas north and east of Paonia.
In 2014, the loophole was eliminated through litigation brought by Earthjustice on behalf of local and national conservation groups.
Two years later, the Forest Service re-opened the loophole—even though it admitted coal mined from these roadless lands will displace nearly 10,000 gigawatt hours of clean, renewable power.
3. What is the impact of roads in roadless areas?
There is a large and growing body of evidence about the harmful impacts of road construction and road use—much of it written by the Forest Service itself.
Even so-called "temporary" road construction can damage streams, alter hydrology, spread invasive weeds, lead to road-kill and fragment habitat. Habitat that has been cut down and bulldozed may never be restored to its original state.
If the coal mine expansion is approved, the cost to the climate will be real.
Arch Coal's existing industrial operations scar the landscape west of the Sunset Roadless Area. The company already has a ten-year supply of coal at its current rate of mining, even without the expansion of the coal mine lease. Trump's Forest Service proposes to give Arch Coal additional access to more than 17 million tons of coal.
Left in place, the coal and methane under the roadless area will not contribute to the planetary crisis of climate change. But leaving them alone is not what Arch Coal has in mind.
The underground mining will vent hundreds of millions of cubic feet of methane—a potent climate pollutant—into the atmosphere from a tight web of industrial facilities scraped and bulldozed through the forest.
Methane traps more than 80 times more heat than CO2 in the short-term. According data from the U.S. Environmental Protection Agency, from 2013 to 2015, the mine Arch Coal seeks to expand was the largest single industrial source of methane pollution in Colorado. Arch Coal will not be required to capture, burn, or reduce any of the methane pollution.
Today, Colorado's solar and wind industries employ more than 14,000 people, about twelve times as many as work in the state's mines.
The future of jobs and energy is becoming clearer — and cleaner. Deepening our reliance on dirty fuels will only lead to higher costs for us all.
Thank you to the nearly 45,000 people spoke up during the public comment period on the Forest Service's draft Environmental Impact Statement for Arch Coal's mine lease expansion into the Sunset Roadless Area.