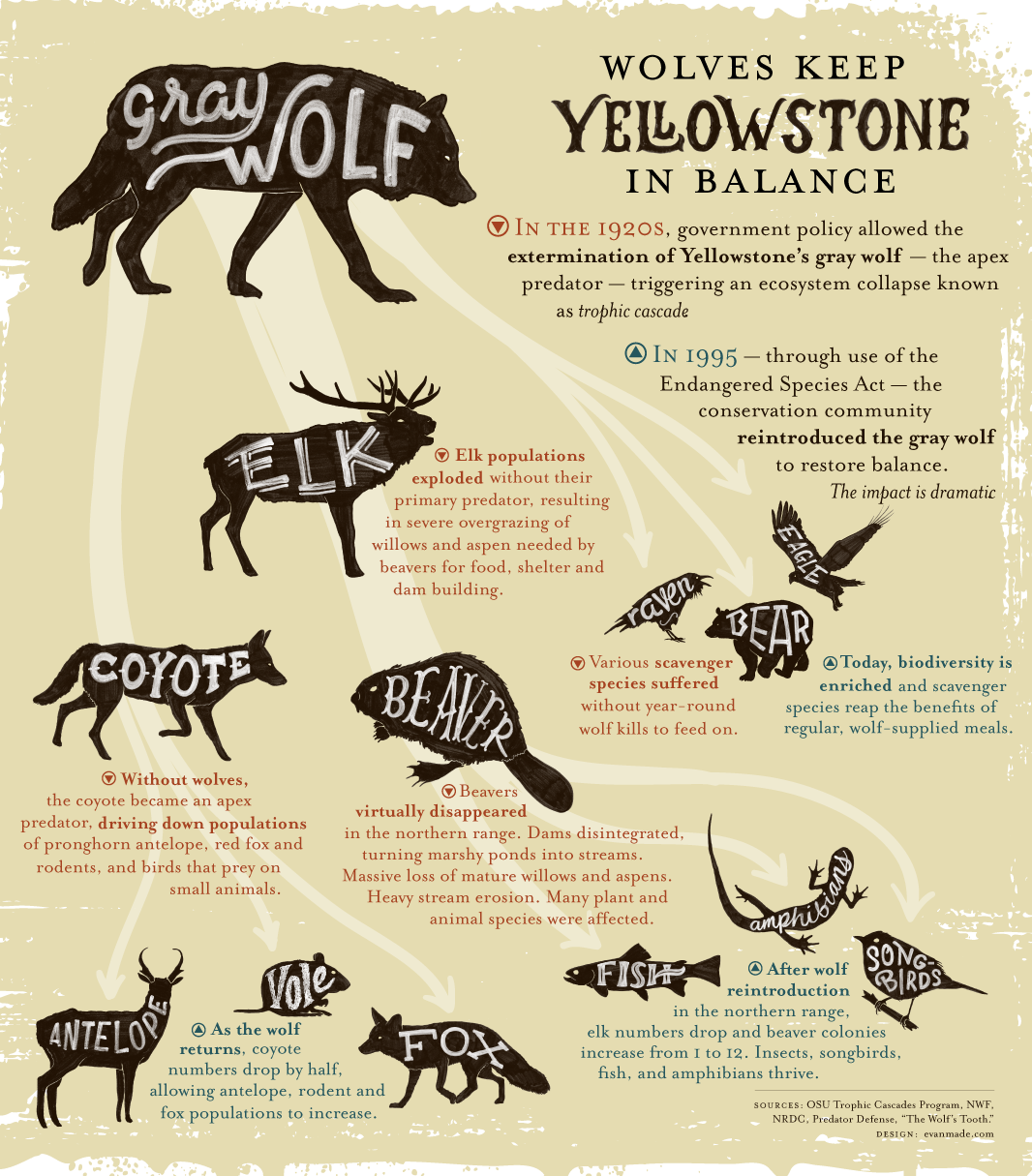 Wolves Keep Yellowstone in Balance
In the 1920s, government policy allowed the extermination of Yellowstone's gray wolf — the apex predator — triggering an ecosystem collapse known as trophic cascade.
In 1995 — through use of the Endangered Species Act — the conservation community reintroduced the gray wolf to restore balance. The impact is dramatic.
Elk populations exploded without wolves as their primary predator, resulting in severe overgrazing of willows and aspen. These trees are critical to beavers for food, shelter, and dam building.
Various scavenger species suffered without year-round wolf kills to feed on.
Beavers virtually disappeared in the northern range of Yellowstone. Dams disintegrated, turning marshy ponds into streams. Massive loss of mature willows and aspens. Heavy stream erosion. Many plant and animal species were affected.
Without wolves, the coyote became an apex predator, driving down populations of pronghorn antelope, red fox, and rodents, and birds that prey on small animals.
As the wolf returns, coyote numbers drop by half, allowing antelope, rodent, and fox populations to increase.
After wolf reintroduction in the northern range, elk numbers drop and beaver colonies increase from 1 to 12. Insects, songbirds, fish, and amphibians thrive.
Today, biodiversity is enriched and scavenger species reap the benefits of regular, wolf-supplied meals.
The National Biodiversity Strategy could restore and fully realize the potential of the Endangered Species Act, which has prevented 99% of plants and animals in its care from going extinct. Tell your member of Congress to cosponsor this important resolution.