America's Arctic Ocean is not a place we should be drilling for oil. It is a special place, home to iconic animals like polar bears and bowhead whales, and it is being hit by climate change harder and faster than the rest of the world.
Allowing reckless oil and gas development not only puts the fragile and irreplaceable Arctic Ocean at risk of devastating oil spills, but also threatens to worsen climate change, undermine national climate goals, and further stress the dramatically changing region.
On May 11, the Department of Interior gave conditional approval for Shell to move forward with exploration of offshore oil in American's Arctic waters. Earthjustice has been working to safeguard the Arctic from assaults like these for nearly a decade.
Attorneys Erik Grafe and Patti Goldman discuss how Earthjustice is relentlessly working on many fronts to protect the Arctic Ocean from rushed, ill-considered oil drilling, including our efforts to prevent the Port of Seattle from becoming Shell's Arctic drilling homeport.
The teleconference was moderated by Campaign Manager Kari Birdseye. It was recorded on May 13, 2015.
Polar bear photo courtesy of R. Enfield.
Conversation Highlights
Kari Birdseye: Hello, and welcome to an Earthjustice teleconference.
I'm Kari Birdseye and I'm here to moderate a discussion with Earthjustice attorneys Erik Grafe, who is speaking from our office in Anchorage, Alaska; and Patti Goldman, who is in our Pacific Northwest Office in Seattle. Together, we'll talk about our work to protect America's cherished Arctic waters and the important ecosystem there.
On the hearts and minds of many people in this country is the state of the Arctic, up against Big Oil's bid to sink its drills into the pristine ocean, and open it up for reckless oil and gas development. The Arctic is a special place, home to such iconic animals as polar bears, whales, seals, and walruses.
Earlier this week [on May 11], the Department of Interior gave conditional approval for Shell to move forward with its exploration of offshore oil in America's Arctic waters. Not only does this proposed oil and gas development threaten this unique ecosystem with an incredibly high risk of oil spills, but it would also hasten climate change, which is hitting the Arctic harder and faster than anywhere else, and it's warming twice as fast as the rest of the planet.
Earthjustice has been working to safeguard the Arctic from assaults like this for nearly a decade. In light of the news out of the Interior Department this week, and what's happening in Seattle, our fight is more important than ever.
We will continue to hold Big Oil and government agencies accountable on multiple fronts to protect this very fragile place and to slow the pace of negative impacts of climate change on the Arctic and the planet as a whole.
What Is At Stake in the Fight for the Arctic
We'll start this discussion with an overview from Patti and Erik. Erik, thank you for being with us. You've been involved in challenging Shell Oil's drilling plans in the Chukchi and Beaufort Seas for years now. I'd like to talk about our current fight to protect the Arctic. But first, what's at stake, and why are we in this fight?
Erik Grafe: I'd like to put our fight in the context in which we're pursuing it. Earthjustice is working hard to reduce our country's dependence on dirty fuels and enhance our reliance on clean energy. And continuing risky oil and gas development projects that take the nation further away from clean energy is counter to that goal.
The world's leading climate scientists tell us that the vast majority of fossil fuel reserves need to stay unburned and in the ground in order to avoid the worst impacts of climate change. And the Arctic Ocean is one of the best places on Earth to start saying 'no' to Big Oil and to heed the science.
The reason is because the region is an amazing place. It has irreplaceable wildlife and a thriving indigenous culture. And it's a pristine place that is, so far, free of most industrial development, particularly in the Arctic Ocean.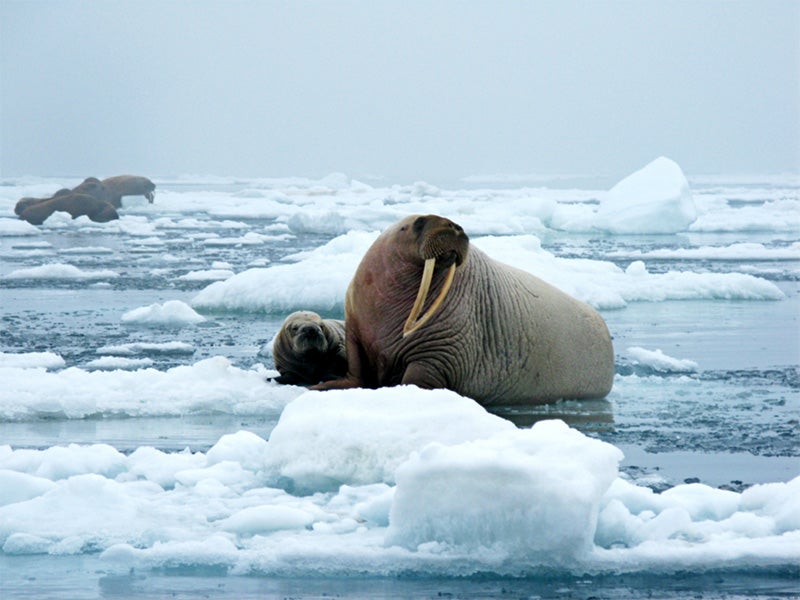 Sarah Sonsthagen / U.S. Geological Survey
The region is also experiencing tremendous and accelerated climate change with tragic effects on polar bears, walruses, and other creatures that have evolved to depend on Arctic sea ice for their survival.
What's more, any oil that would be discovered and developed in the region wouldn't come to market for a decade or more.
And by that time, we really have to be moving away from oil and not locking ourselves in to more of it. As I'll describe a little later on, the risks of oil drilling in the Arctic Ocean itself to the region are tremendous and are too great for us to undertake.
Drilling in the Arctic Ocean is noisy and dirty. It's a huge industrial undertaking even at the very early stages like exploration drilling. It introduces noise into the environment, some of it deafening—literally deafening—to marine mammals that depend on sound to survive. It introduces air pollution and water pollution, including black carbon which worsens climate change in the region.
And most of all, it introduces the risk of an oil spill. Any oil spill in the Arctic Ocean would be impossible to clean up because of the region's remoteness. It's a thousand miles from the nearest Coast Guard station, and there are no roads connecting the communities or infrastructure to support a large effort to clean up oil. And there are no technologies for cleaning up oil in Arctic waters, which are filled with ice even in the summer and even as the ice is retreating. It's a region that is dark during the winter for all the time.
What's most chilling is that the government itself has acknowledged that if oil is eventually discovered and developed in the Arctic Ocean, there is a 75 percent chance of one or more major oil spills occurring—that's a 75 percent chance of catastrophe, if oil is found and developed there.
So in short, the rush to open the Arctic Ocean to drilling threatens an irreplaceable place and is bad climate policy and threatens the world. And that's why we're fighting so hard to protect the place.
Shell's Proposal for Arctic Ocean Drilling
Kari: Thanks, Erik. Let's talk about what Shell has proposed.
Erik: Shell has proposed to engage in exploration drilling—that's the early stage of trying to discover oil in the Arctic Ocean. But as I mentioned, although it's an early stage, it's a massive undertaking.
They're proposing to go up to the Arctic to drill multiple wells over multiple years, simultaneously drilling them with two rigs at a time, accompanied by an armada of ice breakers, support vessels, and helicopters. All of this would be introducing noise and industrial disturbance into precisely an area that is really important to walruses, bowhead whales, and other animals—many of which are already suffering and right on the edge because of climate change.
Shell also proposes to introduce its massive operations right in the heart of an area that's critical for walruses and important for bowhead whales.
PO2 Zachary Painter / U.S. Coast Guard
And Shell doesn't have a good history doing this. It tried in 2012 to go up and operate in the Arctic. But on its way up, it lost control of the drill rig and it almost ran aground. Then there was a fire on the drill rig. Once it got to the Arctic, it was chased off where it wanted to drill in the first 24 hours by a Manhattan-sized piece of ice that was barreling down on the drill site.
Ultimately, it was only allowed to do preparatory work because it couldn't pass its drilling response equipment through tests in Puget Sound. So it only did limited work up there. And on its way back, it lost control of another of its drill rigs, and that drill rig ran aground and was totaled.
In the end, the company was fined over a million dollars for Clean Air Act violations, and its principal contractor pled guilty to eight felonies and paid $12.2 million in fines for environmental crimes.
It has a terrible record, and yet now it's going up there and literally doubling down with two rigs trying to drill simultaneously, searching for oil in critically important habitat for marine mammals already suffering from climate change.
Conditional Approval for Arctic Ocean Drilling
Kari: Let's get to the news, knowing all of this now. We just heard this week [on May 11] that the Department of Interior gave Shell conditional approval to move forward with its plan to go into the Arctic this summer. What does that really mean? And what are the next steps for Earthjustice and its partners?
Erik: Early this week, there was a very disappointing announcement with the Interior Department giving approval to Shell's drilling plan—basically giving a green light to the biggest hurdle Shell has to face to go up and drill.
We're hard at reviewing the approval and the papers underlying it, and assessing our options and developing strategies for the next steps—including, potentially, court challenges to this disappointing decision.
Kari: Before I've move to Patti, I want to get a couple of words out of Erik about what conditional approval means.
Michael Cameron / NOAA / NMFS / AKFSC / NMML
Erik: The approval is conditional in that it requires Shell to get a bunch of other authorizations. Some—or most—of them are of the checkbox variety. A couple of them are a little bit more consequential, including authorizations from the Fish and Wildlife Service and National Marine Fisheries Service to allow Shell to operate, even though its operations will harass thousands of bowhead whales, walruses, and seals.
So there are some conditions that still have to be met. But the agencies giving those approvals have shown that they are likely to give those approvals. They've issued proposals for the permits and so, although the approval is conditional, it really represents a green light for Shell to go up and begin drilling in the Arctic.
The Battle in Seattle
Kari: Let's turn now to Seattle where our managing attorney, Patti Goldman, is working with a coalition to protect local and global waters from Big Oil. Earthjustice and its partners have been making news around this issue lately, and I invite Patti to talk about what's happening on the ground there.
Patti Goldman: Thank you, Kari. We're all over the news today too.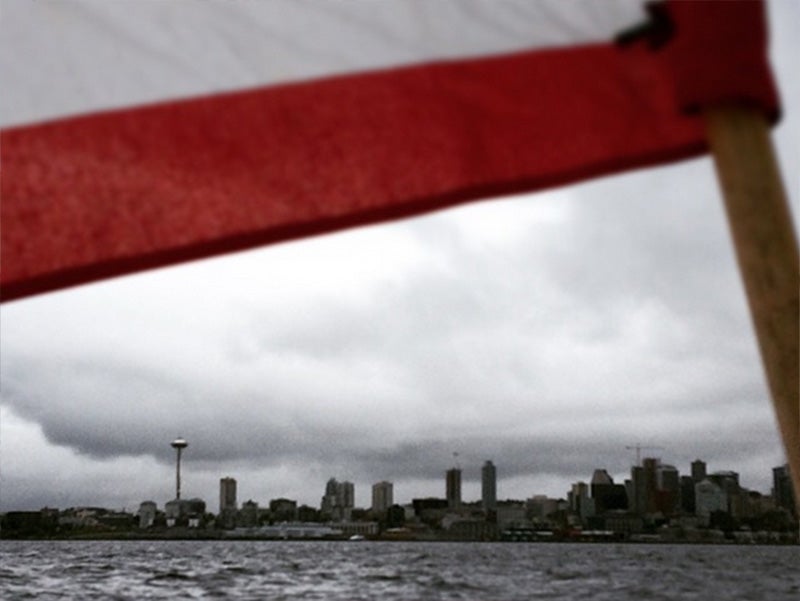 Chris Jordan-Bloch / Earthjustice
You may be asking yourselves, why has Arctic drilling becoming the new 'battle in Seattle'? And I would say there are two reasons. The first is a series of missteps by Shell, its contractor, and our elected Port Commissioners in Seattle. And the second is, savvy activism and opportunism from the environmental community and visionary civic leaders and elected officials.
Let me tell you how that has played out. In terms of the missteps, our Port Commissioners invited Shell to come and make Seattle its homeport. It did this in secret without any public input and without any public or environmental review. And it kept this deal secret until it was too late—it was a done deal. They'd already agreed to the terms, and it was going forward.
So, we did what we do: we sued the port for entering into a lease without conducting the environmental review that's required. We've been moving forward with that case.
We also discovered that the shoreline permits issued by the City of Seattle for this terminal designate the terminal as a marine container terminal, not a homeport. We brought this to the attention of the city, and we were gearing up to file a citizen complaint, when the mayor took charge and directed the planning department to conduct an investigation.
And last week, the mayor announced that the department had in fact found that the permit does not authorize use of this terminal as a homeport, and that the port would be in violation of the permit if it proceeded.
So, everything is in flux. Our case is proceeding and the merits should be decided later in the summer. Last night, the port voted to appeal the city's finding. And it also asked Shell and the contractor to delay using the terminal as a homeport until the legal issues were resolved.
Now you may have seen—this is covered in New York Times today [on May 13]—the contractor said, "This is not going to affect our plans." And a spokesperson for Shell said, "If we decide to change our plans, we'll make that call. But for now, the plan is to move the rigs and began loading them in the days ahead."
Photo courtesy of Kristjan Laxfoss
They have been met with some kayaktivists, as they're calling themselves, as the Noble Discoverer drill rig, the one that just pled guilty to the felony charges, arrived in Everett, Washington, yesterday.
If you look at this attitude, what it shows is that for Shell to come to a city like Seattle, it needs to operate in secret; it needs to defy its business partners; and it needs to circumvent the law. And that's what's happening here.
So the real story, though, is outside the courtroom and what is happening in the city of Seattle—and it's amazing. This series of missteps have galvanized the city and a lot of our leaders to speak out against Arctic drilling. And let me give you a couple of examples.
The first is the mayor. When he announced the findings that the port is in violation of its permit, he said, "I have grave concerns about Shell Oil's Arctic drilling fleet coming to Puget Sound in a damaged state, discharging oil and toxic pollutants along our shorelines during transport and repair, jeopardizing the local ecosystem, and undoing decades of work to clean up the Sound."
He then pivoted and said, "To prevent the full force of climate change, it's time to turn the page on things like coal trains, oil trains, and oil drilling rigs. It's time to focus on the economy of the future: electric cars and transit, green homes and environmentally progressive businesses." And then he called on the port to reject the lease.
And he's not alone. On Monday, our City Council unanimously passed a resolution opposing Arctic drilling. And about a month ago, Governor Jay Inslee sent a letter to Secretary of Interior Sally Jewell, asking her not to issue any more leases for Arctic drilling.
What Shell has done by trying to come to Seattle is to create a huge force in opposition that is just growing and growing. And what we need to do is make this contagious, so that it catches on in other cities.
Coalitions and Partners, in Seattle and in Alaska
Kari: It sounds like we definitely have a fight on our hands to keep the Arctic out of harm's way and to slow climate change.
We're working with a lot of different partners to do that. Let's talk about the groups we're working with, both on our national effort to protect the Arctic and in Seattle specifically.
Erik, let's talk about your efforts and partners first.
Erik: We up here [in Alaska] have been working with a broad coalition of groups to protect the Arctic. That coalition has included national environmental groups like the Sierra Club, Center for Biological Diversity, World Wildlife Fund, and others.
It's included regional groups like the Northern Alaska Environmental Center. And it has included tribal governments—the North Slope [Borough]—who are concerned about the effect of oil and gas activities on their subsistence way of life. Our partners there have included the Inupiat Community of the Arctic Slope and the Native Village of Point Hope.
And it's been a really wonderful and powerful coalition, with a lot of different voices opposing Arctic drilling for a lot of different reasons, including the effects to subsistence that I mentioned, and the effects to wildlife and more broader climate change policy as well.
Kari: Patti, and for the battle in Seattle?
Patti: In Seattle, we're working with a very large coalition of groups, which includes a lot of the clients in our Arctic challenges, on coordinating strategy and with much of the public organizing and the media work.
Our clients in the lawsuit and in the work with the city on the shoreline permits have been four groups: Puget Soundkeeper Alliance, Seattle Audubon, Washington Environmental Council, and the Sierra Club. These groups have been deeply engaged in trying to clean up Puget Sound, in particular the area where this homeport will be. And they also engage in fishing and salmon restoration and access to the shoreline—all of which will be affected by the Shell homeport.
So it's really interesting the way you have local interest in the courtroom—because that's really what's in play there—but also global interest, galvanizing people to engage on this issue.
Kari: Thank you, Patti. Thank you both for such insightful information.
We are so thankful for donors like those on the call who support makes it possible to really get in there, like Patti and Erik are doing, and bring about this long-lasting protection and change.
Securing the Seattle Homeport and Approval for Drilling
Our first question comes from Jan in Illinois: Will securing the Port of Seattle be more difficult for Shell than securing the conditional approval from the Department of Interior?
Patti: From the Seattle angle, unfortunately, they already have the approval, and we're trying to undo it.
I am convinced we will prevail on these issues. But it's taking time for the legal processes to play out. We likely won't be able to prevent the drill rigs from coming here. I think that some of the plans are being slowed down, but probably not enough to really make the difference we would all like to make for this year.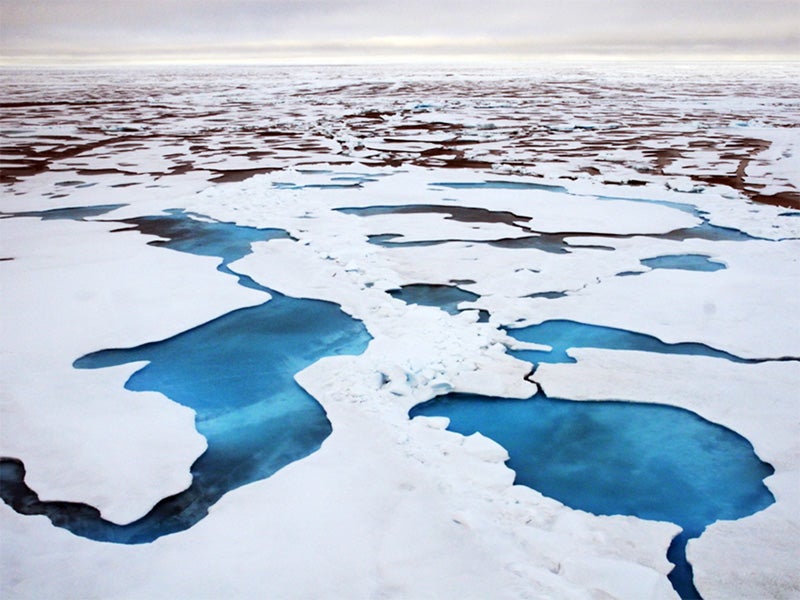 Karen E. Frey / NOAA
Erik: We and others have been working really hard to convince the Department of the Interior not to rush drilling in the Arctic and to take another look at fundamental questions, like even whether there should be leases there at all. We've done that through our litigation, that's kept that question opened for years. We've done it though advocacy. And we've been very successful in slowing down the rush to drill in the Arctic.
For example, by our focus on the exploration plan, we've been able to keep Shell—which has been trying drill in the Beaufort Sea and Chukchi Sea since 2007—from doing anything but the preparatory work that it did in 2012.
So we've had tremendous success in drawing focus to the Arctic Ocean and raising the alarm about the risks of drilling there.
This year, there was this approval, and that's very disappointing. But our work in forestalling that, and allowing the energy and movement that we see in Seattle to build, is what gives me hope about being able to turn the ship and prevail upon decision-makers that Arctic Ocean drilling is a terrible idea.
The Impact of Legal Proceedings in Seattle
Kari: Our next question is from Carol in Massachusetts. She asks this for clarity reasons: Can the lawsuit in Seattle actually block Shell from proceeding?
Patti: Yes.
There are two legal proceedings. Our case would invalidate the lease. And that would mean we now have a blank slate and the Port Commission would have to make a new decision to allow Shell to come here, and I cannot imagine they would make the same decision they made before. So that definitely would stop Shell from coming back here.
The city's action would take more steps on the part of the city to enforce the finding that it's already made. I don't know if it will start taking that action while that finding is under appeal or whether they would wait. But they would have the ability to enforce that finding and impose fines.
They are unfortunately very small fines because this is the same process for somebody who builds a shed without a permit, or a pier, or something like that. But it could escalate and block the use, if the city pursued that.
The Role of Shell Oil's Ice Breaker Ships
Kari: Our next question is from Eleanor in New York: She read news reports saying that Shell won't be allowed to bring in ice breakers since they can only drill in summer months. Is this true?
Erik: That's not true. Shell will have ice breakers accompanying its fleet. Ice breaking is a really critical part of the operations, because even in the summer in the Arctic, there is ice in the ocean and it moves in unpredictable ways—that's part of what makes it so dangerous to drill there. Even in the summer and even as climate change causes sea ice to recede farther north and become thinner, there's still ice there.
Chris Jordan-Bloch / Earthjustice
Shell will have ice breakers to try to manage that ice as best as it can, but there are limits to what it can do. And the ice breakers themselves have tremendous effects. They have a lot of pollution; they are very loud; and they are going towards the ice, where the animals are—walruses and seals are using the ice. And so they bring the disturbance to the animals. They're a big, bad part of what's going on up there.
Media Coverage on Arctic Ocean Drilling
Kari: Our next question is from Diane in D.C.: I have signed more petitions with many different groups to protest [Arctic Ocean drilling], and now I feel desperate. Is there any way that Earthjustice can get on major news channels to spread this news to the public?
I know that we have received some press out of Seattle, but do either one of you, Erik or Patti, want to address recent press coverage?
Erik: I think Earthjustice gets in the news quite a bit—recently, there's been a lot of news about the approval in Shell's drilling plan and a lot of op-eds, including one that came out today [on May 13] by Bill McKibben in the New York Times. It draws attention to the drilling and connecting it to climate change, and the fact that we can't keep going to the ends of the earth to try to find oil and have any hope of avoiding the worst consequences of climate change. It focuses on the Arctic Ocean as a place where we should draw the line and say 'no.'
And that type of attention I think is heartening and is the type of thing that hopefully can change minds and build support to make sure the politicians start listening to their constituents and finding better solutions.
Patti: I understand the feeling of being desperate because the federal government has made it a priority to allow this drilling to go forward, which is so ill-conceived. And we need to change that. But I feel like we're at a place where we have the ability to do that.
The New York Times has four different articles today [on May 13]—an editorial and three articles that are about Arctic drilling—while in the past, we might have had just one piece.
I think what's going on in Seattle, and that the tension between the [Obama] administration's climate policies and Arctic drilling are bringing this home that this is not the way we should go: it's not economical; it's not environmentally sound; and it could be catastrophic for the climate.
And I think we're starting to get to that place where we're going to turn this around.
The Arctic Council And Offshore Drilling
Kari: We often hear the question that if other companies and countries move forward with offshore drilling in the Arctic, why shouldn't the U.S.?
Erik, could you talk about our work on the international level with the Arctic Council?
Erik: The U.S. has a great opportunity to start leading on the Arctic by making decisions that preserve it and don't allow oil and gas and other industrial activities into the fragile regions.
For example, we have assumed the chairmanship of the Arctic Council, which is a group of Arctic nations. It provides a forum for agreements and decision-making about how to manage the Arctic. We have an opportunity to make climate change be first and foremost at the forefront of our actions at the Arctic Council. Earthjustice is closely monitoring the meetings and advocating for those outcomes there.
With the increased focus on the Arctic, and with our work drawing that focus there and slowing things down, and with our work on the international front, there's an opportunity in the next few years for the United States to have a positive voice in the international community and through the Arctic Council, through the [upcoming] climate talks in Paris, to start treating the Arctic more responsibly and looking at it as a place to preserve, rather than exploit.
International Territorial Claims in the Arctic Ocean
Kari: Katherine in California has a follow-up question to that regarding global politics: Other countries are making efforts to obtain ownership in the Arctic. What are the pressures on the Department of Interior because of it?
Erik: The drilling that we're talking about is in an area that is undisputedly part of the United States. And in fact the decisions about managing the outer continental shelf in the Arctic fall entirely to the executive branch.
It's an area where they can frustrate us, as they are now, but it's an area where they have control to do the right thing. It's within the administration's control entirely to decide how to manage that area.
In terms of the international territorial claims, those ultimately relate to resources, but are not at play in the current push to drill in the Arctic because that's, right now, in areas that are part of the United States' outer continental shelf.
Actions by Seattle-based Groups
Kari: Nancy from Washington says: There're echoes of desperation here—we have a number of local groups in Washington. Why aren't the local groups speaking out more, as we've been spending so much money to clean up the Puget Sound.
Patti: I think groups have been speaking out on both the Shell homeport and, through that, on Arctic drilling, in a big way lately. There have been a lot of public meetings—the Port Commissioners having to host many of them after its fiasco—and City Council meetings, and a rally a couple of weeks ago called Shell No" with over a thousand people. And there's going to be kayak gatherings this Saturday in another rally near the terminal.
Joe Nicholson for Earthjustice
So people are speaking out. It's a little bit of catch-up because everything was on its way; the skids were greased, if you will. But I think it's been in a lot of the newspapers, been on TV, and front page of the paper again today [on May 13]. So I think it is getting out there; it's just hard to move some of the decision-makers.
For the Port Commissioners, they are elected officials, and I think it is affecting the way they're looking at maybe the next office they run for or re-election, and how they want to position themselves. Which is a good thing, I think, for their accountability and for having people in those positions who are responsive to what we'd like to see.
Kari: We have a great feature on our website at earthjustice.org/seattlerally which shows some of the local groups speaking out and some of the rallies that has been happening over the past few weeks
Thank you everyone for the great questions today and for joining us for this teleconference. Thank you to Erik Grafe in Alaska and Patti Goldman in Seattle for speaking with us today about Earthjustice's work to protect the Arctic.
For more information on our work to protect the Arctic, visit earthjustice.org/arctic. We encourage you to check out the Action Center on our website for ways to get involved and support our cases.
Holding the Line on Arctic Ocean Drilling
We have one last question from Jim in Texas: Why did the Obama administration approve this? They're supposed to be green.
Erik: I will say that it is disappointing, very disappointing, that the Obama administration approved this drilling, because it undermines a lot of the good work that the administration is doing to regulate climate change.
It goes to show that we have a ways to go to convince the administration that you have to address climate change from the supply-side as well. We cannot burn all of the fossil fuels that are in the ground and remain below the two percent climate goals. There is broad scientific consensus finding the Arctic is an area where it makes sense to keep fossil fuels in the ground.
The President acknowledges this; he acknowledged it during an interview with the New York Times and elsewhere. It's about continued pressure, and our continued work supported by all the folks on this call, to hold the line against rushed drilling and to allow the movement and the people to start changing the politics so that we can reach better outcomes.
Kari: Patti, any last thoughts?
Patti: It's been very disappointing that the administration has adopted an all-of-the-above strategy for energy.
And the Arctic is the biggest casualty, that they want to go to this place. It's just unthinkable to start doing this kind of commercial industrial development in a risky environment like that. But it's part of the energy independence, all-of-the-above strategy that has been very misguided.
Kari: Thank you both. Thanks to our callers for tuning in—thanks for the great questions.
On behalf of Erik and Patti and all of us here in Earthjustice, we appreciate your continued support and thanks again. Have a great day.  
Transcript edited for clarity.
Speakers
Erik has been a staff attorney in the Alaska regional office since 2007. His work focuses on the Arctic, working with conservation and native groups to fend off attempts by oil companies and the federal government to open new offshore oil and gas operations in the Beaufort and Chukchi Seas.
Patti is a managing attorney of the Northwest regional office in Seattle, where she works to fight efforts to turn the Pacific Northwest into a fossil fuel export hub. Her litigation experience includes notable successes in safeguarding the region's old-growth forests and restoring Pacific salmon.
"Drilling in the Arctic Ocean is noisy and dirty. Most of all, though, it risks oil spills. And oil spills in the Arctic Ocean are impossible to effectively clean up because of the region's sea-ice, remoteness, and storminess—the technology and infrastructure just doesn't exist."