WA Supreme Court To Weigh Ocean Resource Protection In Grays Harbor Crude-By-Rail Case
High court agrees to consider whether protections in a vital natural resources law apply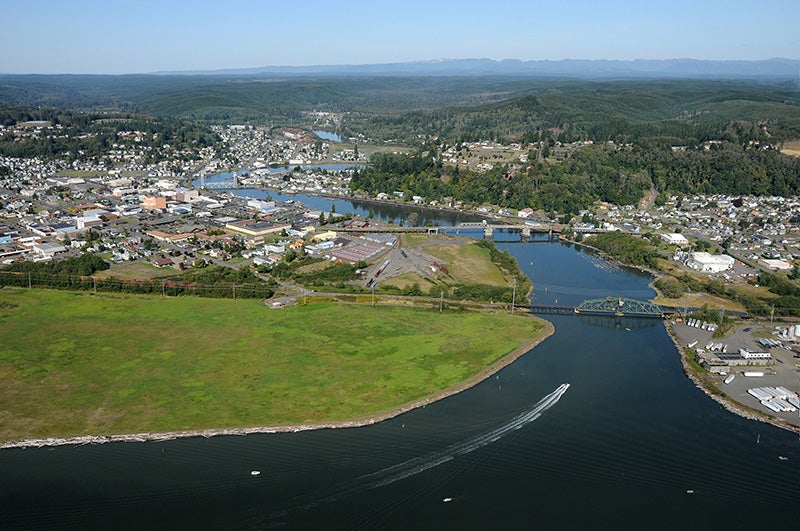 Photo provided by Quinault Indian Nation
Olympia, WA —
Today, the Washington State Supreme Court agreed to decide whether a state law to protect ocean resources applies to crude oil export projects proposed in Grays Harbor. The projects would move billions of gallons of crude oil out of Grays Harbor and through Washington's open ocean every year.
In late 2013, the Quinault Indian Nation, Friends of Grays Harbor, Sierra Club, Grays Harbor Audubon, and Citizens for a Clean Harbor successfully challenged the initial permits issued for the Westway and Imperium (now REG) oil shipping terminal projects in Grays Harbor, forcing further public safety and environmental review that is currently ongoing. That review, however, does not take into account the tighter standards demanded of projects under ORMA (Ocean Resources Management Act), as a Washington appellate court in Tacoma found that ORMA did not apply to oil shipping terminals.
Earthjustice, representing the Quinault Indian Nation and conservation groups, appealed the decision. The Washington State Supreme Court will hear the case.
"We have a state law on the books that demands protection for Washington's natural ocean resources, particularly in Grays Harbor, and yet the Department of Ecology ignores it," said Matt Baca, an attorney with Earthjustice. "Grays Harbor is beautiful, thriving, and irreplaceable, especially for the people who have depended on it since time immemorial. We are glad this important law will get its day before the Washington State Supreme Court."
Facts About The Risks Of Crude Oil To The Maritime Economy Of Grays Harbor:
The Washington Department of Ecology found that these projects create serious and harmful risks of oil spills, collisions, derailments, fires, and explosions that would cause significant and unavoidable environmental damage.
An economic study commissioned by the Quinault Indian Nation found that a major oil spill could put more than 150 tribal commercial fishermen out of a job, resulting in a direct loss of as much as $20 million in wages and up to $70 million in revenue for affected businesses.
Marine resource jobs support more than 30% of Grays Harbor's workforce according to a 2013 study by the University of Washington.
In 2014, Washington residents took an estimated 4.1 million trips to the Washington Coast spending $481 million according to a recent study. More than one-third of those visits were to Grays Harbor County to enjoy its spectacular and productive coastal and ocean waters.
The Washington State Department of Fish and Wildlife stated "Grays Harbor is an area particularly sensitive to the adverse effects of oil spills."