Corps' Seattle District violates Clean Water Act, endangers Sound recovery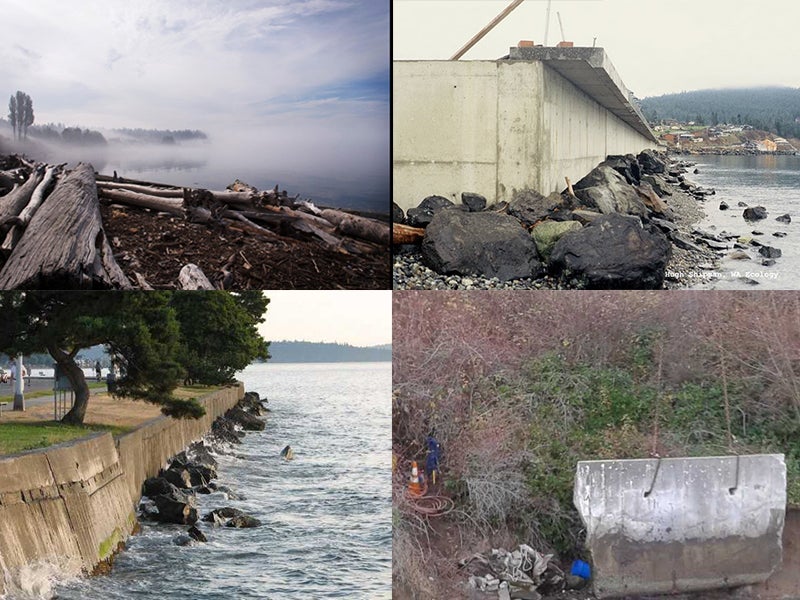 Photos courtesy Ingrid Taylar / Flickr, Kyle Loring / Friends of the San Juans and Hugh Shipman / WA Department of Ecology
Seattle, WA —
A lawsuit filed today against the U.S. Army Corps of Engineers ("Corps") charges that the agency has refused to assert its Clean Water Act jurisdiction over most shoreline armoring in Puget Sound, and that endangered species and Sound shorelines are suffering the negative impacts of the Corps' continued inaction. 
Washington Environmental Council, Sound Action and Friends of the San Juans filed the suit after the Corps rejected a science-based government recommendation to correct its unlawful definition of the Seattle District Corps' jurisdiction over shoreline armoring projects.
The coalition, represented by Earthjustice, is calling for federal oversight of shoreline armoring by raising what the Corps' Seattle District considers the "high tide line" in order to better protect at-risk species and the shorelines themselves. The lawsuit also calls for a response to the groups' 2015 petition asking for jurisdictional decisions on four shoreline armoring projects. The groups contend a strong federal policy to protect shorelines is critical to Puget Sound recovery.
"Shoreline armoring impairs the health of Puget Sound by damaging nearshore habitat important for forage fish that feed salmon," said Mindy Roberts, Puget Sound director for Washington Environmental Council. "Currently, federal agencies don't consider impacts from these structures, because their definition of what constitutes 'the shoreline' is too lax."
Background
Armoring is the placement of hard structures — boulders, jetties, seawalls — on shorelines to help prevent erosion. The Corps is required by law to review proposed armoring projects up to the "high tide line," which is generally the line at which land meets the water. But the Corps' Seattle District uses a much lower tidal marker (known as the "mean higher high water" mark). As a result, the Seattle District does not review the majority of armoring projects in Puget Sound.
The Corps' failure to assert jurisdiction means there has been no federal oversight of whether most armoring projects in the Sound meet the Clean Water Act, the Endangered Species Act or any other federal requirement.
Further, the Corps recently rejected an interagency recommendation to use a higher tidal marker, in violation of the Administrative Procedure Act, which prohibits arbitrary and capricious agency actions. In rejecting the recommendation, the Corps ignored sound science and the law. 
---
"The Corps has known for years that its high tide line marker in Puget Sound is unlawfully low," said Anna Sewell, Earthjustice attorney for the plaintiffs. "But the Corps put its head in the sand and rejected a science-based recommendation from three regional federal agencies — including the Seattle District Corps itself — to protect 8,600 acres of shoreline area by raising that marker."
This troubling lack of federal support puts Puget Sound shorelines at risk of further deterioration, particularly when shoreline armoring is well documented to be one of the most significant risks to the Sound.
"Puget Sound is already on the brink of collapse due to continued habitat loss, and it's critical that the laws put in place to protect nearshore ecosystems are both followed and enforced," said Sound Action Executive Director Amy Carey. "Unless we act now, the forage fish, the salmon and the orcas that are so desperately struggling to survive will be lost forever. It's up to all of us to ensure this doesn't happen — and it starts by holding the permitting agencies accountable for doing their jobs." 
"By disavowing its statutory authority, the Corps has shielded harmful projects from a review of their impacts on critically endangered and culturally vital Northwest species," added Kyle Loring, staff attorney, Friends of the San Juans. "Its high-tide interpretation also leaves state and local governments on their own, at a time when our publicly-funded agencies should be working together to do everything in their power to protect what remains of our region's rich heritage."
The Corps must respond to the lawsuit within 60 days.
Your timing is perfect …
At Earthjustice, we're more than just lawyers in a courtroom. We're a nonprofit in the business of building a better future for our planet. Our 135 lawyers measure success in clean air, clean water, and safeguards for communities across the country. We stand alongside our hundreds of public-interest clients at the frontlines of the fight for a better today and tomorrow. Case by case, our lawyers face off against deep-pocketed interests and today's unprecedented attacks on our environment, health, and climate — and we win.
You have only a few days left to make a tax-deductible donation investing in our work that will immediately triple in value, thanks to a generous first-ever match offer from our Board of Trustees.
Whether you give $5 or $5,000, this will be the best investment you make today.
(Not convinced? Research our legal victories and see our clients, all of whom we represent free of charge.)
Contacts
Anna Sewell, Water Project Attorney, Earthjustice, (202) 797-5233
Amy Carey, Executive Director, Sound Action, (206) 745-2441
Kyle Loring, Staff Attorney, Friends of the San Juans, (360) 298-7615
Mindy Roberts, Puget Sound Director, Washington Environmental Council, (206) 485-0103