Trump Administration Likely Trades One Industry Shill for Another with Zinke Departure
Zinke's attacks on environment, public lands harmful to U.S., likely to repeat with new Secretary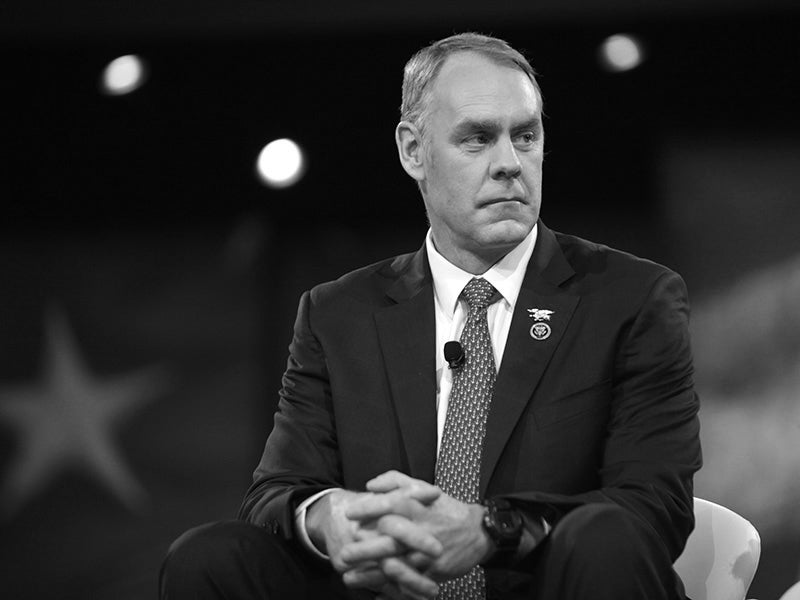 Gage Skidmore / CC BY-SA 2.0
Washington, D.C. —
On the heels of over a dozen federal investigations into Interior Secretary Ryan Zinke's conduct in office, the Secretary announced his resignation this morning.
Zinke is likely to be replaced by industry henchman and "walking conflict of interest" Deputy Secretary David Bernhardt. Bernhardt, a former oil and gas lobbyist and former George W. Bush administration official, has passed through the revolving door of government and the influence industry for over 20 years.
The following is a statement from Martin Hayden, Vice President of Policy and Legislation, Earthjustice:
"Ryan Zinke leaves office with a sendoff little better than one of President Trump's former contestants on The Apprentice. He should've been fired far earlier for his many ethical lapses and attacks on our public lands and wildlife. From the first — and we believe illegal — dramatic reductions of our national monuments in our nation's history to his blind dash to lease away our fragile coastline to drillers to his full-out assault on the Endangered Species Act, Zinke leaves office with a legacy of corrupt behavior and wrongheaded priorities.
"The Senate must reject any Trump administration attempt to replace one industry shill with another in the coming weeks. If rumors are correct, Deputy Secretary David Bernhardt, an oil and gas lobbyist who never really quit his old job before taking his current one, will be nominated to replace Zinke. Senators should not advance the nomination of an industry hack who's passed through the revolving door enough times to break it."
More Information: