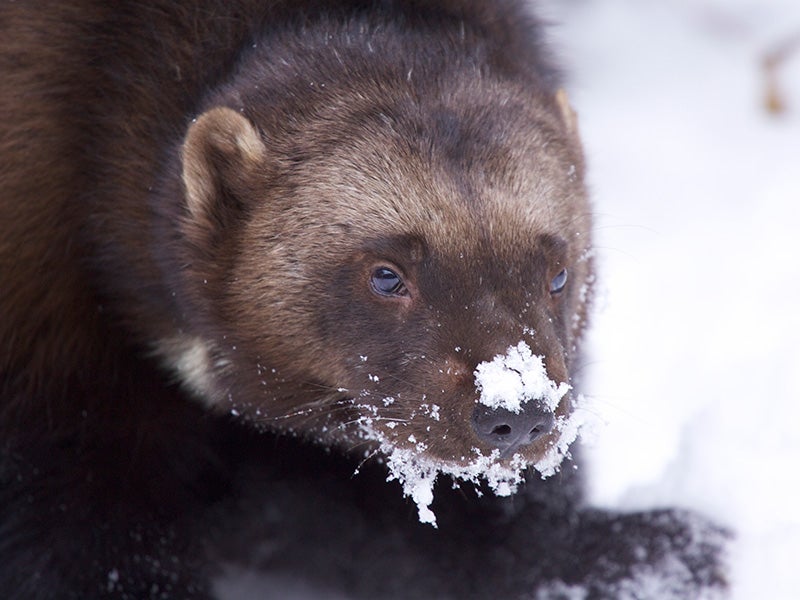 Visceral Image / iStockphoto
What's at Stake
Without the new conservation efforts that would be triggered by the Endangered Species Act listing, wolverines face localized extinction as a result of climate change, habitat fragmentation and low genetic diversity.
Overview
The wolverine, the largest land-dwelling member of the weasel family, once roamed across the northern tier of the United States and as far south as New Mexico in the Rockies and Southern California in the Sierra Nevada range. After more than a century of trapping and habitat loss, wolverines in the lower-48 have been reduced to small, fragmented populations in Idaho, Montana, Washington, Wyoming and northeast Oregon.
With no more than 300 wolverines remaining in these regions, the species is at direct risk from climate change because wolverines depend on areas that maintain deep snow through late spring, when pregnant females dig their dens into the snowpack to birth and raise their young.
Snowpack is already in decline in the western mountains, a trend that is predicted to worsen. Wolverine populations also are threatened by trapping, human disturbance, extremely low population numbers resulting in low genetic diversity, and fragmentation of habitat.
Recognizing these threats and the need for new protection measures, Earthjustice — on behalf of conservation groups — petitioned to list the wolverine as a threatened species under the Endangered Species Act in 2000. For two decades, the Fish and Wildlife Service has time and again delayed and obstructed the proposed wolverine listing.
These tactics have required public advocates for the wolverine to repeatedly turn to the courts for enforcement of the Endangered Species Act.
Earthjustice and the groups we represent have won every case they have filed on behalf of the wolverine, either through judicial rulings in their favor or through favorable settlement agreements.