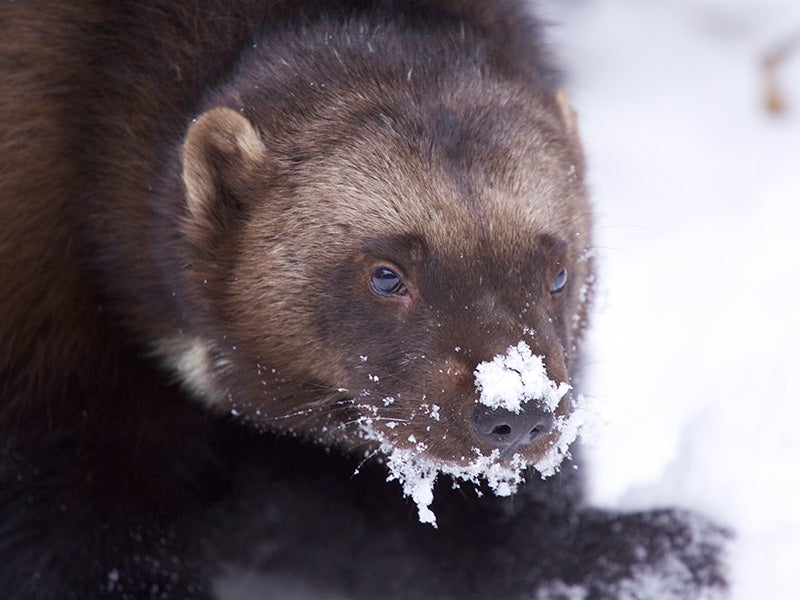 Visceral Image / iStockphoto
What's at Stake
The wolverine is among the rarest mammals in the lower-48 states and faces severe threats from habitat fragmentation and disturbance, trapping, and climate change.
Overview
The wolverine, the largest land-dwelling member of the weasel family, once roamed across the northern tier of the United States and as far south as New Mexico in the Rockies and Southern California in the Sierra Nevada range. After more than a century of trapping and habitat loss, wolverines in the lower-48 have been reduced to small, fragmented populations in Idaho, Montana, Washington, Wyoming and northeast Oregon.
With no more than 300 wolverines remaining in these regions, the species is at direct risk from climate change because wolverines depend on areas that maintain deep snow through late spring, when pregnant females dig their dens into the snowpack to birth and raise their young. Snowpack is already in decline in the western mountains, a trend that is predicted to worsen. Wolverine populations also are threatened by trapping, human disturbance, extremely low population numbers resulting in low genetic diversity, and fragmentation of habitat.
The Fish & Wildlife Service has disregarded well-established scientific evidence, including the recommendations of its own scientists, in speculating that the wolverine might be capable of withstanding the projected loss of 63 percent of its snowy habitat in the lower 48 by the year 2085. Contrary to the Service's speculation, every one of the 562 verified wolverine den sites in North America and Scandinavia occurred in snow; 95 percent of worldwide summer wolverine observations and 89 percent of year-round wolverine observations fell within areas characterized by persistent spring snowpack.
Elimination of this snowy habitat due to warming temperatures presents a direct threat to the wolverine's survival—a danger compounded by the increasing isolation and fragmentation of wolverine habitats that threatens remaining populations with localized extinctions and inbreeding.
For more than a decade, Earthjustice has persistently fought to win new legal protections for the wolverine.