As New York Considers its Next Move on Fracking, Attention Turns To Industry Infrastructure
Residents, business owners, elected officials express concern over proposed gas storage facilities
Kathleen Sutcliffe, Earthjustice, (212) 845-7380
Reading, NY
—
As New York State considers its next move on fracking, attention is shifting to gas industry infrastructure projects proposed for the state that may hasten development using the controversial gas extraction process.
Two such projects are proposed for underground salt caverns on the shores of Seneca Lake, in the Finger Lakes region of Western New York. They would involve large-scale storage facilities with new capacity for 88 million gallons of liquid petroleum gas ("LPG") and additional capacity for natural gas, expanding storage to 2 billion cubic feet. Both projects are proposed by subsidiaries of Kansas City-based Inergy.
"They boast on their website and to their investors that they intend to build out an 'integrated gas storage and transportation hub to service the Northeast,'" said Joseph Campbell, co-founder of Gas Free Seneca. "Right here in the Finger Lakes."
Local residents, business owners and elected officials are concerned that the projects will jeopardize public health and safety and threaten the growing local tourism economy.
"I have spent every summer of my life on the shores of Seneca Lake. It is a peaceful, tranquil place, certainly not a place where you could ever imagine your health and safety being at risk," said Gas Free Seneca co-founder Yvonne Taylor. "But if Inergy's plans go through, I am extremely worried for my health and safety. And I'm not the only one."
Since forming in early 2011, Gas Free Seneca has built an organization of more than 140 business coalition members opposed to this facility and collected more than 5,000 petition signatures of local residents, business owners and visitors.
"My sister and I are the 7th generation in our family to grow fruit in the Finger Lakes region. We want to preserve the natural beauty of the region for the past, present, and future," said Doug Hazlitt, owner of Hazlitt 1852 Vineyards. "The growth of the gas storage industry will lead to the decline of the tourism industry and I don't think anyone wants to see that."
The project has also raised concerns among elected officials. On Tuesday, in a near-unanimous bipartisan vote, the Seneca County Board of Supervisors approved a resolution joining State Senator Michael Nozzolio in asking the state Department of Environmental Conservation (DEC) to withhold approval of the facility.
"Putting one of the region's most valuable assets, Seneca Lake, at risk of suffering irreparable damage is not only unacceptable, it's also unbelievable," said Stephen J. Churchill, chairman of the Seneca County Board of Supervisors Environmental Affairs Committee. "The general consensus is that this is a no-brainer: it's just too plain risky to move forward. I sincerely hope the DEC will listen and take action to stop the assault on the shores of Seneca Lake."
Environmental advocates are concerned that these projects will lock the region into continued extraction and use of dirty fossil fuels and discourage the growth of renewable energy.
"When state officials tried to rush through fracking regulations earlier this year, they faced a wall of public criticism and an avalanche of public comments," said Dr. Sandra Steingraber, founder of New Yorkers Against Fracking. "If the officials at the DEC expect to rush through approvals of large-scale infrastructure projects like this, guess again. They should be prepared to confront the same fierce opposition."
Gas Free Seneca is poised to challenge approval of Inergy's project in the courts, with the help of the nation's leading environmental law organization, Earthjustice.
"After reviewing the application materials, we believe DEC has grounds to deny this permit," said Deborah Goldberg, Managing Attorney of Earthjustice's Northeast office. "Moreover, decision-makers in New York should seriously question the need for these proposed storage facilities, and instead protect the region's resources and economy by developing carbon-free renewable energy in this state."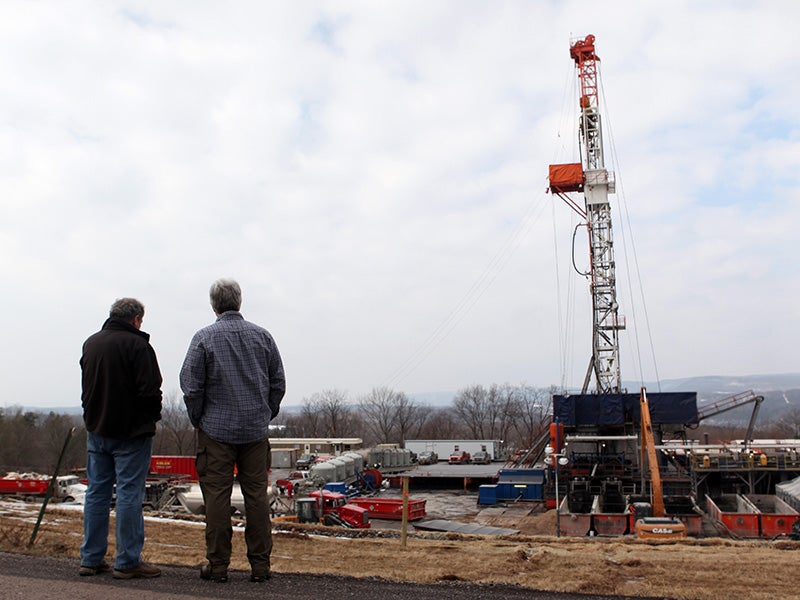 Earthjustice is the premier nonprofit environmental law organization. We wield the power of law and the strength of partnership to protect people's health, to preserve magnificent places and wildlife, to advance clean energy, and to combat climate change. We are here because the earth needs a good lawyer.