California Releases Draft Plan for Unlimited Future Pesticide Spraying
Plan would give State Department of Food and Agriculture approval to spray with no public review
Nan Wishner, California Environmental Health Initiative, (530) 467-3069
,
Elizabeth Forsyth, Earthjustice, (415) 217-2000
,
Jason Flanders, Aqua Terra Aeris Law Group, (916) 202-3018
,
Caroline Cox, Center for Environmental Health, (510) 655-3900
,
Jonathan Evans, Center for Biological Diversity, (213) 598-1466
,
Debbie Friedman, MOMS Advocating Sustainability, (415) 608-8317
Sacramento, CA
—
The California Department of Food and Agriculture has published a draft of an environmental plan giving the agency authority to spray toxic pesticides anywhere in California, at any time into the indefinite future. The blanket approval would allow no opportunity for affected communities to stop the spraying.
According to the plan, the state's agency would have the right to approve new pesticides and other expansions of the spray program with no public review, notice or analysis of the health and environmental impacts in specific locations to be sprayed.
The plan, described in the Statewide Plant Pest Prevention and Management Programmatic Environmental Impact Report, relies on a list of 79 pesticides and other chemicals, including substances linked to cancer, birth defects, miscarriages, and reproductive system impacts. Many of the pesticides are also lethal to bees and other pollinators, fish and other aquatic life, birds, and mammals. Among the PEIR pesticides are several neonicotinoids, which many scientists believe are directly linked to the collapse of honeybee populations.
The environmental review's cursory analysis of the health and ecological impacts of these chemicals fails to answer many essential questions, such as the effects of pesticide exposure on:
Infants, pregnant women, and other sensitive populations;
Children whose schools could be sprayed under the plan;
Rivers, streams, and drinking water wells.
The plan directly threatens organic farming—one of California's fastest-growing industries—because organic farmers could be forced to spray non-organic pesticides as part of state treatment programs. Although the state's review admits that "treated products would not command the typical premium prices demanded for organic produce in the marketplace," it dismisses the impact of spraying on organic farmers by asserting that they could simply switch to conventional farming.
Public comment on the draft environmental impact report is open until Oct. 31, 2014. This comment period is the only official opportunity for the public to voice concerns about the Pest PEIR.
"This plan's analysis of health and environmental impacts is so general and cursory as to be useless for determining the actual impact of the Department of Food and Agriculture's spraying in any specific location in California," said Earthjustice Attorney Elizabeth Forsyth. "Its provisions for future environmental review attempt to prevent public scrutiny of future program activities, including the agency's approval of new pesticides, new treatment areas, and new target pests."
"This document attempts the impossible: to analyze every impact on water, air, soil, sensitive species, and human health, anywhere in the state, now and into the future, including for pesticides that have not yet even been identified," said Attorney Jason Flanders of Aqua Terra Aeris Law Group. "In particular, the agency's discussion of the impacts of pesticide spraying on water quality is so generalized as to be meaningless, failing to inform local citizens what actual impacts will occur to their local water bodies and drinking water sources, and failing to adhere to basic state and federal water quality laws."
"If the Department of Food and Agriculture is allowed to approve this plan, it will set a precedent for sweeping, unchecked power by state agencies in matters involving human and environmental health," said Debbie Friedman, founder of Moms Advocating Sustainability (MOMAS). "In view of the agency's recent example of poor judgment, aerially spraying populated areas for the light brown apple moth, an insect that has turned out to pose no threat; it would be a grave mistake to grant the agency such sweeping authority."
"Although the Department of Food and Agriculture claims to use 'least-toxic' pest management, the management methods and chemicals in this plan continue the same 'spray first, ask questions later' approach that the agency has been using for decades—and that has failed, according to a recent study of the agency's own fruit fly treatment data," said Nan Wishner of the California Environmental Health Initiative (CEHI).
"This plan's assertion that organic farmers who are forced to spray pesticides can simply sell their harvest as conventional instead, or grow other crops, is unrealistic and jeopardizes the livelihood of organic farmers," said Ronnie Cummins, international director of the Organic Consumers Association and its Mexico affiliate, Via Organica. "Moreover, the statement that organic farms that have been sprayed could sell later harvests from the same season as organic undermines the meaning of the organic label and consumers' trust in it."
"Even tiny amounts of pesticides can cause serious health risks. Some can cause serious long-term problems for children, including cancer, asthma and IQ loss," stated Caroline Cox, Research Director for the Center for Environmental Health. "State programs should be based on sound scientific evaluations of the actual risks posed by introduced species and should recognize that repeated chemical treatments in neighborhoods and on food are unsustainable, weaken the resilience of our state's agricultural system, and put us on a never-ending toxic treadmill."
"Pesticides continue to poison some of California's most threatened wildlife," stated Jonathan Evans of the Center for Biological Diversity. "California has better solutions than business-as-usual pesticide application, to minimize the toxic legacy in our environment."
For more information about the PEIR, visit the websites of the California Environmental Health Initiative and Moms Advocating Sustainability.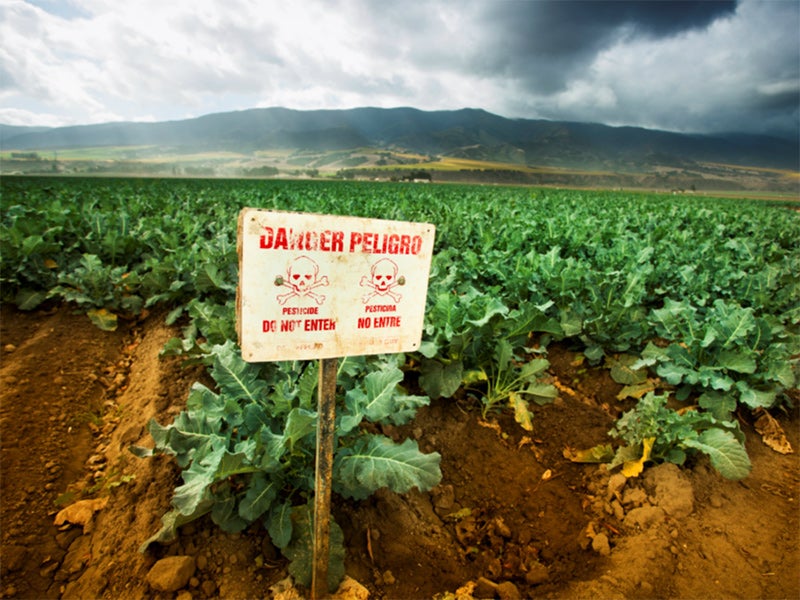 Earthjustice is the premier nonprofit environmental law organization. We wield the power of law and the strength of partnership to protect people's health, to preserve magnificent places and wildlife, to advance clean energy, and to combat climate change. We are here because the earth needs a good lawyer.