Court Approves Flawed EPA Air Pollution Plan for "Scenic Landscape" States
Coal-fired power plants over Colorado Plateau will continue to pollute
Jenny Harbine, Earthjustice, (406) 586-9699
,
Christopher Thomas, HEAL Utah, (801) 364-5110
,
Stephanie Kodish, National Parks Conservation Association, (865) 329-2424
,
Shannon Anderson, Powder River Basin Resource Council, (307) 672-5809
,
Lauren Randall, Sierra Club, (415) 977-5619
Denver, CO
—
A federal court ruled against conservation groups today, and allowed the Environmental Protection Agency (EPA) to proceed with a plan that effectively exempts eight coal-fired power plants in Wyoming, Utah and New Mexico from federal requirements to reduce emissions of haze-causing sulfur dioxide (SO2) that pollutes national parks and wilderness areas.
Conservation groups challenged EPA's plan that uses a Clean Air Act regulatory program that was supposed to strengthen air quality protections for the Colorado Plateau to instead weaken pollution control standards. The plan allows eight of the oldest and dirtiest coal-fired power plants in the region to emit as much as double the SO2 pollution the agency has found achievable for other coal plants across the country. Because of the court's decision, some of the nation's most treasured scenic landscapes will remain marred by air pollution—including Grand Canyon, Zion, and Canyonlands National Parks.
The U.S. Court of Appeals for the 10th Circuit in Denver rejected arguments that these plants should be held to the same standard as large polluters in other parts of the nation.
The pollutants that cause haze in our national parks—including SO2—are the same pollutants that contribute to heart attacks, asthma attacks and emergency room visits for chronic bronchitis and respiratory illness. Health-related costs from hospital admissions, lost work days, and premature death are the hidden price of continued pollution.
Conservation groups, represented by Earthjustice, had asked the court to order EPA to devise a new plan to reduce SO2 emissions from these large polluters to improve air quality and visibility in the region's national parks and wilderness areas. Earthjustice and attorney John Barth represented HEAL Utah, National Parks Conservation Association (NPCA), Powder River Basin Resource Council, and Sierra Club.
"Coal-fired power plants polluting the Colorado Plateau should be held to the same pollution control standards required elsewhere," said Earthjustice attorney Jenny Harbine. "There is no excuse for these plants to get a free pass to foul the air over our nation's treasured national parks and wilderness areas."
"Rocky Mountain Power and other coal utilities have unfortunately exploited a loophole in the Clean Air Act that allows them to pump far more sulfur dioxide pollution into our air than should be allowed," said Christopher Thomas of HEAL Utah. "This is bad for our parks, bad for Utah's brand as a recreation destination, and bad for our health."
"Allowing some of the dirtiest coal plants in the West a free pass to pollute our air and mire our views isn't fair," said Amy Hojnowski, senior campaign representative for the Sierra Club's Beyond Coal campaign. "We will continue to fight to hold utilities like Rocky Mountain Power accountable."
BACKGROUND
In 1977, Congress set a national goal of clean, haze-free air in our country's national parks and wilderness areas. But the EPA and the states have repeatedly dragged their feet and delayed complying with the law. Today, haze pollution from coal-fired power plants and other sources reduces visibility and diminishes visitors' ability to perceive color, contrast, and detail in the landscape. For Grand Canyon National Park and the 15 other national parks and wilderness areas on the Colorado Plateau—where scenic vistas draw millions of visitors each year—Congress recognized a particular need for solutions to improve visibility. But EPA failed to live up to this promise when it approved a plan for Wyoming, Utah and New Mexico that exempted some of the oldest and dirtiest pollution sources from reducing their visibility-impairing emissions of SO2.
The court's decision to let EPA proceed with this plan thwarts the intent of Congress to protect and improve the scenic vistas at these magnificent federal lands while reducing pollution that harms public health. The conservation groups continue to advocate for adequate reductions of another haze-causing pollutant—nitrogen dioxide—from many of the same coal-fired power plants at issue in today's court decision.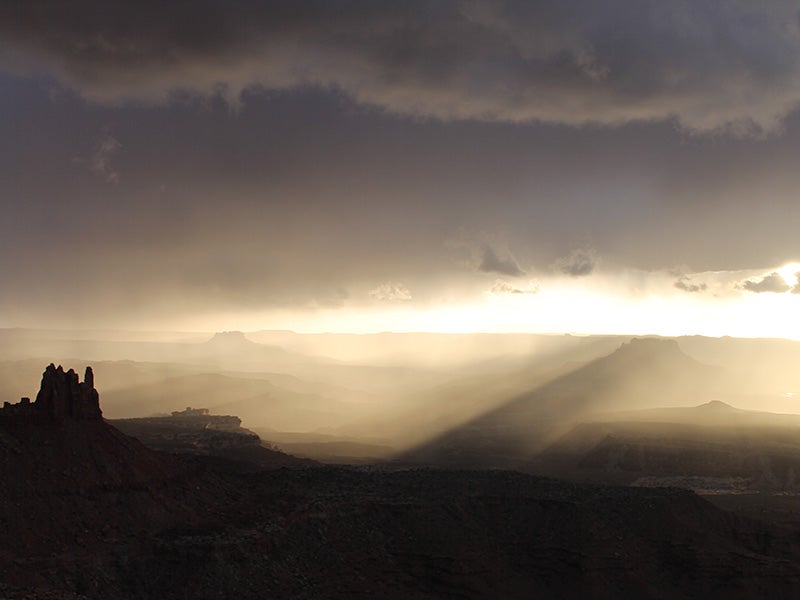 Earthjustice is the premier nonprofit environmental law organization. We wield the power of law and the strength of partnership to protect people's health, to preserve magnificent places and wildlife, to advance clean energy, and to combat climate change. We are here because the earth needs a good lawyer.