Oakland City Council to Consider Opposing Transport of Hazardous Fossil Fuel Materials
Community leaders, groups applaud decision to protect Bay Area communities
Oakland, CA
—
The City of Oakland Public Works Committee voted unanimously to move forward to the full council a resolution that opposes transporting coal, petroleum coke, crude oil and other hazardous materials along rail lines in Oakland and the East Bay. Citing environmental problems, public health hazards, economic pitfalls, and public opposition to exports, the committee voted unanimously to advance the resolution. This is the first opposition statement to be considered by California city councils that includes coal and petcoke, in addition to oil. The resolution was introduced by councilmembers Dan Kalb, Lynette Gibson McElhaney and Rebecca Kaplan.
"Today's resolution before the Public Works Committee calls on our leaders to ensure that we are protecting our City's greatest assets—our culturally rich neighborhoods, our dynamic waterfront, and our economic engine of the Port," said Councilmember McElhaney. "There have been too many accidents that have caused irreparable harm to communities in Pennsylvania, North Dakota, and Quebec. It is my responsibility as an elected leader to protect our Oakland community and this is why I strongly support this resolution."
"From California to Oregon to Washington, local communities are holding the line in the fight against dirty coal exports. We still have more work to do here in the Bay Area, but today's decision shows that Oakland's leadership is committed to safeguarding clean air, clean water, and public health for our communities," said Michelle Myers, director of the Sierra Club's San Francisco Bay Chapter.
Due to strong community organizing, coal, petcoke and oil export facilities have been unable to move forward along much of the West Coast. Other communities in California have passed similar resolutions regarding oil transport, including Berkeley and Richmond. The San Francisco Environment Commission also unanimously passed a resolution to work with the City and Port on crafting a policy to ban the exports of coal, oil and petcoke. In Washington and Oregon, three active coal export proposals have met fierce opposition from tens of thousands of citizens and hundreds of groups, businesses and elected officials.
"Oakland already faces a disproportionate burden from illnesses associated with air pollution. The rate of asthma hospitalization visits here is more than two times above that of Alameda County and one of the highest in the county," said Roger Lin, staff attorney with Communities for a Better Environment. "Oakland residents are working together to ensure a healthier, vibrant future. Letting in new dirty coal export and fossil fuel facilities undoes our work and further endangers community health and safety."
Coal dust and diesel particulate matter from the numerous open top mile-long trains to transport these commodities would pose significant air and water quality threats to Bay Area families. On average, the BNSF estimates that each uncovered rail car can potentially lose up to 500 pounds of coal per trip, or more than 60,000 pounds lost per train. Coal breaks apart easily to create dust that contains lead, arsenic, uranium, and hundreds of other heavy metal toxins harmful to fish and human health. Coal dust also can contribute to train derailments.
"The number of mile-long coal, petcoke and oil trains passing through our community is expected to rise dramatically," said Brian Beveridge of the West Oakland Environmental Indicators Project . "Those coal and oil trains will pass thousands of homes from San Leandro to Martinez to Berkeley to Oakland. An accident along this route could deliver incredible damage to lives and property. We applaud Oakland's steps towards opposing the dangerous transport of these fossil fuels."
"California, and especially the Bay Area, stand at the forefront of clean energy development, green local job generation, and leadership in the broader battle against climate change," said Suma Peesapati, an Earthjustice staff attorney. "Exporting dirty, out-of-state coal for overseas combustion flies in the face of our local policies, interests and values."
The Oakland City Council will consider the resolution during its monthly meeting on July 15, 2014 at 5:30 p.m.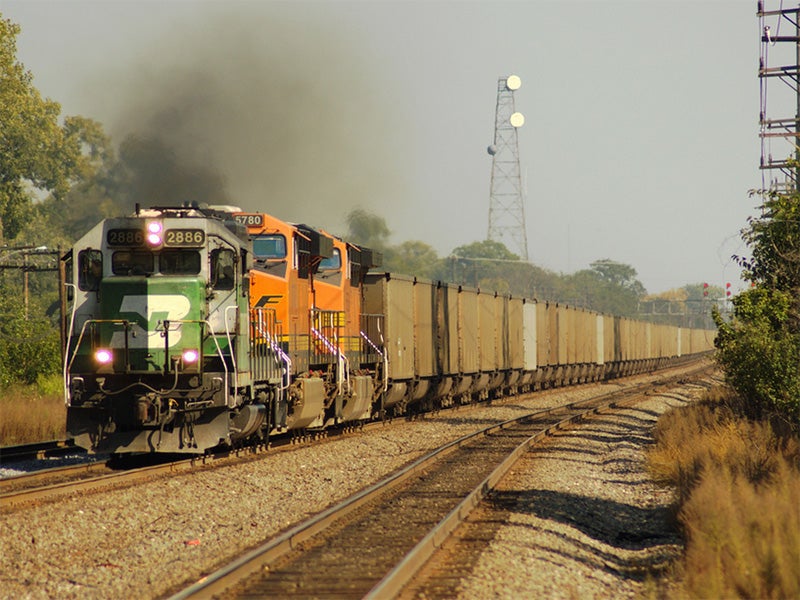 Earthjustice is the premier nonprofit environmental law organization. We wield the power of law and the strength of partnership to protect people's health, to preserve magnificent places and wildlife, to advance clean energy, and to combat climate change. We are here because the earth needs a good lawyer.