Obama Administration and Arch Coal Decline to Appeal Judgment on Colorado's Backcountry Roadless Area
The lack of an appeal finalizes a victory judgment for conservation groups
Ted Zukoski, Earthjustice, (303) 996-9622
,
Alli Melton, High Country Conservation Advocates, (970) 349-7104
,
Jeremy Nichols, WildEarth Guardians, (303) 437-7663
,
Roger Singer, Sierra Club, (303) 884-0064
Denver, CO
—
The deadline for federal agencies and Arch Coal to appeal a district court's decision calling for disclosure of climate change impacts from coal mining in Colorado expired at the end of the day Monday.
The lack of an appeal by the parties finalizes a judgment issued in September that held that road construction for coal mines in roadless forest could not take place, unless and until, federal agencies first consider climate impacts and inform the public of that potential damage.
Aspens in the lease expansion area.
Ted Zukoski / Earthjustice
Earlier this fall, Judge R. Brooke Jackson of the U.S. District Court for the District of Colorado issued a final decision invalidating U.S. Forest Service and Bureau of Land Management decisions approving road construction inside the Sunset Roadless Area for expanded coal mining. The ruling was a victory for conservation groups, represented by Earthjustice, who successfully argued that the agencies failed to consider or disclose the climate change impacts of mining and burning millions of tons of coal made available by the agencies' decisions.
Statements
A view from the Deep Creek "slump" in the Sunset Roadless Area in June 2013. The landscape is already pock-marked with well pads.
Ted Zukoski / Earthjustice
"The Obama administration's move to accept this ruling and not appeal is an encouraging sign that it will take the hard look at the climate pollution caused by unlocking hundreds of millions of tons of coal for mining.  Climate change is harming human health, causing sea level rise, and damaging private property across the globe. As Judge Jackson ruled, federal agencies can't turn a blind eye to these significant costs," stated Ted Zukoski, Earthjustice staff attorney.
"As the costs of climate disruption become all too real for Americans, we are encouraged to see the Obama administration recognize the need for informed and transparent decision-making regarding dirty fossil fuels and their impact on our climate," said Roger Singer, senior organizing manager of Sierra Club in Colorado.
"The Obama administration's decision not to appeal is also good news for the Sunset Roadless Area and the elk, bear, beaver and goshawk that live there," said Alli Melton, public lands director of the High Country Conservation Advocates. "All were threatened by Arch Coal's proposal to bulldoze nearly 50 drill pads and six miles of road in pristine National Forest land. We'll continue to engage with the administration to make sure it provides a full and accurate accounting of climate impacts before approving road construction for coal mining in the Sunset Roadless Area."
Background
A dusky grouse perches in an aspen, in the Sunset Roadless Area in September 2014.
Ted Zukoski / Earthjustice
Earthjustice, on behalf of High Country Conservation Advocates, WildEarth Guardians and Sierra Club, filed the lawsuit to halt coal mine expansion plans in the Sunset Roadless Area adjacent to Colorado's iconic West Elk Wilderness that would have bulldozed pristine aspen forests to mine dirty coal.
Read the district court's ruling and other case background.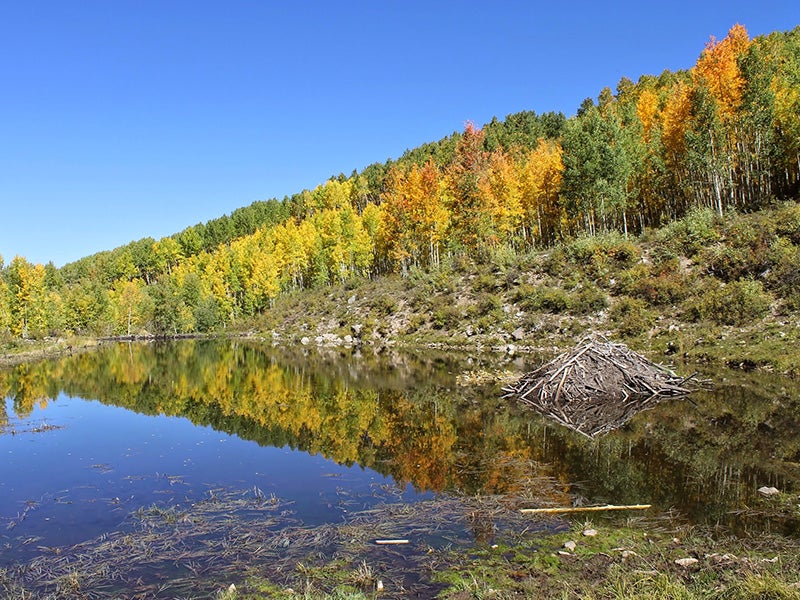 Earthjustice is the premier nonprofit environmental law organization. We wield the power of law and the strength of partnership to protect people's health, to preserve magnificent places and wildlife, to advance clean energy, and to combat climate change. We are here because the earth needs a good lawyer.