Victory for Wolves in Wyoming
Victory
—
Federal judge reinstates federal protections statewide
Tim Preso, Earthjustice, (406) 586-9699
,
Melanie Gade; Defenders of Wildlife, (202) 772-0288
,
Noah Greenwald, Center for Biological Diversity, (503) 484-7495
,
Josh Mogerman, Natural Resources Defense Council, (312) 651‐7909
,
Bonnie Rice, Sierra Club, (406) 582-8365, ext. 1
Washington, D.C.
—
Federal protections for gray wolves in Wyoming were reinstated today after a judge invalidated the U.S. Fish and Wildlife Service's 2012 statewide Endangered Species Act delisting of the species. The ruling from the U.S. District Court halts the management of wolves by Wyoming, a state with a history of hostile and extreme anti-wolf policies.
"The court has ruled and Wyoming's kill-on-sight approach to wolf management throughout much of the state must stop," said Earthjustice attorney Tim Preso. "Today's ruling restores much-needed federal protection to wolves throughout Wyoming, which allowed killing along the borders of Yellowstone National Park and throughout national forest lands south of Jackson Hole where wolves were treated as vermin under state management. If Wyoming wants to resume management of wolves, it must develop a legitimate conservation plan that ensures a vibrant wolf population in the Northern Rockies."
Earthjustice represented Defenders of Wildlife, Natural Resources Defense Council, the Sierra Club and the Center for Biological Diversity in challenging the Fish and Wildlife Service's September 2012 decision to strip Endangered Species Act protections from gray wolves in Wyoming. The conservation groups challenged the 2012 decision on grounds that Wyoming law authorized unlimited wolf killing in a "predator" zone that extended throughout most of the state, and provided inadequate protection for wolves even where killing was regulated.
"Today the court affirmed that delisting gray wolves in Wyoming by the Obama administration was premature and a violation of federal law," said Defenders of Wildlife President and CEO Jamie Rappaport Clark. "Any state that has a wolf management plan that allows for unlimited wolf killing throughout most of the state should not be allowed to manage wolves. Wolves need to remain protected under the Endangered Species Act until the species is fully recovered. State laws and policies that treat wolves like vermin are as outdated and discredited today as they were a century ago."
"The decision makes clear that 'shoot-on-sight' is not an acceptable management plan for wolves across the majority of the state," said Dr. Sylvia Fallon, senior scientist and wildlife conservation director at the Natural Resources Defense Council. "It's time for Wyoming to step back and develop a more science-based approach to managing wolves."
"The court has rightly recognized the deep flaws in Wyoming's wolf management plan. Wolves in Wyoming must have federal protection until the state gets it right. That means developing a science-based management plan that recognizes the many benefits wolves bring to the region instead of vermin that can be shot on sight in the majority of the state," said Bonnie Rice of the Sierra Club's Greater Yellowstone Our Wild America Campaign.
"We're thrilled that protections for Wyoming's fragile population of wolves have been restored," said Noah Greenwald, endangered species director with the Center for Biological Diversity. "With Wyoming allowing wolves to be shot on sight across more than 80 percent of the state, there is no way protections for wolves should have ever been removed."
The 2012 delisting of wolves in Wyoming turned wolf management over to the state, which opened up over 80 percent of its land to unlimited wolf killing and provided weak protections for wolves in the remainder. Since the delisting, 219 wolves have been killed under Wyoming's management. Prior to the 2012 reversal of its position, the Fish and Wildlife Service denied Wyoming the authority to manage wolves in the state due to its extremely hostile anti-wolf laws and policies.
Background
There were once up to 2 million gray wolves living in North America, but the animals were driven to near-extinction in the lower 48 states by the early 1900s. After passage of the federal Endangered Species Act in 1973 and protection of the wolf as endangered, federal recovery programs resulted in the rebound of wolf populations in limited parts of the country. Roughly 5,500 wolves currently live in the continental United States—a fraction of the species' historic numbers.
The U.S. Fish and Wildlife Service is currently proposing to remove Endangered Species Act protection for most gray wolves across the United States, a proposal that the groups strongly oppose; a final decision could be made later this year.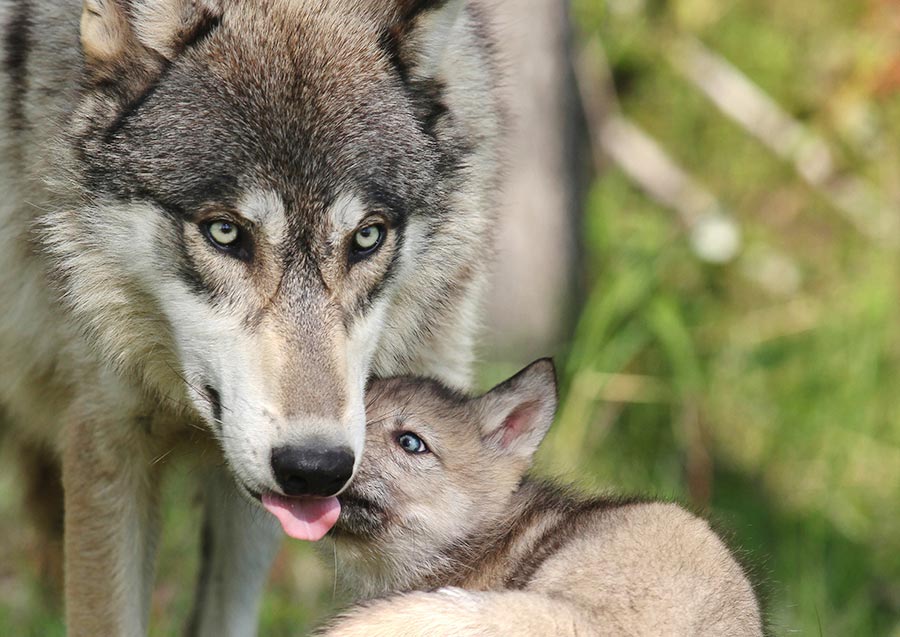 Earthjustice is the premier nonprofit environmental law organization. We wield the power of law and the strength of partnership to protect people's health, to preserve magnificent places and wildlife, to advance clean energy, and to combat climate change. We are here because the earth needs a good lawyer.