Agreement Sets Stage for Protection of Popular Colorado National Forest
Victory
—
Legal settlement is a win for wildlife, fish and Colorado communities
Denver, CO
—
On Friday, conservation and recreation groups and the Forest Service settled a lawsuit that challenged how the Forest Service manages dirt bikes, all-terrain vehicles and other motor vehicles on the Pike-San Isabel National Forest. The settlement, filed in the U.S. District Court for the District of Colorado, is a step toward better protection for wildlife and safer and more rewarding experiences for visitors.
The 1.1 million-acre Pike-San Isabel National Forest borders the Continental Divide and forms the majestic backdrop to southwest Denver, Colorado Springs and Pueblo. The forest's rocky pinnacles, rolling ponderosa pine forests and high peaks are recreational havens for hikers, mountain bikers and climbers. Nineteen of Colorado's 54 mountains over 14,000 feet in elevation are found on the forest, including the iconic Pikes Peak and Mt. Elbert, Colorado's highest peak. The forests' abundant wildlife is a draw for sportsmen and tourists, and are home to rare species including the threatened Mexican spotted owl and the greenback cutthroat trout, Colorado's official state fish.
In 2011, five organizations filed a lawsuit challenging the Pike-San Isabel's permitting motorized vehicle use on over 500 miles of motorized roads and trails without first consulting the public or examining the potential environmental effects. Some of the routes are in areas zoned for non-motorized use only; others were located in important big-game winter range and imperiled species' habitat.
The settlement requires the Forest Service to develop a motorized vehicle plan and undertake a top-to-bottom review of motor vehicle use on the forest within five years—all in consultation with the public. That review will consider the type and location of motorized use that can occur across the Pike-San Isabel. The Forest Service also agreed to not allow motorized vehicles to drive in a handful of places that overlap with endangered species habitat and that are set aside for primitive recreation.
While the five-year review is ongoing, the settlement requires the Forest Service to consult with Colorado Parks and Wildlife experts within three months to determine if changes to routes must be made in the short run to protect important winter habitat for deer and elk and other big game. The Pike-San Isabel has over 2,200 miles of motorized routes open to the public, greater than the distance between Los Angeles and Chicago.
"This is a win-win solution for Colorado, its wildlife and our forests," said Greg Dyson, Public Lands Director at WildEarth Guardians. "This agreement sets the stage for Coloradoans to come together to decide how best to access and enjoy this forest."
"The forest opened certain trails and areas that I knew from experience had been previously closed to motor vehicles. Single track and game trails were improperly opened to ATVs or somehow became designated roads. These are places where I go to get away from the noise of and chaos of modern society and where wildlife thrive," said Tom Sobal, of the Quiet Use Coalition, based in Salida, Colo.
"We're glad this settlement will result in the Forest Service taking a look at its roads and trails and the desires of a broad spectrum of forest users. We need to safeguard the rare quiet wild places that remain," said Rose Chilcoat, of Great Old Broads for Wilderness, based in Durango, CO.
"The Pike San Isabel opened routes that are in the habitats of very sensitive animals, which violates its own Forest Plan," said Megan Mueller, Senior Biologist at Rocky Mountain Wild, "and, they did this without even analyzing the effects of the routes on these species. We're glad that, going forward, the needs of wildlife will be taken into account."
Colorado-based groups Quiet Use Coalition, Great Old Broads for Wilderness, and Rocky Mountain Wild, as well as WildEarth Guardians and The Wilderness Society filed the suit. They are represented by Earthjustice, a not-for-profit law firm.
"This settlement will get the Forest Service back on track, obeying its own rules that protect motorized and non-motorized users and the streams, forests and wildlife that millions of Coloradoans enjoy each year," said Ted Zukoski, an Earthjustice attorney who represented the groups. "It's a step toward preserving what we love most about being in the forest—the beauty of a vibrant, healthy, wild place."
The settlement went into effect today, after it was incorporated into U.S. District Judge Wiley Daniel's order dismissing the case.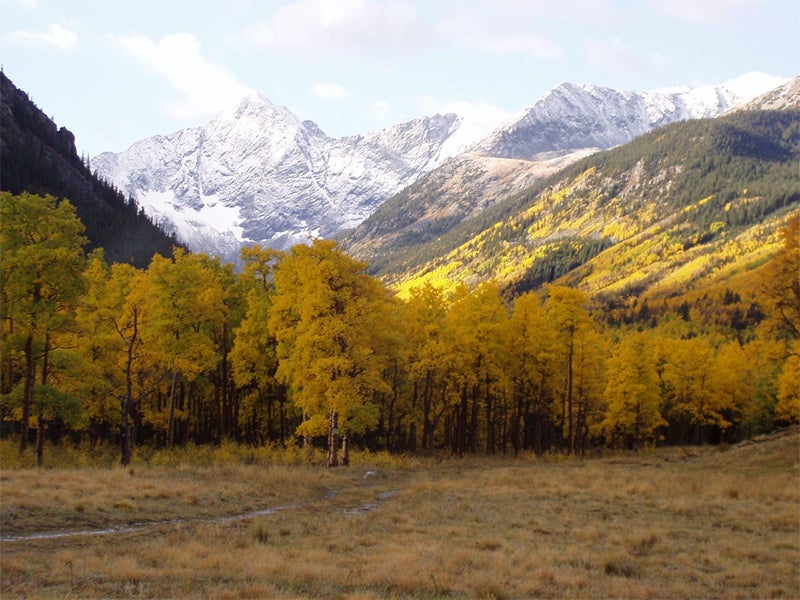 Earthjustice is the premier nonprofit environmental law organization. We wield the power of law and the strength of partnership to protect people's health, to preserve magnificent places and wildlife, to advance clean energy, and to combat climate change. We are here because the earth needs a good lawyer.