EPA Receives Second Chance to Protect Montana's Air Quality
Court rules that regional haze plan must be redone
Jenny Harbine, Earthjustice, (406) 586-9699
,
Eric Bontrager, National Parks Conservation Association, (202) 659-0650
,
Anne Hedges, Montana Environmental Information Center, (406) 443-2520
Bozeman, MT
—
The Ninth Circuit Court ruled today that U.S. Environmental Protection Agency (EPA) needs to go back to the drawing board and improve its regional haze plan for Montana. EPA now has an opportunity to create cleaner air for Montana families, and some of our nation's most iconic National Parks, by eliminating human-caused haze from one of the West's dirtiest power plants by requiring the installation of modern pollution controls.
"This ruling is a big step in the right direction to achieve clean air in Yellowstone and other iconic national parks in the region. On the worst days, our views in Yellowstone are cut by over 50 miles by the same pollution that causes harm to people's health," stated Ulla Reeves, clean air campaign manager for National Parks Conservation Association. "EPA must now follow through and do the right thing to require the most stringent modern pollution controls from Montana's biggest source of air pollution."
Each year, Colstrip creates more haze pollution from sulfur dioxide and nitrogen dioxide than all other in-state sources combined. The two chemicals are dangerous to human health: High concentrations of SO2 can create lung problems, worsen asthma attacks and exacerbate heart disease in vulnerable populations. In 2014, Colstrip emitted 15,588 tons of nitrogen dioxide—3,000 tons more than the entirety of what Montana's other regulated sources emitted. Colstrip also polluted the air with 10,000 tons of sulfur dioxide, while other in-state sources emitted just 9,000 tons combined. Hundreds of power plants across the country, including plants in Montana, have already modernized their pollution controls.
"Colstrip sends massive amounts of harmful air pollution into Montana's skies each year—pollution that makes people sick," said Anne Hedges, deputy director of the Montana Environmental Information Center. "By itself, Colstrip emits more nitrogen oxides and sulfur dioxide pollution than the combined emissions of all other pollution sources in the state. We are pleased that the EPA will finally have to consider requiring modern pollution controls at these two old Colstrip units. If EPA again decides not to require modern pollution controls as are already used at another Montana coal plant, the public deserves to know why."
Without requiring Colstrip's owners to reduce its haze pollution, the draft Montana Regional Haze Implementation Plan made it virtually impossible for Montana to protect visibility at national parks as required by the Clean Air Act. The National Parks Conservation Association, Montana Information Center and the Sierra Club, represented by Earthjustice, challenged the plan in 2012 and asked that EPA require Colstrip's owners to reduce its sulfur dioxide and nitrogen oxide pollution.
"It's time for EPA to finally develop a meaningful plan to clean up the air over our region's most cherished lands, including Yellowstone National Park and the UL Bend Wilderness. The court's ruling means that EPA will have to clean up air pollution from coal burning at Colstrip Units 1 and 2, which disproportionately dirties the air over these spectacular Northern Rockies landscapes," said Earthjustice attorney Jenny Harbine.
In the time since EPA released its Montana haze plan, additional developments show mounting pressures for Colstrip's owners to control the plant's outsized pollution problem. EPA recently found that several coal-fired power plants in Wyoming must do more to address haze pollution.
"Historically, Colstrip has produced nearly twice as much haze-causing pollution as the next nine largest air polluters in Montana," said Doug Howell, Sierra Club senior campaign representative. "EPA must get serious about addressing regional haze and all the health effects that come with sulfur dioxide and nitrogen oxide pollution. To do that, Colstrip's huge pollution emissions must be substantially reduced. EPA now has the chance to clean up Montana's air for families and for parks."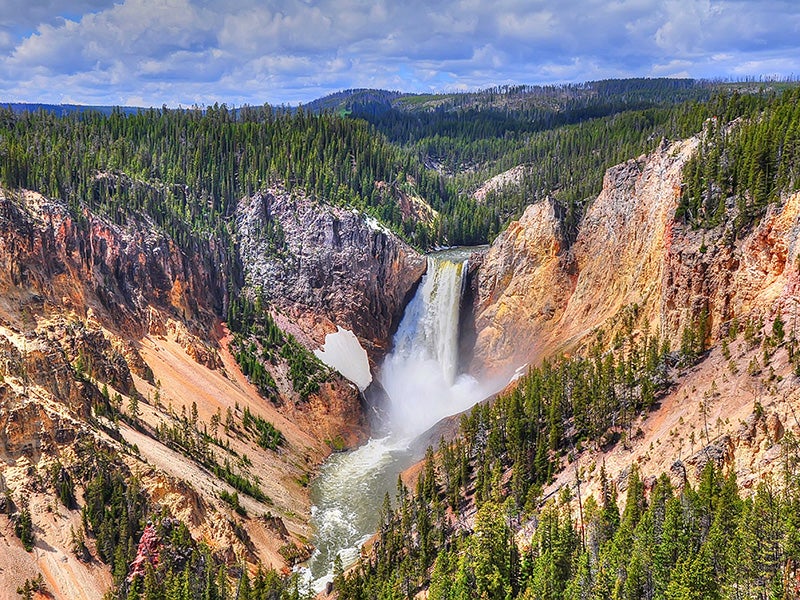 Earthjustice is the premier nonprofit environmental law organization. We wield the power of law and the strength of partnership to protect people's health, to preserve magnificent places and wildlife, to advance clean energy, and to combat climate change. We are here because the earth needs a good lawyer.