Overwhelming Majority of Florida Latino Voters Want Climate Action Now
74 percent support state measures to combat climate change
Betsy Lopez-Wagner, Earthjustice, 415-217-2159, blopez-wagner@earthjustice.org
,
Mark Magaña, GreenLatinos, 202-230-2070, markmagana@greenlatinos.org
,
Victor Sanchez, Central Florida Labor Council for Latin American Advancement, 407-924-1802, vjsanchez74@gmail.com
,
Jeannie Economos, Farmworker Association of Florida, 407-886-5151, Farmworkerassoc@aol.com
San Francisco, CA
—
According to a new poll conducted by Latino Decisions for Earthjustice, a national environmental nonprofit law firm, and GreenLatinos, a leading national nonprofit of Latino environmental leaders, 76 percent of registered Latino voters in Florida strongly support national clean energy standards and 74 percent strongly support state clean energy standards to combat climate change. 
See national results from poll »
Florida is home to over 4 million Latinos, which constitutes one-quarter of the state's total population. Of the 1.5 million Latino voters in the state, 36 percent are Cuban, 32 percent are Puerto Rican and 21 percent are Central and South American. The survey (see: Florida results and polling memo) found that while Cuban Americans have historically aligned themselves with the Republican Party and tend to take conservative positions on a number of domestic and international issues, Florida's Latino population is more alike than different from Latinos in other states when it comes to environmental attitudes. Latinos are extremely concerned about the environment, giving it the same importance as immigration, according to the poll.
The top three environmental issues for Latinos in Florida are strengthening the Clean Water Act (84 percent), increasing water conservation (82 percent) and developing clean energy sources (81 percent). Additionally, 69 percent of Florida Latinos find it to be very or extremely important to reduce the use of pesticides and GMOs in farming. Florida Latino voters are worried about climate change and are supportive of candidates that take a progressive position on the environment. 71 percent in the state feel more favorable of officials who act on behalf of the environment; regardless of party lines. The majority of Latino voters (66 percent) say they are already directly experiencing the effects of human-caused climate change in Florida. 
See national results from poll »
As Florida continues to endure rising sea levels, which scientists say are intensified by climate change, this recent study also sends a cautionary note to Florida's state politicians that inaction on climate change is not an option. Florida groups, such as FL-LCLAA and Farmworkers Association of Florida, have been witnessing the effects of climate change first hand.
Trip Van Noppen, President of Earthjustice, issued the following statement: "Florida's voting Latinos have indicated that elected leaders must enact policies that promote clean energy and protect the air and water that Latinos breathe and drink. This state's Latinos are asking for a commitment to act on climate change regardless of party affiliation and inaction on climate change is not an option." 
Mark Magaña, President and Founder of GreenLatinos, issued the following statement: "The results of this study are clear – Florida Latinos want elected officials to be on the forefront of addressing the climate change our community is feeling directly. The majority of Florida Latino voters see air pollution as a serious threat to their families and 81 percent of Latinos in Florida are looking toward renewables for our energy future. Candidates who deny climate science can forget about winning the Latino vote, as only an investment in the Latino community will reap political, public policy and real benefits for the environment and generations to come.  It's time for politicians to act on behalf of the health of Florida's Latinos."
Lisa Garcia, Vice President of Litigation and Healthy Communities at Earthjustice, issued the following statement: "This poll amplified that Florida Latinos care about the environment and hold the understanding that by enacting tougher environmental standards, we can protect the health of our communities and our planet. Latinos in Florida understand that promoting a clean energy economy will only help Florida, and the majority believe that also means creation of green jobs."
Tirso Moreno, General Coordinator of the Farmworker Association of Florida, issued the following statement: "Florida's farmworkers have been on the frontlines of climate change, feeling the effects first hand. These results shine a light on what many Floridians have been seeing and feeling, along with their families and friends. The farmworkers who harvest our food each day are exposed to steadily increasing temperatures affect their daily work environments and, as a result, their health.  Heat stress from global warming, combined with chronic exposure to pesticides, are issues of great concern to farmworker families, including the potential impacts on their reproductive health. Regardless of party lines, Florida's politicians need to empower themselves to stand up for our communities, enact stronger environmental protections and work together to reduce the use of harmful pesticides."
Victor Sanchez, President, Central Florida Labor Council for Latin American Advancement (LCLAA), issued the following statement: "Latinos make environmental issues a priority because for many, pollution hits close to home. Approximately 75 percent of Latinos live in counties that violate federal air-pollution standards. They work with a lot of pesticides. It's time to raise our voices in Tallahassee." 
Poll Documents
BACKGROUND
During Summer 2015, Earthjustice and GreenLatinos joined forces to field this state research poll among U.S. Latino voters. The survey, fielded between June 24 and July 8, is based on a national sample of 1,200 Latino registered voters who were interviewed by landline, cell and on-line in English and Spanish.  As part of that effort, California and Florida were oversampled, with 300 interviews completed in each of those states. The state samples carry a nominal margin of error of +/-5.7 percentage points and national carry +/- 2.8.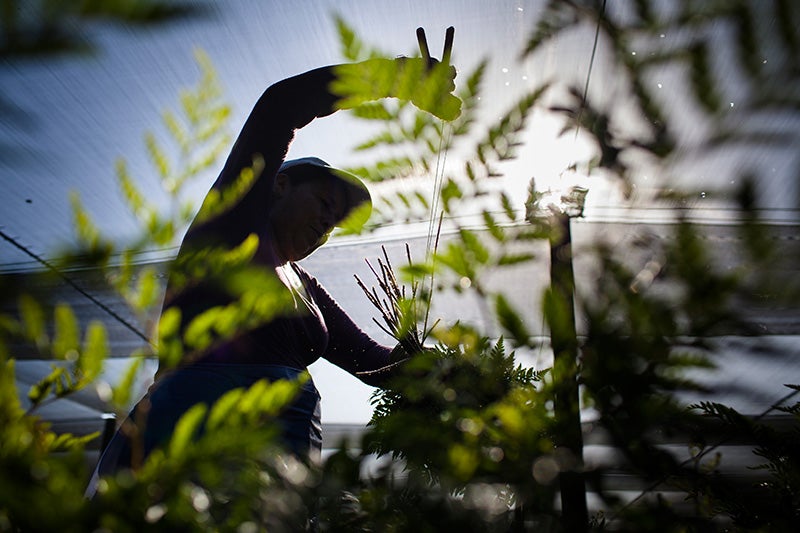 Earthjustice is the premier nonprofit environmental law organization. We wield the power of law and the strength of partnership to protect people's health, to preserve magnificent places and wildlife, to advance clean energy, and to combat climate change. We are here because the earth needs a good lawyer.