150,000+ Comments Oppose Coal-mining Loophole on Colorado Forest
Subsidies to Arch Coal slammed; renewable energy groups join wildlife, climate advocates in opposition
Denver, CO
—
More than 150,000 people, including thousands of Coloradans, called on the U.S. Forest Service to prevent a bankrupt coal company from bulldozing nearly 70 miles of roads through pristine national forest in Colorado's backcountry.
The North Fork Valley is located in western Colorado.
Colorado coal loophole could result in ~67 mi of bulldozed roads in publicly owned forest>https://t.co/EAkcUSgwEl pic.twitter.com/LaFd3HpsDT

— Earthjustice (@Earthjustice) January 22, 2016
The comments came in response to a Forest Service draft environmental analysis on a proposal to reinstate a loophole in a rule that protects Colorado's roadless national forest lands. Allowing mining operators to build roads through 20,000 acres of roadless forest would permit mining of 170 million tons of coal.  Burning that coal would unleash 130 million tons of CO2, about as much as all climate emissions from all human sources in Colorado for a year.
The Forest Service also estimated that burning the coal would cause billions of dollars in damage to the environment and the world's economy.
"The public has spoken loud and clear: the Forest Service's plan threatens our children's future on a livable planet, our wild forest, our wildlife, and our beautiful areas to hunt, fish, and hike," said Earthjustice attorney Ted Zukoski, who represented the conservation groups in federal court.
Coal in the North Fork Valley contains huge amounts of methane (natural gas), which mining companies simply waste rather than capturing. The Forest Service's analysis found that mining the coal in the roadless area would unleash enough methane to overwhelm nearly all of the climate benefit of Colorado's 2014 oil and gas rules, one of Gov. John Hickenlooper's signature achievements in limiting climate pollution.
The Forest Service's analysis also showed dumping the 170 million tons of coal on the market would undermine the nation's transition to clean energy by displacing 40,000 gigawatt hours of renewable power. By one measure, that would have the same effect as having about 140,000 homes use 100 percent coal rather than 100 percent clean energy each year for 38 years.
"The loophole could cost the global economy over $12 billion in carbon impacts and keep renewable energy off the grid," said Nathaniel Shoaff, staff attorney with the Sierra Club's Environmental Law Program. "The Forest Service should listen to President Obama and reject the Arch Coal loophole: it is time to use our public lands to incentivize the future rather than subsidize the past."
The fact that expanded coal mining would undercut renewable energy prompted several local solar companies and renewable energy supporters including Western Resource Advocates and Vote Solar to oppose the loophole. Interwest Energy Alliance, a western regional renewable energy trade group, expressed concerns about the proposal's impact.
"It's important to consider the impact additional coal mining will have on the broader electricity market, and whether artificially low coal prices supported through federal leasing will displace cleaner resources that we could be using instead," said Erin Overturf, staff attorney at Western Resource Advocates. "According to the Forest Service's analysis, that damaging displacement is exactly what will happen here."
"Solar and other renewable energy sources are ready to meet our power needs reliably and cost-effectively. Our state and our nation should be investing in the clean energy sources of today, not more of the harmful, polluting and increasingly obsolete fossil fuels of the past," said Adam Browning, Executive Director of Vote Solar, a national solar advocacy organization. "Given the negative impacts that increased coal extraction would have on community health, climate stability and continued solar progress, we urge the Forest Service to protect Colorado's roadless lands from coal mining."
Proposed CO #coal mining would unleash enough methane to overwhelm climate benefit of CO's new pollution limits pic.twitter.com/6D9IoiWmf1

— Earthjustice (@Earthjustice) January 23, 2016
The loophole opens the door for bankrupt Arch Coal to expand its underground West Elk mine in an area of crucial wildlife habitat. The Forest Service estimated mining coal in the area could result in the bulldozing of 67 miles of road and the construction of 450 drilling pads throughout nearly 20,000 acres of publicly owned roadless forest. That forest now provides habitat for black bear, elk, Colorado River cutthroat trout, goshawk and lynx.
"The Forest Service should not allow our pristine national forests to become energy sacrifice zones for the dying coal industry," said Marissa Knodel, with Friends of the Earth. "Now that Arch Coal has declared bankruptcy, investing in the expansion of its West Elk mine makes no sense. For a resilient and healthy future for our forests and climate, the time when coal companies could profit off the destruction of our national heritage is over, and the time for keeping dirty fossil fuels like coal in the ground is now."
"Roadless areas provide important habitat to many species including the Federally listed Canada lynx," said Matt Sandler with Rocky Mountain Wild. "Jeopardizing these intact refuges to appease the coal industry is a bad decision."  
"It's simply ludicrous to make an exception for a bankrupt company to carve roads through prime wildlife habitat in our national forests and spew billions of cubic feet of methane into the air. There is no value here for the American public," said Shelley Silbert, executive director of Durango-based Great Old Broads for Wilderness. "It's urgent that we make our public lands part of the solution to climate change."
COAL LOOPHOLE FACT:Proposed mining area forest provides habitat for black bear, elk, & lynx>https://t.co/EAkcUSgwEl pic.twitter.com/R0Ii54Po5T

— Earthjustice (@Earthjustice) January 22, 2016
"We need the Forest Service to show leadership and choose to keep the coal in the ground," said Alli Melton, Public Lands Director at High Country Conservation Advocates. "The roadless forests of the Upper North Fork Valley are a Colorado treasure, and are part of what makes our state such a great place to live and visit. Scraping over 60 miles of new roads and hundreds of methane drainage wells across this pristine landscape is not in the best interest of the public or the environment."
"President Obama just announced a much-needed and long-overdue halt to new federal coal leasing in order to look seriously at the climate costs of the program," said Michael Saul with the Center for Biological Diversity. "It makes no sense to  undermine this bold step by rushing through a costly, unneeded, and polluting loophole to allow more coal mining in Colorado's roadless forests."
"With Colorado already feeling the impacts of a changing climate, we should be doing everything we can to cut global warming pollution and boost renewable energy sources," said Anna McDevitt, lead organizer with Environment Colorado. "States are formulating efforts to comply with the Clean Power Plan—the nation's first-ever limits on carbon pollution from coal-fired power plants. A mining project that will spew additional carbon pollution and displace 40,000 gigawatt hours of renewable energy from the grid is counterproductive to both state and federal priorities."
In 2014, Earthjustice, representing local and national organizations, won a court decision to block the loophole in the U.S. District Court of Colorado. The court decision permitted the Forest Service to revive the loophole if the agency undertook a new analysis that adequately disclosed the climate pollution the loophole would cause.
A final decision on the loophole is expected in the spring of 2016. The Interior Department's "pause" on coal leases announced last week specifically exempts Arch Coal's proposed expansion plan.
"The gift of our public forest to a bankrupt coal company is just another wasteful and disgraceful subsidy," said Jeremy Nichols, WildEarth Guardian's climate and energy program director. "It's time we stopped financing the destruction of our forests and our climate,"  
Nichols cited Forest Service documents showing the agency will spend half a million dollars in taxpayer funds on the rulemaking to open forests to Arch's coal mining. He also noted that from 2010–2015, the BLM cut Arch Coal's royalty payments for the West Elk mine by up to $7 million in order to encourage coal mining. During just one year of that five-year period (2014), Arch Coal's CEO salary was $7 million.
Rejecting the coal mine loophole would have no immediate impact on Arch's West Elk Mine, which has a decade of coal already under lease according to the Forest Service.
Those submitting comments against the proposal included supporters of Earthjustice (50,000), Sierra Club (50,000), Friends of the Earth (33,000), Climate Reality Project (12,000); WildEarth Guardians (6,000); and Center for Biological Diversity (1,000).
See photos of the roadless areas at risk.  
Photos: Impact of Underground Coal Mining on Forests
Photos taken by U.S. Forest Service, obtained through a Freedom of Information Act request filed by Earthjustice on behalf of WildEarth Guardians, document the impact of underground coal mining on forests. These photos were taken adjacent to, or perhaps just inside, the Sunset Roadless Area: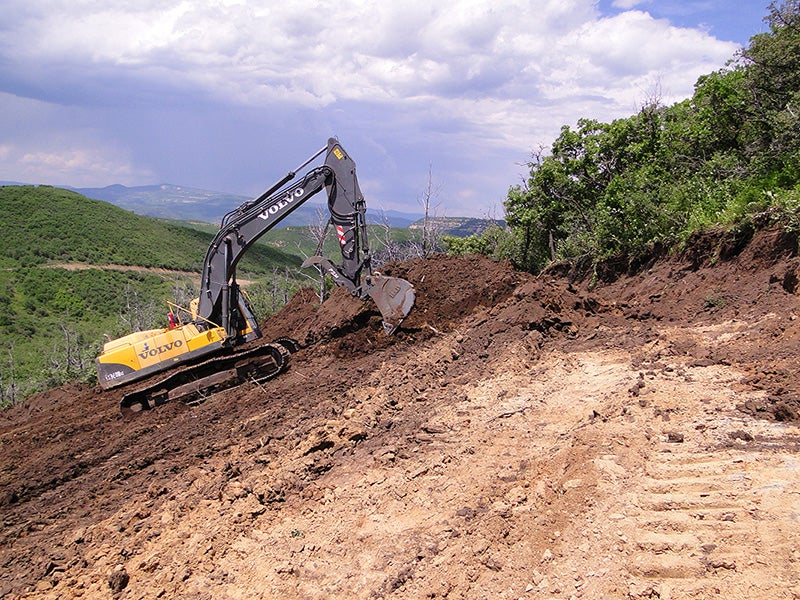 Earthjustice is the premier nonprofit environmental law organization. We wield the power of law and the strength of partnership to protect people's health, to preserve magnificent places and wildlife, to advance clean energy, and to combat climate change. We are here because the earth needs a good lawyer.