Neighborhood Groups File Federal Civil Rights Complaint Against The Colorado Department Of Transportation
Decision to triple the width of I-70 through Elyria-Swansea would disproportionately harm predominantly Latino communities
Heidi McIntosh, Managing Attorney, Earthjustice, 303-996-9621
,
Jenny Santos, Colorado Latino Forum, 720-323-5242
,
Candi CdeBaca, Cross Community Coalition, 720-289-7884
,
Drew Dutcher, President, Elyria and Swansea Neighborhood Association, 303-349-4360
Denver, CO
—
The Colorado Latino Forum, Elyria and Swansea Neighborhood Association and the Cross Community Coalition have filed a civil rights complaint with the U.S. Department of Transportation's Office of Civil Rights requesting an investigation of the Colorado Department of Transportation's (CDOT) decision to expand I-70 through predominantly Latino neighborhoods. 
Better, less discriminatory alternatives exist, including rerouting the highway along I-270 and I-76, which would only add a few miles to the trip through Denver.
The Denver neighborhoods of Elyria-Swansea and Globeville have for decades suffered a disproportionate share of the city's environmental, social and economic impacts.  CDOT's decision adds to these burdens, despite the presence of feasible, less discriminatory alternatives.  The neighborhood is 83.8 percent Latino and 44.4 percent low-income and has been identified as the most polluted zip code in Colorado.
Elyria-Swansea in particular has one of the highest rates of asthma, cancer, cardiovascular disease, diabetes and obesity in Denver, conditions which are associated with, and exacerbated by, exposure to air pollution.
"Our neighborhood has long endured the noise, pollution, and ugly physical barriers that I-70 has imposed on us and CDOT's decision to triple the impact is simply too much for this community to bear. CDOT should take this opportunity to remedy the environmental injustice of the past and restore Elyria-Swansea and Globeville so these communities are truly healthier, safer places for our families to live," said Jenny Santos of the Colorado Latino Forum.
CDOT's decision to widen I-70 despite viable, less discriminatory alternatives violates Title VI of the Civil Rights Act of 1964. The statute prohibits the use of federal funds by state agencies such as CDOT for activities that subject people to discrimination based on race, color, or national origin.   Decisions that impose environmental burdens disproportionately on communities of color violate the law, even where there is no discriminatory intent.
U.S. Department of Transportation regulations require agencies that receive federal funds, like CDOT, to "take affirmative action to remove or overcome the effects of the prior discriminatory practice or usage." Instead, CDOT proposes to intensify the impacts of the initial decision to locate I-70 in the middle of these neighborhoods.
Drew Dutcher, president of the Elyria-Swansea Neighborhood Association, emphasized that CDOT's decision will have significant repercussions for the neighborhood for at least the next five decades. "CDOT made a mistake in the 1960s when it ripped apart these neighborhoods to put in I-70, something it never would have done to more affluent, white communities.  These are different times, and we know more about the devastating health and economic impacts of freeways on our neighborhoods. This time, CDOT needs to get the decision right and begin to address the environmental and health burdens suffered by our people."

Data provided by Community Planning & Div. Map data © Google.
The Denver neighborhoods of Elyria-Swansea and Globeville have for decades suffered a disproportionate share of the city's environmental, social and economic impacts. View larger map
Candi CdeBaca of the Cross Community Coalition is the fourth generation of her family to live in Swansea. She explained that, "our community has borne the brunt of I-70 for decades at the expense of our health and wellness. Yet our community is no less valuable than any other and we cannot settle for false choices or antiquated solutions that continue to put us at risk. We have a golden opportunity not only to fix the injustices of those who forced I-70 on our community decades ago, but to leave a healthier, safer legacy for future generations. We are proud of our community and insist that CDOT stop treating us as second-class citizens."
Better, less discriminatory alternatives exist, including rerouting the highway along I-270 and I-76, which would only add a few miles to the trip through Denver; requiring the most polluting through traffic—diesel trucks—to take that northerly route; or utilizing a different, narrower configuration of the interstate with a ventilated deck that fully protects the neighborhood, instead of the inadequate 800 feet of unventilated cover CDOT currently proposes. CDOT's $1.17 billion budget for the project should accommodate funding to address these problems.
"We are asking the U.S. Department of Transportation to recognize and remedy the heavy cost that these communities have paid in reduced life expectancy, illnesses like childhood asthma and cardiovascular disease, and depressed property values. These communities have suffered unfairly from the burdens imposed by I-70 in their backyard." said Heidi McIntosh, an attorney with Earthjustice who represents the groups.
The CDOT's current plan includes placing the 278-foot wide interstate in a trench through Elyria-Swansea and covering it with an 800-foot long landscaped deck that would release exhaust from both ends.  It also offered window-mounted air conditioners to residents so that they would not have to open their windows during construction.  The groups who filed the complaint, however, believe that there are better alternatives, and question whether families would be drawn to recreate on a platform above 12 lanes of freeway traffic bordered by another 4 lanes of frontage roads, and they are concerned that air conditioners won't protect residents who go outdoors.
"CDOT's mitigation measures reflect what CDOT wanted to give, not what community members need to protect their health in the face of this enormous impact," added Dutcher.
Earthjustice, a national environmental law firm with a regional office in Denver, is representing the groups filing the civil rights complaint.
In addition to the interstate, Elyria-Swansea bears the brunt of environmental and health impacts from the Suncor Refinery, the Cherokee power plant, the Purina pet food factory, rail traffic, several other highways, various sources of airborne pollutants, and two Superfund sites.  Despite these challenges, Elyria-Swansea is a strong community with above-average home ownership rates and many families that have lived there for generations.
Resources: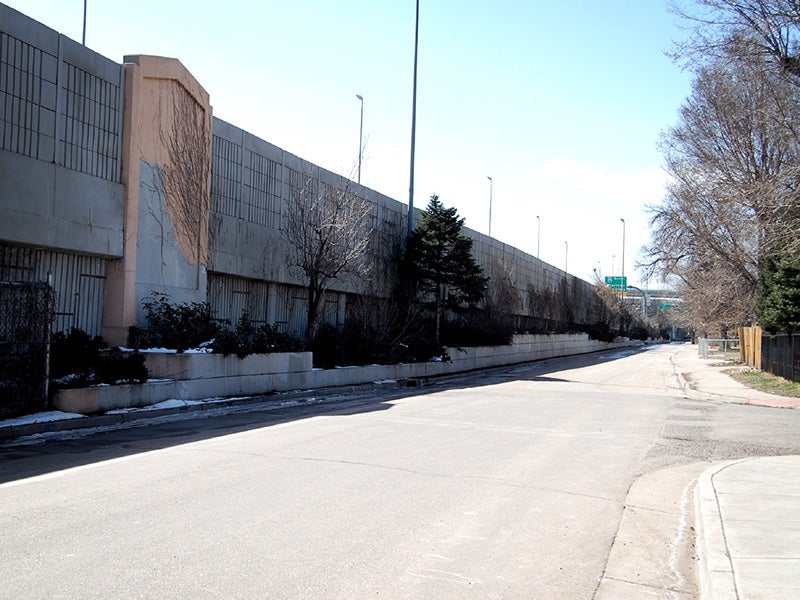 Earthjustice is the premier nonprofit environmental law organization. We wield the power of law and the strength of partnership to protect people's health, to preserve magnificent places and wildlife, to advance clean energy, and to combat climate change. We are here because the earth needs a good lawyer.