At Peoples Climate March, Earthjustice Marches for Justice in the Courts on the Environment
Since Trump took office 100 days ago, Earthjustice has waged legal battles in response to Administration's environmental attacks
Washington, D.C.
—
Today, on President Trump's 100th day in office, Earthjustice joins thousands of people taking part in the Peoples Climate March here and in cities across the country.
The following is a statement from Earthjustice President Trip Van Noppen:
"There are those in Corporate America, Congress and down the street at 1600 Pennsylvania, who want to ignore what the science is telling us in order to score a quick win or boost their short-term profit margins. At the same time, the Trump Administration and some in Congress are also waging a stealth war to take away each and every one of YOUR rights to seek Justice in a court of law.
"But when the federal government threatens our health and well-being, and chips away at the fundamental rights of citizens to be heard in a court of law, Earthjustice fights back in court and uses the full strength of our bedrock environmental laws to protect our communities. We must use every avenue our Founding Fathers guaranteed us in the Constitution to fight for sound, science-based policies that strengthen the health and wellbeing of our families for generations to come.
"Earthjustice marches today to show those in office that they cannot ignore the will of the people or the dire consequences of climate change. We support communities facing off against big polluters and creating innovative solutions for a more sustainable future. We will never stop fighting for a healthy, sustainable future."
Learn what Earthjustice is doing to fight attacks on our environment.
Learn about Bright Spots From the Resistance: Why There's Hope for Climate and Clean Energy Progress.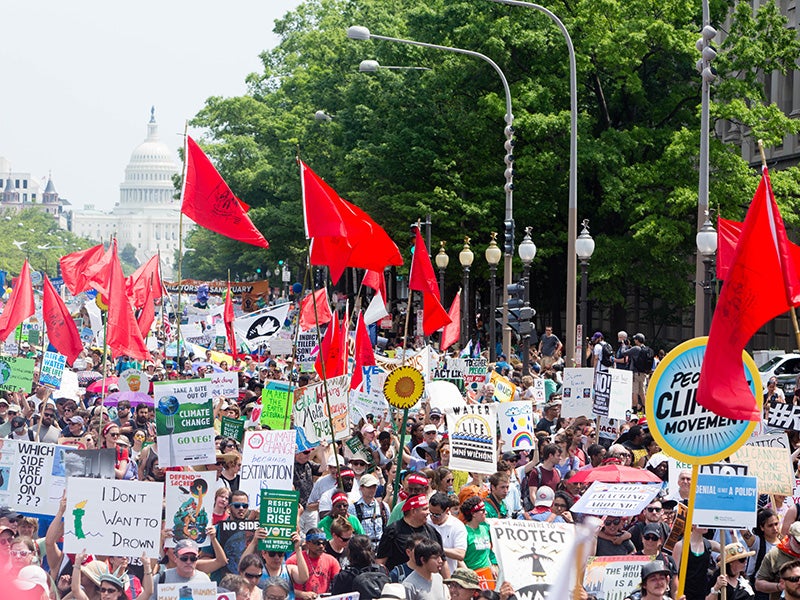 Earthjustice is the premier nonprofit environmental law organization. We wield the power of law and the strength of partnership to protect people's health, to preserve magnificent places and wildlife, to advance clean energy, and to combat climate change. We are here because the earth needs a good lawyer.