EFSEC Unanimously Rejects Oil Terminal: Governor Inslee Has Final Call
Victory
—
Energy council joins Washington's Attorney General, City of Vancouver, Tribal nations, and hundreds of thousands of Washingtonians in opposing largest oil train terminal in U.S.
Rebecca Ponzio, Stand Up to Oil Campaign, (206) 240-0493
Kristen Boyles, Earthjustice, (206) 930-6660
Brett VandenHeuvel, Columbia Riverkeeper, (503) 348-2436
Regna Merritt, Oregon Physicians for Social Responsibility, (971) 235-7643
Michael Lang, Friends of the Columbia Gorge, (503) 490-3979
Olympia, WA
—
Today, the Washington Energy Facility Site Evaluation Council (EFSEC) unanimously recommended denial of the Tesoro Savage oil terminal in Vancouver, Washington, the United States' largest proposed oil-train terminal.
The final decision will fall to Gov. Jay Inslee, and community leaders from around the region are calling on him to deny the proposal swiftly, ending a four-year saga over the massive, 360,000-barrel-per day oil-train terminal.
"Nine-zero, Tesoro Savage denied," said Kristen Boyles, attorney with Earthjustice. "EFSEC followed the law. The law requires EFSEC to balance the need for this project against the harm to human health and the environment. The evidence shows those harms are too great."
"Thank you, EFSEC!" added Don Steinke, a volunteer with Sierra Club's Beyond Coal and Oil Task Force in Vancouver, and one of the most persistent opponents of the oil-train terminal. "EFSEC's recommendation provides a well-reasoned basis for Governor Inslee to deny this project once and for all."
"The entire region is looking to Governor Inslee now, to follow EFSEC's lead," said Rebecca Ponzio, director of the Stand Up to Oil Campaign. "Our governor is a champion of addressing climate change and protecting public safety. We trust him to get this right."
Since the project was announced in 2013, Vancouver residents, Columbia River Tribes, business and faith leaders, health and safety professionals, the City of Vancouver, and Washington's Attorney General are among those speaking out against the oil-by-rail terminal. More than 300,000 comments have urged denial of the Tesoro Savage project. And, after a fiery oil train derailment in Mosier in June 2016, cities and tribes from around the region have opposed the project, from Astoria to Spokane.
"The proposed Tesoro crude-by-rail terminal would send five loaded 'bomb trains' down the Columbia River each day. This is flatly unacceptable in the wake of the Mosier oil-train derailment," said Dan Serres, conservation director for Columbia Riverkeeper. "Governor Inslee has an obvious choice to make: it's time for Washington to move on from the risks of reckless oil-train terminals."
"The future safety, well-being, and public health of our community depends on the choices we make today," stated Dr. Stan Freidberg, who has spent 37 years practicing cardiology and internal medicine at The Vancouver Clinic. "Rejecting the proposed Tesoro Savage oil terminal should be first on the list."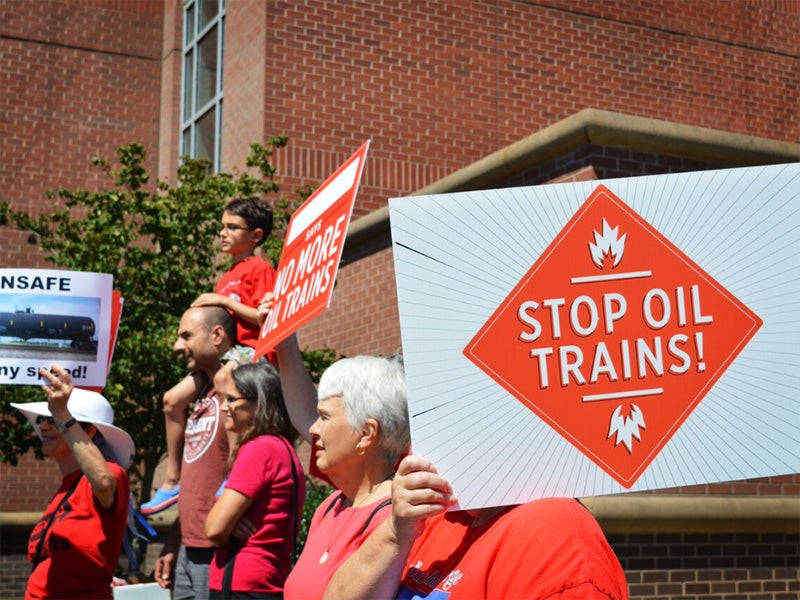 Earthjustice is the premier nonprofit environmental law organization. We wield the power of law and the strength of partnership to protect people's health, to preserve magnificent places and wildlife, to advance clean energy, and to combat climate change. We are here because the earth needs a good lawyer.