Hundreds to Gather on the Snake River to Demand Action to Save Wild Salmon and Steelhead
Boaters call for dam removal at Third Annual Free the Snake Flotilla
Maggie Caldwell, Earthjustice, (415) 217-2084
,
Sam Mace, Save Our Wild Salmon, (509) 863-5696
,
Brett Haverstick, Friends of the Clearwater, (208) 882-9755
,
Julian Matthews, Nimiipuu Protecting the Environment, (208) 790-4296
,
Greg Stahl, Idaho Rivers United, (208) 721-0596
Lewiston, Idaho/Clarkston, Wash.
—
Hundreds of people from the Northwest and beyond, including tribal members, anglers, business owners, conservationists, outfitters and recreational boaters will launch on Sept. 9 from Chief Timothy Park for a six-mile roundtrip paddle and rally on the river to demand action to save wild salmon. This action comes just six months after approximately 400,000 people flooded federal agencies with comments calling for the removal of four costly dams on the lower Snake River, an action that scientists say is the single best thing we can do to save wild salmon in the Columbia-Snake Basin.
"Every voice out on the water on Saturday is a crack in the dams. In exchange for millions and millions of acres of land, we were guaranteed one thing: that we could continue our way of life. Wild salmon are at the core of that. They are irreplaceable," Julian Matthews of Nimiipuu Protecting the Environment, a volunteer non-profit group made up of members of the Nez Perce tribe advocating for protection of their historic lands and waters, said. "We're coming together on our home waters in solidarity, with tribal and non-tribal people from across the Northwest, to stand up for our treaty rights, to stand up for our wild salmon and clean water, and to stand up for our health as a united community. We've waited too long. It's time to free the Snake River."
Snake River wild salmon and steelhead returns have plummeted since the lower Snake River dams were built between 1960 and 1975. This year, Snake River steelhead and salmon populations are returning in some of the lowest numbers seen in years, and in some cases, decades.
"We don't have time to waste. Our fish are sounding the alarm loud and clear this summer. We need to take swift and serious action to ensure our inland communities continue to welcome salmon home to our rivers," Kevin Lewis, executive director of Idaho Rivers United, said. "We have to hold our elected leaders accountable, especially those who are taking great efforts to silence the voices of hundreds of thousands of people whose livelihoods depend on these iconic fish."
Earlier this year, Rep. Cathy McMorris Rodgers (R-WA) and a minority group of lawmakers introduced HR 3144, legislation they say would "support the Federal Columbia River Power System and the benefits it brings to our region . . . " In fact, the bill would do just the opposite: It would thwart efforts to protect endangered wild salmon, hinder development of a more efficient and reliable power system, and risk raising power rates. Advocates on Saturday will direct their action at this bill, urging elected representatives to listen to the voices of the people they represent, reject HR 3144, and put lower Snake River dam removal on the solutions table.
"In the decades since the fight to bring salmon back to the Snake River began, a lot has changed: we have abundant wind and solar power to affordably replace electricity from the Snake River dams, barge transportation on the lower Snake River has declined by more than 70 percent, and we have a clear understanding of the potentially catastrophic effects of climate warming on salmon. What hasn't changed is that our wild salmon and steelhead are on the brink of extinction," Todd True, lead attorney for fishing groups, river users, clean energy advocates and conservation organizations for Earthjustice, said.
"It's not a question of if, but when we move beyond these deadbeat dams. This flotilla is an effort to rally the region together and embrace this river, our wild salmon, and our Northwest way of life," Brett Haverstick, education and outreach director with Friends of the Clearwater, said.
"We're coming together to celebrate a growing movement and to take to the water with a clear, powerful message: Free the Snake River," Sam Mace, Inland Northwest director of Save Our Wild Salmon, said. "We can do this. We can come together as a region, as a community, and chart a new path toward a brighter future that includes robust wild salmon runs, healthy rivers, a thriving economy—and most importantly, keep our communities whole."
This peaceful, family-friendly two-day event is open to the public, and will open at 6 p.m. on Friday, Sept. 8 at Chief Timothy Park with tribal drummers and guest speakers. On Saturday, Sept. 9, at 8 a.m., the paddle and rally on the water will launch from the Chief Timothy Park boat launch. Camping Friday and Saturday night will be available at Chief Timothy for participants. For full details and to register, please visit FreeTheSnake.com.
Media Resources:
Photos and video available from the 2016 Free the Snake flotilla.
Additional Background:
Despite $16 billion U.S. taxpayer and Northwest ratepayer dollars spent on habitat restoration and mitigation efforts, not a single salmon species has recovered. In May 2016, for the fifth time, a federal judge ruled the federal government's plan to mitigate the harmful effects of the Columbia and Snake River dams on salmon and steelhead illegal. In his ruling, he urged renewed consideration of Lower Snake River dam removal and that the system "cried out for a new approach."
Scientists say the single best thing to save crashing wild salmon and steelhead of the Columbia River
Basin is the removal of the four lower Snake River dams. Dam removal would honor historic treaty rights of area tribes, return the 140-mile lower Snake River corridor to free-flowing, clearing the path to some of the best salmon habitat left in the lower 48 — and mark the largest river restoration in history.
For more information on HR 3144, please see Save Our Wild Salmon's fact sheet.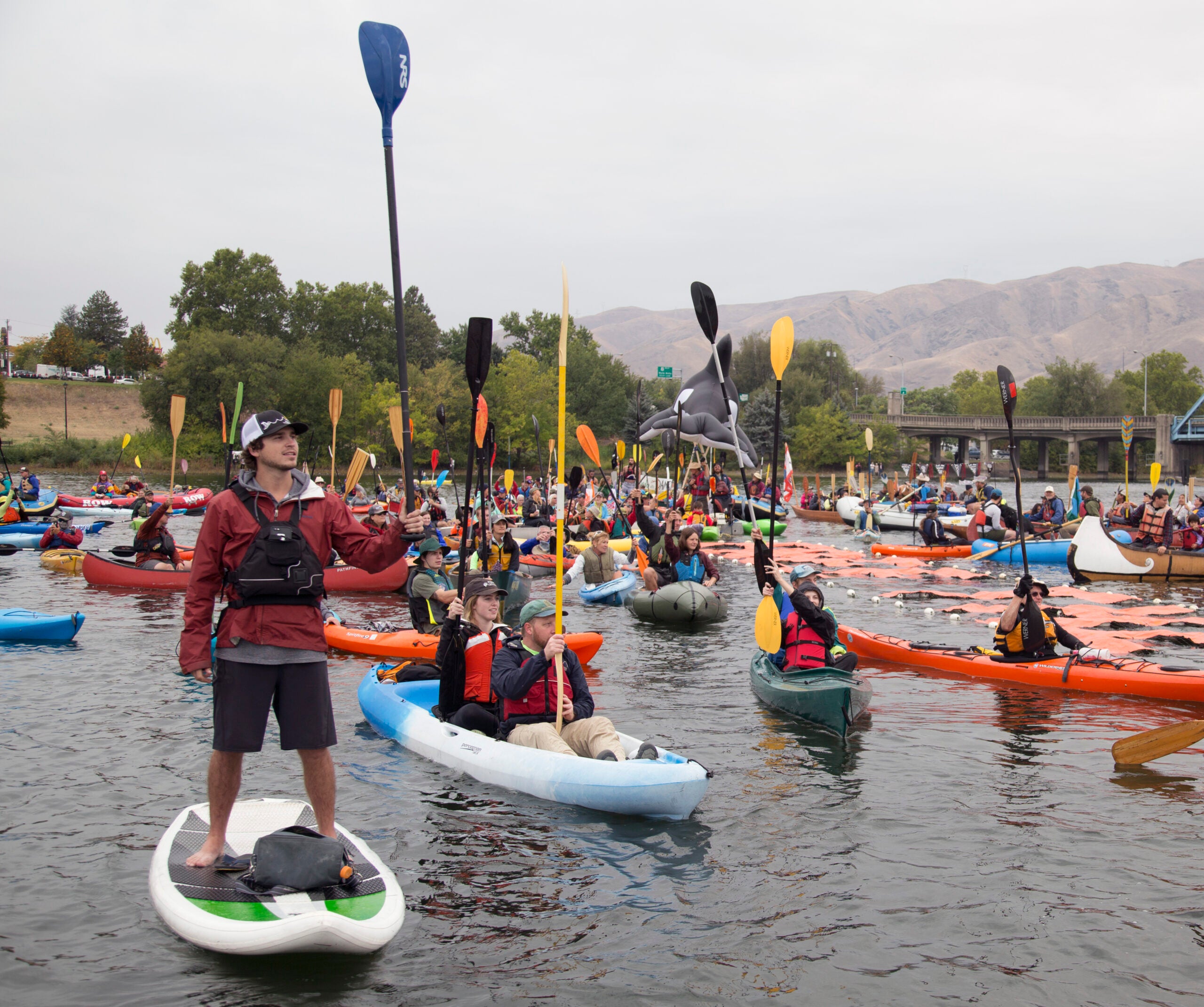 Earthjustice is the premier nonprofit environmental law organization. We wield the power of law and the strength of partnership to protect people's health, to preserve magnificent places and wildlife, to advance clean energy, and to combat climate change. We are here because the earth needs a good lawyer.