Proposed Legislation Would Jeopardize Wolves, Undermine Endangered Species Act
Gray wolves could lose federal protection; bedrock conservation law is at risk
Washington, D.C.
—
Several proposals are moving through the House and Senate this week that threaten imperiled gray wolves and undermine the nation's most important wildlife conservation law, the Endangered Species Act.
The following statements are from policy and wildlife experts who are available for interviews:
"Political attacks on wolves and the Endangered Species Act—one of our nation's most effective, popular laws—are at odds with the will of the American public," said Marjorie Mulhall, Legislative Director for Lands, Wildlife and Oceans at Earthjustice. "Politicians should be heeding the warning from scientists that we are entering a new mass wave of extinction by shoring up species protections, not gutting one of the most important and successful wildlife conservation laws ever enacted."
"The HELP for Wildlife Act is a Trojan horse and should be opposed," said Professor John Vucetich of Michigan Technological University, who has devoted extensive research to gray wolves in American wilderness areas such as Yellowstone National Park. "It includes some positive provisions, but its most important effect would be to undermine the Endangered Species Act and subvert the conservation of wolves."
Background
On Wednesday, July 19, the Senate Environment and Public Works Committee will hold a hearing at 10:00am ET on S. 1514—also known as the Sportsmen's Bill or the Hunting Heritage and Environmental Legacy Preservation (HELP) for Wildlife Act. Damaging provisions in S. 1514 would block Endangered Species Act protections for gray wolves in the Wyoming and Great Lakes region, even though these iconic animals haven't fully recovered after decades of hunting, trapping and poisoning devastated their populations. Despite fragile successes that have started to bring wolves back to the Northern Rockies and Midwest regions, wolves are still missing from a vast majority of their former range.
S. 1514 also threatens to subvert the rule of law and citizen court access by prohibiting judicial review of the wolf delistings this bill prescribes. Congress long ago recognized that the federal government needs citizens to be partners in enforcing all manner of America's laws, including civil-rights laws, voting-rights laws, and environmental laws. The "no judicial review" language in S. 1514 sets a damaging precedent for undermining all laws that allow citizens from across the political spectrum to go to court to hold the government accountable for its actions.
At a different hearing at 10:00am ET on Wednesday, the House Natural Resources Committee will consider five damaging bills that would weaken or undermine the Endangered Species Act, an incredibly successful, popular law that has prevented the extinction of 99 percent of the species under its care. Species such as the California condor, gray wolves, leatherback sea turtles, whooping cranes and Florida manatees continue to exist in the wild today thanks to the Act.
Among the bills that the House Natural Resources will consider on Wednesday is H.R. 424, a bill that would more aptly be named the "War on Wolves Act". H.R. 424 is the standalone equivalent of the Wyoming and Midwest wolf delisting language contained in S. 1514.
Yet more damaging, wolf-focused legislation is up for consideration today, Tuesday, July 18, as the House Interior Appropriations Committee marks up its FY 2018 Interior appropriations bill. Among the numerous policy "riders" in that bill are two that target federal wolf protections: Section 116 blocks federal protections for wolves in Wyoming and the Midwest, and Section 117 blocks all funding for federal protections for all wolves in the lower-48 states, including the highly imperiled Mexican wolf in the American Southwest.
More legislative proposals aimed at undermining the Endangered Species Act are on the horizon. Sen. John Barrasso (R-WY), chair of the Senate Environment & Public Works Committee, may introduce legislation before the start of the Congressional recess on August 14 that will further undermine this critical safeguard for imperiled plants and wildlife.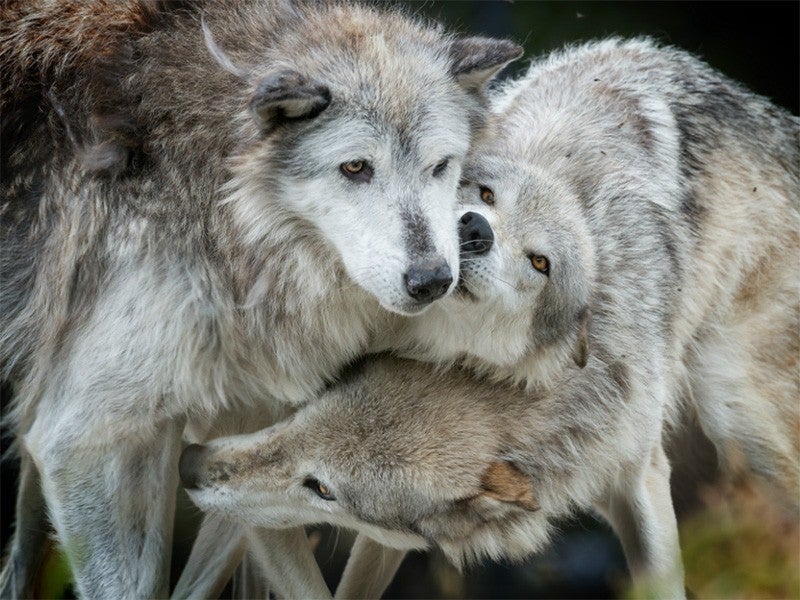 Earthjustice is the premier nonprofit environmental law organization. We wield the power of law and the strength of partnership to protect people's health, to preserve magnificent places and wildlife, to advance clean energy, and to combat climate change. We are here because the earth needs a good lawyer.