WA Supreme Court Decision Blocks Remaining Grays Harbor Crude-by-Rail Terminal
Victory
—
State high court justices rule protections in vital coastal resources law applies
Kristen Boyles, Earthjustice, (206) 343-7340, ext. 1033
,
Tyson Johnston, Quinault Indian Nation, (360) 581-6581
,
Arthur (R.D.) Grunbaum, Friends of Grays Harbor, (360) 648-2476
Olympia, WA
—
Today, the Washington State Supreme Court ruled a state law that protects coastal resources applies to crude oil export projects proposed in Grays Harbor. The decision will block the last proposed crude-by-rail terminal in Hoquiam, a project that planned to move millions of gallons of crude oil out of Grays Harbor and through Washington's open ocean every year.
Grays Harbor is located in the city of Hoquiam, along the Washington coast.
"The Quinault Indian Nation joins all of Grays Harbor in celebrating today's monumental victory to keep crude oil out of our shared waters and ancestral territory," said Fawn Sharp, President of the Quinault Indian Nation. "Like so many of our neighbors across the county, we envision a healthy and pristine natural environment and a thriving, clean, and sustainable economy. After four very long years of fighting for those basic ideals, today's decision is a significant step toward achieving our collective vision."
The state high court justices overturned a lower court ruling that the Ocean Resources Management Act (ORMA) did not apply to oil shipping terminals. The Court held:
"ORMA is designed to address environmental threats to our coastal waters and specifically addresses the threats posed by increased expansion of the fossil fuel industry along the Pacific Coast. … The language of the statute indicates that the legislature intended it to combat current environmental dangers and to preemptively protect the coastline from future environmental risks."
"The Court honored a law enacted to protect our natural ocean resources from oil shipping," said Kristen Boyles, the Earthjustice attorney who argued the case for the Tribe and conservation groups. "Today's decision not only revives state ocean protections, but effectively blocks proposed oil shipping terminals from being built in Grays Harbor."
Quinault Indian Nation
Grays Harbor, Washington.
"We know what we have here in Grays Harbor with our active commercial, recreational, and tribal fishing fleets, our beautiful beaches that draw families to explore, play, and relax, and our coastal waters that support thousands of migrating seabirds every year," said R.D. Grunbaum, Friends of Grays Harbor. "These natural resources and values are simply incompatible with industrial oil shipping."
"This is a strong decision protecting and preserving coastal communities now and into the future," said Dale Beasley, President of the Coalition of Coastal Fisheries, a group that includes Washington commercial fishermen, oyster growers, and charter boat operators. "Today's decision gives commercial fishermen another handle to protect our livelihoods."
In late 2013, the Quinault Indian Nation, Friends of Grays Harbor, Sierra Club, Grays Harbor Audubon, and Citizens for a Clean Harbor (co-counseled by Earthjustice attorneys Kristen Boyles and Matt Baca and Knoll Lowney of Smith and Lowney) successfully challenged the initial permits issued for oil shipping terminal projects in Grays Harbor, forcing further public safety and environmental review. Two of the three initial proposals dropped out, leaving the Westway (recently renamed Contanda) Terminal project as the only active proposal. The Final Environmental Impact Statement for Westway, issued in September 2016, found that there were significant harms and risks from the oil shipping terminal that could not be mitigated, even though it did not take into account the tighter standards demanded of projects under ORMA. The City of Hoquiam is currently making a decision on Westway's permit application.
With today's Supreme Court decision, ORMA's protective standards must now be applied, and Westway simply will not be able to meet those higher requirements.
FACTS ABOUT THE RISKS OF CRUDE OIL TO THE MARITIME ECONOMY OF GRAYS HARBOR:
The Washington Department of Ecology found that these projects create serious and harmful risks of oil spills, collisions, derailments, fires, and explosions that would cause significant and unavoidable environmental damage.
An economic study commissioned by the Quinault Indian Nation found that a major oil spill could put more than 150 tribal commercial fishermen out of a job, resulting in a direct loss of as much as $20 million in wages and up to $70 million in revenue for affected businesses.
Marine resource jobs support more than 30% of Grays Harbor's workforce according to a 2013 study by the University of Washington.
In 2014 Washington residents took an estimated 4.1 million trips to the Washington Coast spending $481 million according to a recent study. More than one-third of those visits were to Grays Harbor County to enjoy its spectacular and productive coastal and ocean waters.
The Washington State Department of Fish and Wildlife stated "Grays Harbor is an area particularly sensitive to the adverse effects of oil spills."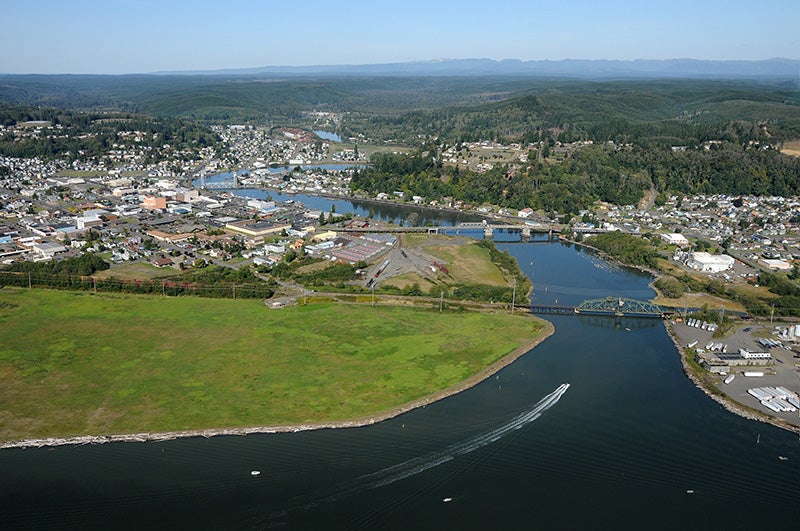 Earthjustice is the premier nonprofit environmental law organization. We wield the power of law and the strength of partnership to protect people's health, to preserve magnificent places and wildlife, to advance clean energy, and to combat climate change. We are here because the earth needs a good lawyer.