New Report Reveals Severe Groundwater Contamination at Illinois Coal Ash Dumps
22 of 24 of Illinois' reporting coal ash dumpsites have unsafe levels of toxic pollutants in the groundwater
Springfield, IL
—
A new report written by Environmental Integrity Project, Earthjustice, Prairie Rivers Network, and Sierra Club, revealed widespread pollution of the groundwater surrounding 90 percent of reporting Illinois coal ash dumpsites.
The report is based on industry data made publicly available for the first time this year because of a requirement in federal coal ash regulations. It concludes that 22 of Illinois 24 coal ash dumpsites with available data have released toxic pollutants including arsenic, cobalt, and lithium, into groundwater.
Millions of tons of coal ash, generated by the State's coal-fired power plants, have been stored in primarily unlined ponds and landfills near the plants for decades. This toxic byproduct of burning coal continues to flow into groundwater, rivers, and lakes all over the State, including the Middle Fork of the Vermilion River, Illinois' only National Scenic River. Illinois started the process of regulating coal ash in 2013, but those plans were abandoned, and multiple administrations have allowed the coal ash ponds to operate for years with little or no state or federal oversight.
In 2015, federal coal ash regulations required utilities to start collecting groundwater data near coal ash dumps. In March of 2018, this data became public for the first time. The report analyzes the groundwater monitoring data reported by utilities.
Coal ash contains a hazardous brew of toxic pollutants including arsenic, boron, cadmium, chromium, lead, radium, selenium, and more. The toxics in coal ash can cause cancer, heart disease, reproductive failure and stroke, and can inflict lasting brain damage on children.
This pollution is not limited to groundwater contamination. According to the most recent Clean Water Act permit applications on file with Illinois Environmental Protection Agency (EPA), Illinois coal plants dump millions of pounds of pollution into lakes, rivers, and streams each year. These pollutants include over 300,000 pounds of aluminum, 600 pounds of arsenic, nearly 300,000 pounds of boron, over 200 pounds of cadmium, over 15,000 pounds of manganese, roughly 1,500 pounds of selenium, roughly 500,000 pounds of nitrogen, and nearly 40 million pounds of sulfate.
Local groups from all over the state are calling for action from State officials to put protections in place to stop the pollution from coal ash permanently, prevent further dumping or storage of coal ash in the state, and hold polluters accountable for the toxic messes they have created.
Andrew Rehn, a water resources engineer from Prairie Rivers Network, an advocacy group fighting for healthy rivers and clean water in Illinois said, "Illinois needs to act now to strengthen rules that protect the public from coal ash. We're reaching a turning point as Energy companies are proposing to leave coal ash in floodplains of rivers and exposed to groundwater. We need stronger rules that provide permanent protection with a financial guarantee, and give the public a voice in these decisions."
"Because utilities were forced to report groundwater monitoring data in the 2015 coal ash rule, we now know the scope and severity of groundwater contamination from coal ash in Illinois," said Earthjustice attorney Jennifer Cassel. "Now that communities can see the evidence of toxic pollution leaking into their precious groundwater resources from these ponds for themselves, they can hold utilities and the State accountable."
"The contamination from coal ash is going to get worse, and will be a part of the Illinois environment for generations unless the state takes a few simple steps," said Abel Russ, senior attorney with the Environmental Integrity Project. "We now have a baseline — almost all of the coal plants are polluted. Let's hope that we can come back in ten years and see that most of these sites are clean."
"Illinois cannot afford to stand by while companies dump toxic waste that will threaten our state's valuable water resources indefinitely. There is a moral obligation to ensure that companies clean up the mess they create and lift that burden from impacted communities. Coal ash creates one more barrier to economic development while cleaning it up can create jobs and open the door to future development." said Joe Laszlo, Sierra Club Member and Central Illinois Healthy Community Alliance Chairperson.
The report, "Cap and Run: Toxic Coal Ash Left Behind by Big Polluters Threatens Illinois Water," features data released by power companies on their websites earlier this year in response to requirements in a 2015 U.S. Environmental Protection Agency regulation known as the "coal ash rule." Some of the local examples highlighted in the report include:
At NRG-subsidiary Midwest Generation's Waukegan Plant, on the shore of Lake Michigan, boron — which can cause developmental problems in children and is toxic to aquatic life — exceeds the Illinois groundwater standard by up to 16 times.
At Dynegy's retired Vermilion coal plant on the Middle Fork of the Vermilion River — Illinois' only National Scenic River — upstream of the City of Danville, ash-polluted groundwater is visibly seeping through the riverbank into the river and groundwater testing revealed boron at levels more than thirteen times EPA's health threshold.
At the Lincoln Stone Quarry on the banks of the Des Plaines River in Joliet — into which Midwest Generation dumped coal ash from its now-gas-fueled Joliet coal plants for decades — arsenic exceeds safe levels in groundwater monitoring wells by over twenty-three times and boron is seven times higher than EPA health thresholds.
At Vistra subsidiary Dynegy's Hennepin coal plant, in the floodplain of the Illinois River downstream of Starved Rock State Park, arsenic and boron are more than three times higher than safe levels, and lithium reaches levels up to twelve times higher than what is safe.
At Dynegy's E.D. Edwards coal plant, located on the Illinois River just south of Peoria, lead concentrations are eighteen times U.S. EPA's drinking water standard.
Background
In July of 2018, the U.S. Environmental Protection Agency under Acting Administrator Andrew Wheeler began the process of rolling back the rule that requires utilities to report groundwater monitoring data at their plants. Earthjustice, the Environmental Integrity Project, Prairie Rivers Network, and the Sierra Club filed a petition for review of that rulemaking, which is currently under review in federal court.
In August of 2018, Earthjustice, on behalf of clients, secured a legal victory requiring EPA to strengthen the 2015 rule and address hundreds of coal ash sites previously unregulated by the federal government.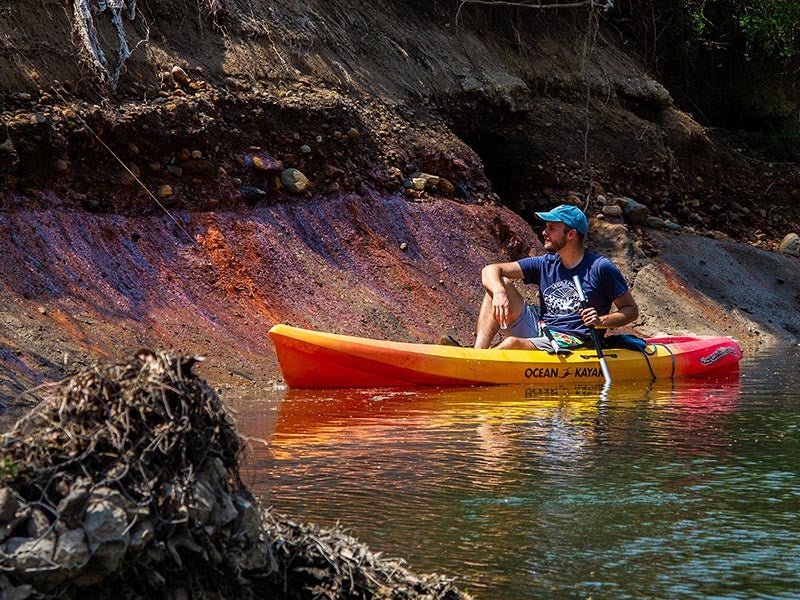 Earthjustice is the premier nonprofit environmental law organization. We wield the power of law and the strength of partnership to protect people's health, to preserve magnificent places and wildlife, to advance clean energy, and to combat climate change. We are here because the earth needs a good lawyer.