Pipeline Construction Races Forward in the Atchafalaya Basin Ahead of Hearing
Bayou Bridge pipeline causes further irreparable harm during peak crawfish season
Emilie Surrusco, Earthjustice, (202) 341-8787
,
Misha Mitchell, Atchafalaya Basinkeeper, (225) 692-1133
,
Maia Raposo, Waterkeeper Alliance, (212) 747-0622, ext. 116
,
Dustin Renaud, Gulf Restoration Network, (504) 525-1528, ext. 214
,
Julie Rosenzweig, Sierra Club Delta Chapter, (337) 577-8494
Houston, TX
—
A three-judge panel of the U.S. Court of Appeals for the Fifth Circuit will hear oral arguments Monday on the appeal of a decision made by U.S. District Court Judge Shelly Dick to grant a preliminary injunction to halt construction on the portion of the Bayou Bridge pipeline that crosses the Atchafalaya Basin, a National Heritage Area synonymous with Louisiana crawfish production.
Bayou Bridge Pipeline, LLC, a partnership between Energy Transfer Partners and Phillips 66, has been rushing to construct its controversial 162-mile crude oil pipeline through the Basin ever since the Fifth Circuit granted a motion for stay last month that suspended Judge Dick's February ruling.
Despite elevated water levels and the myriad issues caused by construction during high water periods, crews have been working aggressively to clear trees. In recent court filings, Bayou Bridge Pipeline, LLC confirmed that it mobilized crews in the Basin just two days after the stay was issued on March 13 — 12 acres have since been cleared, and another 11 acres were planned for clearing by April 30.
"Pipeline companies typically have built their pipelines during the low water season, late summer and fall, to minimize damage to the Atchafalaya Basin wetlands," said Dean Wilson, executive director of Atchafalaya Basinkeeper. "Bayou Bridge has shown, once again, unethical behavior, when they decided to move forward with construction of their pipeline during the high water season that usually runs from February until late July. Their open trenches and clearing of trees has the potential to fill hundreds of acres by sending sediment deep into the Basin's swamp."
Judge Dick granted the preliminary injunction halting construction in the Atchafalaya Basin to prevent irreparable harm to ancient cypress and tupelo trees that provide habitat for migratory birds, bears, bats and numerous other wildlife. Judge Dick found that the plaintiffs — Atchafalaya Basinkeeper, the Louisiana Crawfish Producers Association — West, Gulf Restoration Network, Waterkeeper Alliance and Sierra Club, represented by Earthjustice — were likely to succeed on the merits of their case and that construction would irreparably damage the sensitive ecosystems of the Basin. The plaintiffs filed a legal challenge to the Bayou Bridge pipeline on January 11 in the U.S. District Court for the Middle District.
"When Energy Transfer Partners used a similar tactic to rush construction of the Rover pipeline, they caused 2.2 million gallons in spills of drilling fluids, industrial waste and/or sediment, amassing more than 100 violations/non-compliance incidents and four stop work orders for their failure to comply with environmental regulations designed to protect streams, rivers, wetlands, drinking water and public safety," said Donna Lisenby, Clean & Safe Energy Campaign Manager of Waterkeeper Alliance. "It would appear they are rushing to clear trees in the Basin before the courts have a chance to stop them," she concluded.
"At some point in Louisiana, we need to decide that our irreplaceable natural resources are more important than an out-of-state company's profits," said Julie DesOrmeaux Rosenzweig, Sierra Club Delta Chapter Director. "We hope the appellate court agrees with the lower court, who had the benefit of hearing expert testimony first-hand, that the land being cleared for an unnecessary pipeline is a treasure worth protecting."
The proposed Bayou Bridge pipeline project would connect the controversial Dakota Access pipeline to refineries and export terminals in St. James, Louisiana, and traverse 11 parishes and more than 700 bodies of water.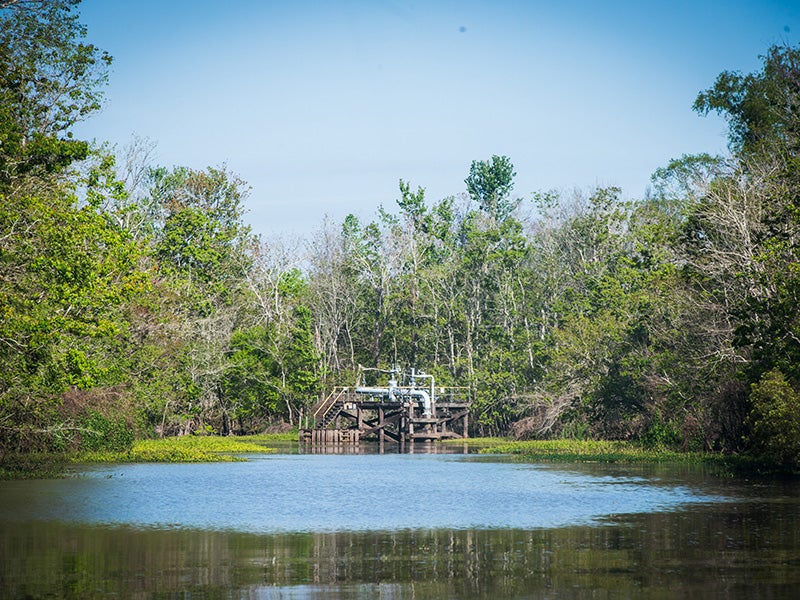 Earthjustice is the premier nonprofit environmental law organization. We wield the power of law and the strength of partnership to protect people's health, to preserve magnificent places and wildlife, to advance clean energy, and to combat climate change. We are here because the earth needs a good lawyer.