Settlement Reached on Central 70 Project
Agreement focuses on providing benefits to the Globeville, Elyria and Swansea communities, including a community health study, air monitoring, landscaping, and community outreach
Stacia Sellers, CDOT Central 70 Communications Manager, (720) 280-5291
,
Drew Dutcher, President, Elyria and Swansea Neighborhood Association, (303) 349-4360
,
Ean Tafoya, Treasurer, Colorado Latino Forum, (720) 621-8985
,
Lloyd Burton, Environmental Justice Team Leader, Colorado Sierra Club, (720) 985-6136
,
Lucas Merrigan, Treasurer, Chaffee Park Neighborhood Association, (720) 548-0507
Denver
—
The Colorado Department of Transportation (CDOT) and the Sierra Club, the Colorado Latino Forum, the Chaffee Park Neighborhood Association, and the Elyria Swansea Neighborhood Association, represented by Earthjustice, announced today they have reached a settlement agreement in a July 2017 lawsuit filed in the United States District Court for the District of Colorado on the Central 70 Project. This settlement resolves the last remaining legal challenge to CDOT's Central 70 Project, which broke ground in August 2018.
The Denver neighborhoods of Elyria-Swansea and Globeville have for decades suffered a disproportionate share of the city's environmental, social and economic impacts.
The settlement agreement focuses on providing benefits to the Globeville, Elyria and Swansea communities, including a community health study, air monitoring, landscaping, and community outreach. These commitments are in addition to those already made by CDOT through the course of developing the Central 70 Project.
"This agreement is very much in keeping with the same principles that led CDOT to improve homes and the school in Elyria-Swansea, to provide funding for affordable housing and fresh food, and to construct a 4-acre park over the completed interstate" said Keith Stefanik, CDOT Central 70 project director. "We appreciate the opportunity to resolve these issues and keep this important project on the path toward delivering a safer, less congested I-70 for the community and the hundreds of thousands of Coloradans who travel it every day." As part of the agreement, CDOT will contribute $550,000 for a health study that will provide a greater understanding of public health outcomes in the Globeville, Elyria and Swansea neighborhoods. The health study will be conducted by an independent expert and will be overseen by the plaintiffs, state and local public health agencies, and another independent expert. The study will build on a 2014 Health Impact Assessment conducted by the City of Denver, which stated that Globeville, Elyria, and Swansea residents experience higher incidence of chronic health conditions such as cardiovascular disease, diabetes, obesity, and asthma than other Denver neighborhoods.
"After years of advocacy by hundreds of neighborhood residents and other volunteers to address health disparities faced by north Denver residents, we are pleased with the outcome of this settlement," said Drew Dutcher, president of the Elyria and Swansea Neighborhood Association. "The Community Health Assessment, which will take a serious look at the disproportionate health hazards our neighborhoods experience, will provide the information needed to ensure that our leaders are able to protect our communities from future adverse impacts."
"The settlement with CDOT on the Central 70 project is a first step toward identifying and addressing the causes of the serious health disparities between our community and others across Colorado and building a commitment to establishing public health equity," said Ean Tafoya, treasurer of the Colorado Latino Forum. "We believe that future infrastructure projects have to take community health into account."
"The Community Health Assessment established in this settlement will be the most comprehensive government-funded study ever conducted on the health status of north Denver residents who live near I-70," said Lloyd Burton, environmental justice team leader, Colorado Sierra Club. "This settlement provides an independent, credible assessment of the cumulative health impacts of all pollutant sources in the area. It will be a milestone in documenting the environmental health challenges faced by the residents of this community that EPA has recognized as an environmental justice community. Neighborhood advocates, public health professionals, government agencies, and policy makers will now have crucial new data for assessing the impacts of future decisions on north Denver residents' health and well-being."
"The settlement with CDOT takes important steps toward addressing the community's concerns about health, safety and livability in the midst of the I-70 construction project," said Lucas Merrigan, treasurer of the Chaffee Park Neighborhood Association. "This process demonstrates the importance of working closely with the neighborhoods that will be affected by major construction projects to ensure that risks are minimized and families are safe in their homes."
Other commitments in the settlement include funding for additional trees and vines along the highway's lowered section and within the Elyria, Swansea and Globeville neighborhoods, monitoring for construction dust (PM10), and deploying best practices for construction oversight and community notification.
No party has admitted any wrongdoing or liability.
Resources: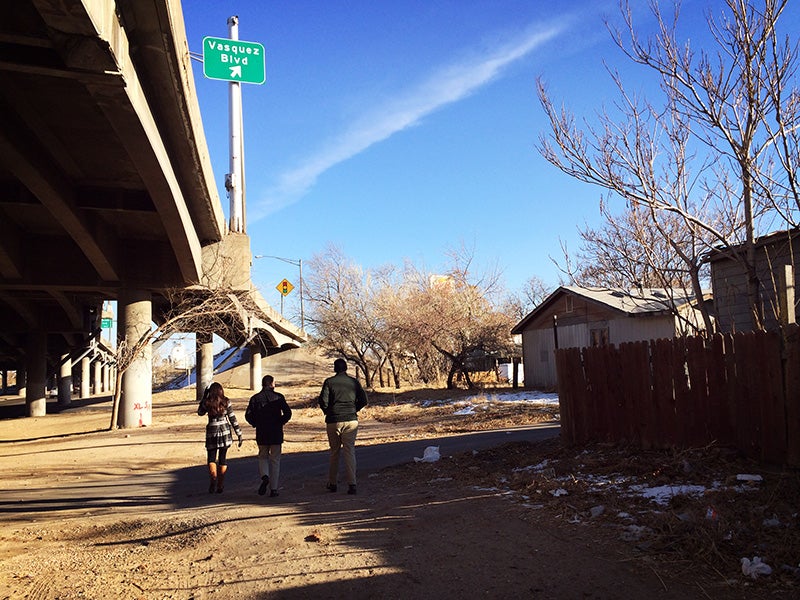 Earthjustice is the premier nonprofit environmental law organization. We wield the power of law and the strength of partnership to protect people's health, to preserve magnificent places and wildlife, to advance clean energy, and to combat climate change. We are here because the earth needs a good lawyer.