States, Agencies, Nez Perce Tribe Agree to Stop-Gap Measure to Aid Struggling Salmon Populations
The agreement calls for increased spill over Snake and Columbia River dams in the spring
Portland, OR
—
The states of Oregon, Washington, the Nez Perce Tribe and three federal agencies, including the Bonneville Power Administration, yesterday announced an interim agreement to help endangered salmon and steelhead populations navigate a series of dams and reservoirs in the Columbia River basin. The interim agreement requires increased "spill" over the dams during the spring season. Increasing spill is a stop-gap measure that helps flush juvenile fish along their perilous river migration to reach the ocean where they mature.
The U.S. District Court in Portland has been hearing a long-running case regarding management of the dams and their impacts on endangered salmon and steelhead populations. In a filing with that court, the parties to the interim agreement set out dam operations for 2019 through 2021 that require "flexible spill" during the spring juvenile salmon migration season at levels equal to or higher than those required by prior court orders. The most comprehensive scientific analysis available demonstrates that these higher levels of spill will increase juvenile salmon survival and subsequent adult returns.
Last week, Washington Governor Jay Inslee announced a $1.1 billion effort to aid struggling Southern Resident orcas that frequent the Puget Sound. One aspect of the Governor's effort is support for modifying the State's dissolved gas standards as called for in the interim agreement. Snake River Spring Chinook, which are just one of several at-risk salmon runs that directly benefit from this increased spill, are a critical element of the endangered orcas' diet. Spring Chinook are themselves endangered, largely due to the harmful impacts the federal dams and their reservoirs have had on their survival.
The following are statements from the lead attorney for the fishing and conservation groups in the case in Portland, plaintiff organizations, and another groups focused on restoring salmon populations in the Pacific Northwest:
"This Agreement is a small step forward for Snake and Columbia River salmon. It is a stop-gap measure to help struggling salmon populations for the next three years," said Todd True, Earthjustice attorney. "It is not, however, the kind of major overhaul of dam operations, that the imperiled salmon — and critically endangered Southern Resident Orcas — so urgently need if they are going to be part of our region's future. We should ultimately be working toward restoring a free-flowing lower Snake River by removing the four lower Snake River dams. If we use the next two years to put in place the kind of actions that will revive orcas and salmon, this interim agreement will be worth it. If we fail to use this opportunity to take bold action, we will fail not only the salmon and the orcas, but ourselves and future Northwesterners."
"This interim agreement is a positive step to help more young salmon survive their perilous journey down the Columbia and Snake Rivers to the ocean. It is important to recognize that even this small step for salmon and orcas would not be possible if the misguided legislation introduced by Rep. Cathy McMorris Rodgers earlier this year had become law," said Bill Arthur with the Sierra Club, one of the plaintiffs in the Portland lawsuit." He continued, "Senator Murray played a critical role this year to defeat this legislation in the Senate. Reps. Adam Smith and Pramila Jayapal also joined with Senator Murray in a letter to Senate/House leadership opposing this anti-salmon bill in the House. This damaging legislation would have prohibited these higher levels of spill from occurring and blocked even studying removal of the lower Snake River dams. Our salmon and orca will benefit because of the leadership of Senator Murray and Reps. Smith and Jayapal to protect our core environmental laws and Northwest values. We deeply appreciate their leadership."
Joel Kawahara, a commercial salmon fisherman and member of the Coastal Trollers Association, one of the plaintiff organizations in the lawsuit added, "This crisis facing orca and salmon today is not new of course. Tribal and non-tribal communities on the coast and inland have also been suffering from the steep declines of salmon in Washington State and the Northwest. Both orca and people rely on healthy, abundant populations of salmon. This interim agreement is a step in the right direction in the near-term, but the urgency for action remains. Fishermen are ready to work with affected farmers and others to develop effective solutions for all involved."
Sam Mace, Inland Northwest Director for Save Our Wild Salmon, said "eastern Washington's sportfishermen, fishing businesses and river advocates are glad to see wild salmon and steelhead catch a break, despite Rep. McMorris-Rodgers efforts to steamroll common-sense protections.  But it is not enough.  With the right investment package and transition planning, dam removal is our best path towards restoring fisheries and providing new economic opportunities for our river towns and businesses."
The interim plan announced today will be implemented during the same time that the federal government is working to complete a new biological opinion and comprehensive National Environmental Policy Act (NEPA) analysis of the dams' impact on endangered salmon and steelhead in the Columbia River basin and on Puget Sound orcas. The full NEPA process and biological opinion are scheduled to be completed in 2021 and under the interim agreement, the parties to the lawsuit have indicated they do not intend to continue litigation through this time period.
Reporter Resource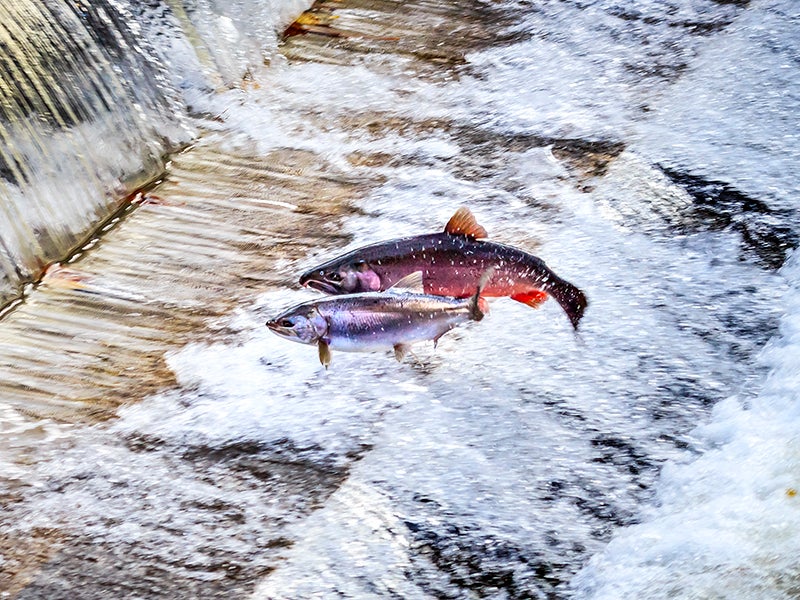 Earthjustice is the premier nonprofit environmental law organization. We wield the power of law and the strength of partnership to protect people's health, to preserve magnificent places and wildlife, to advance clean energy, and to combat climate change. We are here because the earth needs a good lawyer.