Puyallup Tribe, Environmental Groups Hit Tacoma LNG with Legal Challenges
Appeals to air permit say project would deepen climate crisis and bring safety risks
Tacoma, WA
—
The Puyallup Tribe of Indians and the nonprofit law firm Earthjustice filed legal challenges today against a liquefied natural gas storage facility in Tacoma, Washington. It is the latest show of opposition to a dangerous fossil-fuel project that is vehemently opposed by the Tribe and health and environmental advocates.
"The Tribe continues to be frustrated that the Puget Sound Clean Air Agency is not considering the appropriate science and putting dangerous impacts on an already disproportionately impacted community," said David Z. Bean, chairman of the Puyallup Tribal Council. "Even more shocking to us is that this facility would operate in a densely populated urban area, and yet no authority has taken a serious look at the consequences of a catastrophic incident at this facility. That's not just unfair to the people who live here. It's dangerous."
The Tribe and Earthjustice filed separate appeals with the Washington Pollution Control Hearings Board, in response to the determination by Puget Sound Clean Air Agency on Dec. 10 to issue an air permit for the project.
The appeal on behalf of several health and environmental organizations represented by Earthjustice pushes back against PSCAA's determination that the climate impacts of the LNG facility would be negligible, exposing the flawed analysis of its environmental impact statement. The fossil fuel industry continues to misrepresent the dramatic impacts of fracked gas on our climate and community safety. This appeal tackles this issue head on. Issuing a permit for this LNG facility is also inconsistent with Washington's established climate goals that call for transitioning away from fossil fuels. Instead, this permit ties Tacoma to a fracked-gas supply chain and continued fossil fuel consumption for 40 years or longer.
Organizations that signed onto the appeal filed by Earthjustice include Advocates for a Cleaner Tacoma ("ACT"), Sierra Club, Washington Physicians for Social Responsibility, Stand.Earth, and Washington Environmental Council.
In a separate appeal, the Puyallup Tribe identifies how the community immediately surrounding the LNG facility would be disproportionately burdened by increased emissions of hazardous air pollutants in an area already heavily burdened by toxic and hazardous emissions as well as the associated safety risks from operation of the facility. The decision to cool natural gas to a liquid and store the explosive fuel near densely populated urban neighborhoods adjacent to the Port of Tacoma should not be taken lightly, particularly when so many communities have faced disaster scenarios in the past decade caused by incidents at similar facilities, gas pipeline explosions or the massive methane leak from Southern California's Aliso Canyon storage facility. The Tribe also challenges PSCAA's conclusions as to the extent of the actual emissions expected from the facility.
"Natural gas is primarily methane. When methane gets released into the atmosphere, it traps more heat than other greenhouse gases, making it a significant driver of the climate crisis we all face. Even a minor leak of this fracked gas along the supply chain will result in even worse climate pollution than burning coal," said Todd Hay, Ph.D., President of Advocates for a Cleaner Tacoma and longtime Tacoma resident.
"We are in a climate crisis," said Jan Hasselman, Earthjustice attorney representing the environmental and health appellants. "The Tacoma LNG project will lock in fossil fuel use for decades at the time when it must be urgently phased out. We will hold state agencies accountable whenever they fail to tell the truth."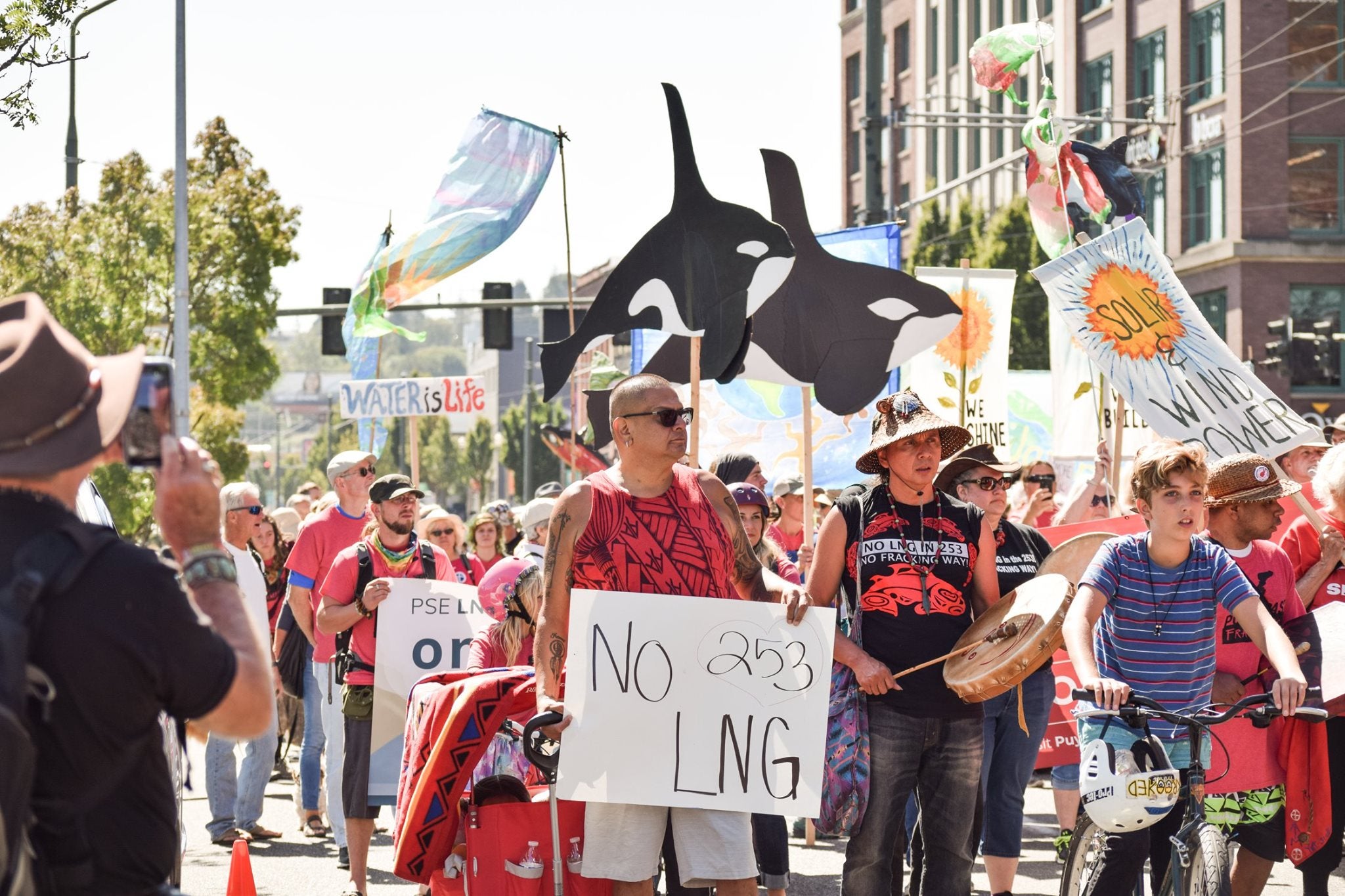 Earthjustice is the premier nonprofit environmental law organization. We wield the power of law and the strength of partnership to protect people's health, to preserve magnificent places and wildlife, to advance clean energy, and to combat climate change. We are here because the earth needs a good lawyer.