Trump's EPA Revoked Chemical Disaster Prevention Rules. Now Groups are Suing.
Communities in chemical danger zones fight back against EPA's latest attack on public health
Washington, D.C.
—
Today, a coalition of thirteen organizations represented by Earthjustice sued the Trump administration for the unlawful gutting of the Chemical Disaster Rule, a suite of disaster prevention measures developed by the Environmental Protection Agency (EPA) in the wake of several deadly explosions and major chemical releases. Advocates across the country have been fighting for years to obtain these protections, which are now being eliminated despite mounting evidence of the danger communities face from chemical disasters.
EPA put the Chemical Disaster Rule in place to strengthen chemical plants' prevention and preparedness requirements for explosions and other catastrophes, ensure better and more frequent coordination with first responders, and bolster community access to information about the chemical hazards they live next to. But since entering office, the Trump administration has sought to repeal, stall, or weaken these protections. The administration illegally delayed the rule for more than a year — a move that was struck down in court thanks to a lawsuit Earthjustice litigated. Now EPA has "amended" the rule to eliminate virtually all disaster-prevention measures it established and weaken many other protections.
"By killing these critical protections, millions of people living near chemical facilities in the United States are put in harm's way. We are fighting for the lives and safety of our families and workers. Our lives are more valuable than the bottom line of a few chemical barons," said the coalition defending the rule.
When developing the rule, EPA determined that prior protections failed to prevent over 2,200 chemical fires, explosions, leaks, and similar incidents during a 10-year period, including over 100 per year that caused injuries. EPA also said the Chemical Disaster Rule's protections are needed to save the lives of workers, first-responders, and fence line community residents.
"The EPA's rollback of life-saving components of the Chemical Disaster Rule is not just unlawful, it is irresponsible," said Earthjustice attorney Emma Cheuse. "Instead, EPA should do its job and ensure that chemical companies do everything in their power to keep surrounding communities safe, and avoid a worst-case scenario. Now that Trump's EPA has decided to try again to gut these protections, and put chemical companies' preferences over the safety of children in danger zones, we have no choice but to go to court."
The lawsuit comes just weeks after a chemical plant exploded in Port Neches, Texas, displacing some 50,000 people and injuring eight others as the fire sent toxic plumes of 1,3-butadiene and other carcinogens into the air. This facility is covered by the current Chemical Disaster Rule. Without the Chemical Disaster Rule, this plant won't have to conduct an assessment of safer alternatives for the plants' operations, be subject to an independent safety audit, apply lessons learned from this incident to prevent future problems, or even train all supervisors responsible for managing dangerous chemical processes. Contrary to EPA's justification for repealing these safety rules, prior enforcement at this very facility under the pre-existing regulatory framework failed to prevent this disaster which made children miss school, and continued to require shelter-in-place a week after the incident to try to reduce toxic exposure.

The Guardian
Thousands evacuated after a series of explosions took place at the Port Neches chemical plant in Texas.
Nearly 180 million Americans live in the worst-case scenario zones for a chemical disaster. At least one in three children go to a school near a hazardous chemical facility. About 12,500 industrial facilities nationwide use, store, or manage highly hazardous chemicals that the Chemical Disaster Rule covers. EPA's new attack on the Chemical Disaster Rule comes some two years after EPA illegally suspended the rule to try to prevent it from taking effect. Following a lawsuit in which Earthjustice represented communities from around the country affected by chemical disasters, and in which the United Steelworkers Union and eleven states also participated, a federal court reinstated the rule and said EPA's suspension made "a mockery of the statute." EPA did not appeal that ruling.
Earthjustice is representing Union of Concerned Scientists, Environmental Integrity Project, Sierra Club, Coalition For A Safe Environment (Wilmington, CA), California Communities Against Toxics, Del Amo Action Committee, Louisiana Bucket Brigade, Air Alliance Houston, Community In-Power & Development Association (Port Arthur, TX), Texas Environmental Justice Advocacy Services, Clean Air Council (Philadelphia, PA), Utah Physicians for a Healthy Environment, and Ohio Valley Environmental Coalition (West Virginia).
Learn more about what happened when the rule was illegally suspended.
Read this coalition's comments on the proposed rollback rule.
Quotes from our Clients:
Dr. Brian Moench, founder of Utah Physicians For A Healthy Environment: "In Utah, numerous petro-chemical plants are close enough to our population centers that the health and safety of hundreds of thousands of people are at risk from explosions, accidents, chemical leaks, and toxic emissions from merely normal operations. When the Trump EPA withdrew the modest protections that had been implemented by the previous administration, it sent a clear signal to Utah's citizens. 'Your lives don't matter as much as industry profits.' We cannot sit by and allow that to become public policy. This administration must be held accountable for its reckless disregard for the health and safety of Americans throughout the country."
Hilton Kelley, founder and executive director, Community In-Power & Development Association: "Rolling back the Chemical Disaster Rule is a death sentence for many people in the Port Arthur/Port Neches area of Texas, and beyond. The TPC disaster in Port Neches/Grove is a prime example of why we need the Chemical Disaster Rule in place. Whenever you have polluting industries that handle large amounts of hazardous chemicals, first-responders and communities need to know what we are exposed to and EPA needs to prevent these disasters before they happen."
Neil Carman, clean air director of the Sierra Club Lone Star Chapter and co-chair of the Sierra Club's national clean air team: "The Trump administration's dismantling of the Chemical Disaster Rule removes common-sense protections. As a result, dozens of Texas communities, and people around the U.S., will be placed in harm's way. The disaster over Thanksgiving at Port Neches demonstrates just why these safety measures are so desperately needed."
Dr. Andrew Rosenberg, director of the Center for Science and Democracy at the Union of Concerned Scientists: "We stand with the fence line communities and grassroots organizations fighting for their health and safety. The rollback of these common sense rules puts lives at risk for no real benefits. It can't be allowed to stand."
Yvette Arellano, policy research and grassroots advocate, Texas Environmental Justice Advocacy Services: "No one should have to live, go to school, or play in parks next to petrochemical facilities or oil refineries. Everyone would agree with this, but these are the living conditions of many communities across the nation, including ours. Our reality includes chemical fires, explosions, and fugitive emissions. This happened in Denver, Colorado, just weeks ago, for residents near the Suncor refinery. We are asking for common-sense protections from EPA. We have a right to request protections from our governing bodies. When thousands of families across the nation are forced to leave their homes or ordered to stay inside because the air is toxic, we have a problem. When children start vomiting in schools because of toxic air, we have a human rights crisis. There is always a cost to progress, but we know nothing is more valuable than a human life."
Anne Rolfes, director, Louisiana Bucket Brigade: "This rule would provide fundamental protection for all of us. It's a no brainer, and the only reason it's been held up is because special interests from the rapacious oil, gas and chemical industry are calling the shots in this administration."
Jane Williams, executive director of California Communities Against Toxics: "It is unconscionable for this administration to abandon common sense measures to prevent chemical disasters. The frontline community next to the Suncor Refinery in Denver has recently joined communities in California, in Houston and Port Arthur, Texas, Philadelphia, Pennsylvania, the Twin Cities in Wisconsin, and dozens of other communities that have faced the fallout of a chemical disaster since this president was elected. We need to prevent these chemical disasters and will now have to go back to court so EPA can't get away with abandoning our communities."
Vivian Stockman, executive director, Ohio Valley Environmental Coalition (OVEC): "Compared to the population as a whole, communities that are majority Black, Latino, and impoverished are disproportionately living along the fencelines of dangerous petrochemical plants. People here are already facing multiple health hazards and risks. The Trump administration's actions to erase these minimal protections are not only illegal, they are immoral, unconscionable, racist, and classist, and must be challenged."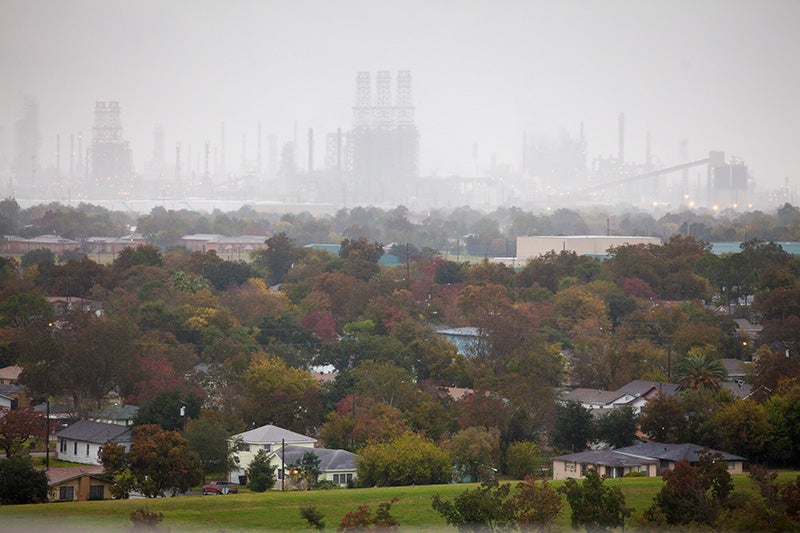 Earthjustice is the premier nonprofit environmental law organization. We wield the power of law and the strength of partnership to protect people's health, to preserve magnificent places and wildlife, to advance clean energy, and to combat climate change. We are here because the earth needs a good lawyer.