Lawsuit Challenges Large Fossil-Fuel Project Proposed in Alaska's Arctic
Willow Project would mark major expansion for oil, gas extraction in Western Arctic
Anchorage, AK
—
Conservation groups filed a lawsuit today challenging a massive oil and gas project known as the Willow Master Development Plan in Alaska's Western Arctic. Earthjustice, a nonprofit environmental law firm, filed litigation today against the U.S. Bureau of Land Management and the U.S. Fish and Wildlife Service on behalf of the Center for Biological Diversity, Friends of the Earth, and Greenpeace.
ConocoPhillips' plan involves using giant chillers to refreeze thawing permafrost — a consequence of climate change — to ensure a solid drilling surface. The oil company plans to construct five drill sites in the northeastern corner of the National Petroleum Reserve-Alaska, public lands that provide essential wildlife habitat for polar bears, migratory birds, caribou, and other iconic species. Willow would permanently scar the largest undeveloped area in the United States and jeopardize the health and traditional practices of nearby Indigenous communities.
The project would be several times larger than nearby oil-drilling operations. Developers would build 37 miles of new gravel roads, seven bridges, an airstrip, and 495 miles of ice roads. If constructed, it could account for about half of all Alaska North Slope oil production, producing between 160,000 and 200,000 barrels per day. Over 30 years, it would produce an estimated 590 million barrels of oil — enough to generate approximately 260 million tons of CO2 equivalent once consumed.
The lawsuit notes the Bureau of Land Management's failure to scrutinize the climate change impacts of ConocoPhillips' decades-long oil and gas drilling plan. In approving the project, the agency ignored the urgent need to reduce greenhouse gas emissions and offered unsupported and inaccurate greenhouse gas emissions estimates. Alaska has warmed more than twice as fast as the rest of the United States over the past 60 years, presenting many disruptions to Arctic ecosystems and exacerbating sea-level rise, sea-ice melt, and permafrost thaw.
The lawsuit, filed in Alaska's federal District Court, also challenges the Bureau's and the U.S. Fish and Wildlife Service's failure to properly account for and prevent harm to imperiled polar bears, which are already facing grave threats from rising temperatures and sea-ice loss.
"The Willow Master Development Plan will have a disastrous impact on the pristine landscape of the Western Arctic region, particularly the Teshekpuk Lake Special Area and the Indigenous communities that depend on it," said Earthjustice attorney Jeremy Lieb. "ConocoPhillips' pursuit of this plan is environmentally reckless, ignoring the escalating risks of a global climate crisis."
Plaintiffs joining the lawsuit issued the following statements:
"The Trump administration is determined to give the polluting fossil fuel industry as many handouts as possible before President-Elect Biden takes office," said Hallie Templeton, Deputy Legal Director of Friends of the Earth. "This project would streamline additional, dirty development in highly sensitive areas of the Arctic. We will use every tool in our playbook to prevent this disastrous plan from commencing."
"This massive project will wreak havoc on our climate and the numerous animals that call the Western Arctic home. We must protect our last Arctic frontier and the amazing wildlife it supports," said Kristen Monsell, senior attorney at the Center for Biological Diversity. "Let's choose polar bears and wild places over ConocoPhillips' profits and a rapidly warming planet. That's our choice."
"The age of oil is over. Drilling in Alaska's Western Arctic is a reckless plan that will only worsen our climate crisis at a time when we need to prioritize a just transition to renewable energy," said Tim Donaghy, Greenpeace Senior Research Specialist. "It's time to revive our economy while confronting systemic injustices. Our work now is to unlock opportunities to navigate out of multiple crises at once. We need a Green New Deal, a managed phase out of fossil fuels, and strong policies to protect workers and communities."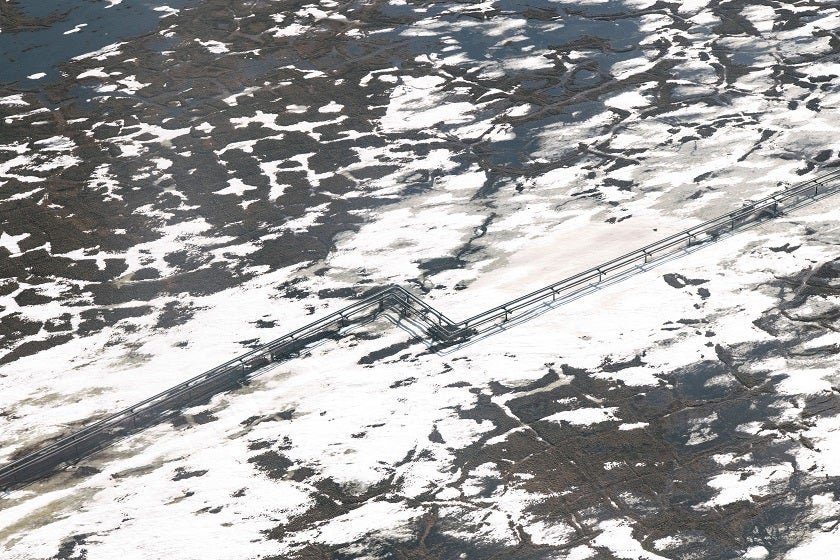 Earthjustice is the premier nonprofit environmental law organization. We wield the power of law and the strength of partnership to protect people's health, to preserve magnificent places and wildlife, to advance clean energy, and to combat climate change. We are here because the earth needs a good lawyer.