Earthjustice Launches Gulf Regional Office Led by Jen Powis, New Managing Attorney
At a critical moment for our planet, Earthjustice's Houston office will take on pollution in the epicenter of the fossil fuel and petrochemical industries
Houston, TX
—
Earthjustice announced today the hiring of Jen Powis as Managing Attorney of the new Gulf Regional Office in Houston. The Gulf Regional Office, located at the epicenter of the U.S. fossil fuels industry, is Earthjustice's 15th office nationwide.
By expanding Earthjustice's presence in the Gulf, the Houston office will build on existing work to stop the fossil fuel infrastructure buildout, clean up toxic pollution, advance environmental justice, safeguard public health, protect biodiversity, and accelerate an equitable transition to clean energy in the region.
"Under Jen's skillful leadership, our Gulf Regional Office will double down on Earthjustice's work to accelerate the Gulf's transition away from fossil fuels and toxic chemicals, expand access to clean energy, and advance environmental justice for communities on the frontlines of pollution. At this critical moment for our planet, what happens in the Gulf has major impacts on our efforts to tackle the climate crisis nationally and globally," said Abigail Dillen, president of Earthjustice.
In recent years, Earthjustice and its partners have succeeded in blocking massive offshore lease sales, stopping the Plaquemines Liquids Terminal, and holding Taylor Energy accountable for cleaning up their oil spill, among other victories. Earthjustice currently represents Gulf and environmental groups in suits against a proposed massive petrochemical complex in St. James Parish, Louisiana, and against the expansion of an oil and gas export terminal through a toxic Superfund site in Point Comfort, Texas.
The Gulf Regional Office will build on ongoing litigation and advocacy in the region to stop proposed fossil fuel and petrochemical infrastructure, secure climate-ready clean energy, and ensure equitable disaster preparedness and recovery efforts. The office will also champion the work of local environmental justice advocates fighting for stronger protections from industrial pollution, a particular problem in the hurricane-prone region, and which disproportionately impacts Black, Latino, and low-income communities in the Gulf.
"The opening of this office builds on the work Earthjustice has done for years within this region. Our work has been hugely influential in the fight to protect communities from unjust pollution burdens, to protect the public's health, and to stop the fossil fuel buildout. I'm excited to join this outstanding team, alongside our partners, to build on these victories at such a crucial time for our planet," said Jen Powis, managing attorney of the Gulf Regional Office.
"Earthjustice is a longtime ally to frontline communities of the Gulf and we welcome its expanded presence in the region. We look forward to strengthening our partnership in the fight for a just transition to a clean energy future," said Cynthia Sarthou, executive director of Healthy Gulf.
"Welcome Earthjustice, to the Belly of the Beast! For decades, Gulf communities have worked alongside Earthjustice to hold polluters accountable and advocate for health and regulations protective of environmental justice communities. We know action can't wait, and that's why we're thrilled to see Earthjustice's expansion in the region," said Juan Parras, executive director of Texas Environmental Justice Advocacy Services (t.e.j.a.s.).
Jen has previously managed offices in Houston for the Alliance for Justice and Sierra Club's Beyond Coal Campaign. A champion for non-profits focused on advocacy, Jen served as senior counsel for the Bolder Advocacy Program at Alliance for Justice and founded her own law firm dedicated to expanding public interest environmental legal and policy capacity for organizations driving policy changes in land conservation, education and environmental protection. She also led the Beyond Coal Campaign for Texas with Sierra Club where she advocated for a clean energy transition in the state. Most recently, after Hurricane Harvey, Jen co-founded the Coalition for Environment, Equity and Resilience, a collaborative of over 25 organizations seeking to force more attention on an equitable disaster recovery and the huge negative environmental impacts from the storm.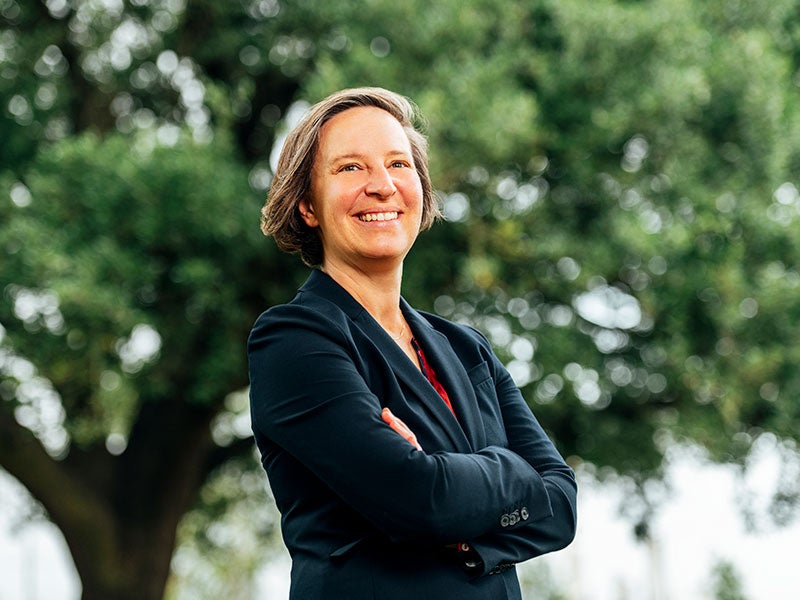 Earthjustice is the premier nonprofit environmental law organization. We wield the power of law and the strength of partnership to protect people's health, to preserve magnificent places and wildlife, to advance clean energy, and to combat climate change. We are here because the earth needs a good lawyer.