50+ Organizations Urge Governor Kathy Hochul to Include Green Transit, Green Jobs in Her Forthcoming Executive Budget
50+ climate and public health organizations signed a letter to the Governor in support of a bill that would slash harmful greenhouse gas emissions and create family-sustaining jobs in the manufacturing sector
New York, NY
—
As NYS legislators prepare for SFY2024-25 budget negotiations, 55 climate and public health organizations signed a letter to Governor Kathy Hochul calling on her to include the "Green Transit, Green Jobs" (S06089 & A06414) bill in her executive budget and allocate $100 million to non-Metropolitan Transportation Authority transit agencies to facilitate the transition to zero-emissions public transit. Advocates say the bill will bolster the Hochul Administration's efforts to implement the Climate Leadership and Community Protection Act (CLCPA) by phasing out purchases of polluting buses by the end of the decade. The bill will also spur the creation of thousands of high-quality green jobs, which is why it is a core strategy identified in the state's final Climate Scoping Plan. The comprehensive bill works to ensure a just and fair transition for workers impacted by changes in technology while addressing climate change's impact on frontline communities.
New Yorkers have suffered a deadly series of climate disasters this year, including record-breaking heat waves, wildfire smoke that created dangerous air quality conditions, and unprecedented flooding. Yet currently, almost all transit buses in the state run on diesel or other fossil fuels, adding hundreds of thousands of tons of greenhouse gas emissions into the atmosphere and exacerbating the climate crisis. With New York's transportation sector accounting for 28% of emissions statewide, electrifying transit buses is a critical step in addressing climate change in New York State. The urgent need to transition this sector is reflected in the state's historic Climate Scoping Plan, which calls for a fully zero-emissions public transportation fleet statewide.
Further, a recent analysis found that emissions from transit buses have the most severe public health impact on a ton-for-ton basis out of all vehicle sectors. These emissions enter deep into the lungs, aggravating asthma and increasing one's risk of lung cancer, miscarriages, heart attacks, and premature death. New York's bus fleet spews toxic exhaust into local communities and lungs across the nearly 200 million miles they traverse each year, causing local air pollution along their routes and near depots. Earlier this year, the Asthma and Allergy Foundation of America ranked six New York cities within its top 100 "asthma capitals" due to their high rates of asthma prevalence, emergency room visits and deaths. These cities include Poughkeepsie, Rochester, New York City, Albany, Syracuse and Buffalo, and the report calls out poor air quality as a key risk factor that contributes to these asthma outcomes. Health-harming air pollutants also compound existing air quality burdens, contributing to public health disparities in low-income communities and communities of color. Phasing out diesel buses would significantly reduce air pollution in New York state and mitigate these inequities.
Green Transit, Green Jobs also comes with several labor components that ensure the creation of good, family-sustaining jobs across the state. It proposes a contracting framework that rewards proposals that provide workers with high wages, good benefits, and the creation of paid apprenticeship programs , while also prioritizing hiring from disadvantaged communities. This letter echoes another recent letter signed by seven labor unions that support Green Transit, Green Jobs because of its protections for existing unionized transit workers and the opportunity it provides to create thousands of new good jobs in manufacturing zero emissions buses.
Advocates underscore the feasibility of enacting Green Transit, Green Jobs in the letter as well. A recent analysis found that for a typical transit agency, a modest procurement of zero-emission buses would yield substantial cost savings over the lifetime of the buses, paying back the upfront cost differential within a few years. Additionally, thanks to a significant infusion of federal funds on top of existing state funding support, transit authorities can overcome upfront costs right away, so there would be no delay in accruing cost savings. Based on information provided by Niagara Frontier Transportation Authority, each electric bus that replaces a diesel bus can save an agency roughly $20,000 in fuel costs. The bill also includes technical support and assistance to guide transit agencies to modernize their fleets — further positioning Green Transit, Green Jobs as a common-sense bill that benefits transit authorities, workers, and everyday New Yorkers.
"We're proud to be one of the over 50 organizations calling on the Governor to include Green Transit, Green Jobs in her upcoming budget" said Anshul Gupta, Policy & Research Director of New Yorkers for Clean Power. "The transportation sector is the second biggest source of greenhouse gas emissions in the state, contributing to 28% of New York's total emissions. Green Transit, Green Jobs is not only crucial legislation for New York to meet its climate goals, but a win-win bill that will provide good-paying jobs and alleviate environmental justice inequities along the way".
"Over 50 organizations have indicated that they stand with environmental justice and labor groups in demanding the Governor take action on electrifying our public transportation system," said Kevin Garcia, the Transportation Planner with the New York City Environmental Justice Alliance. "The transportation sector is the second largest contributor to emissions in New York. The fumes from bus depots sited in our neighborhoods, and diesel-operated transit buses traversing through our neighborhoods contribute to air pollution in our communities. By including the Green Transit, Green Jobs bill in next year's budget, Governor Hochul can  improve air quality, protect our communities, and help us reach our climate targets."
"New Yorkers deserve to breathe clean air no matter where they live or how they travel," said Jaqi Cohen, Director of Climate and Equity Policy at Tri-State Transportation Campaign. "Bus riders, who typically earn less than car owners, should not be forced to breathe in diesel fumes in order to commute each day. We call on Governor Hochul to make electrifying New York State's public buses a priority in next year's budget."
"We urge Governor Hochul to include the Green Transit, Green Jobs bill in the upcoming Executive Budget. This important bill serves as a major step toward making buses and paratransit vehicles greener, cleaner, and safer for riders, workers, and communities alike," said Suhali Méndez, Policy and Legislative Coordinator at New York Lawyers for the Public Interest. Having over fifty organizations supporting this action clearly demonstrates our collective commitment to environmental justice and labor groups. We also want to amplify the inclusivity for all New Yorkers, including people with disabilities who are all too often left out of discussions of the transition to zero-emissions fleets."
"To keep our climate mandates in reach it is critical that New York's next budget prioritize the rapid electrification of the transportation sector," said Alok Disa, Senior Research and Policy Analyst at Earthjustice. "The Green Transit Green Jobs bill is a no-regrets policy that will clean up the air for millions of New Yorkers while eliminating a major source of climate-heating emissions — and create good, family-sustaining clean energy jobs in the process — which is why we and 50+ other organizations are calling on Governor Hochul to include it in her upcoming Executive Budget."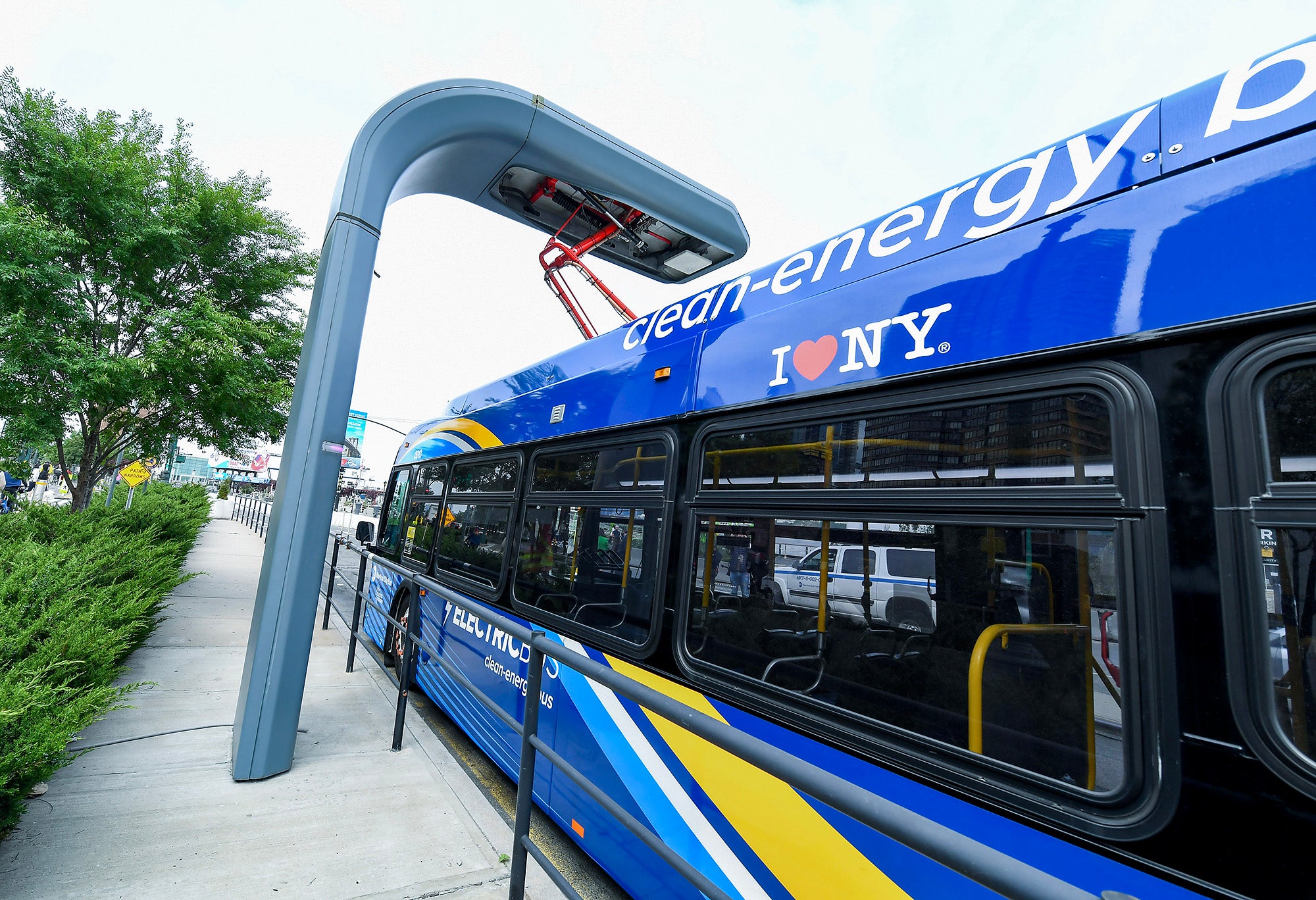 Earthjustice is the premier nonprofit environmental law organization. We wield the power of law and the strength of partnership to protect people's health, to preserve magnificent places and wildlife, to advance clean energy, and to combat climate change. We are here because the earth needs a good lawyer.