Biden Administration Working Group Recommendations Offer First Step to Protect Communities, Environment from Destructive Mining
Administration, Congress should strengthen regulations, reform outdated mining laws
Geoffrey Nolan, Earthjustice, gnolan@earthjustice.org, (202) 740-7030
Brendan McLaughlin, Earthworks, bmclaughlin@earthworksaction.org, (206) 892-8832
Allison Henderson, Center for Biological Diversity, ahenderson@biologicaldiversity.org, (970) 309-2008
Anne Hawke, NRDC, ahawke@nrdc.org, (202) 329-1463
Caitlyn Burford, National Parks Conservation Association, cburford@npca.org, (541) 371-6452
Washington, D.C.
—
The Biden administration's Interagency Working Group released recommendations today to update hardrock mining laws and regulations. Tribes and conservation groups welcomed this first step, but urged President Biden to use his authority to make additional improvements to protect communities, sacred places and water resources. The administration formed the working group in February 2022 as part of its efforts around "Securing a Made in America Supply Chain for Critical Minerals."
Although still being reviewed, the Interagency Working Group's recommendations include the need for Congress to update the 1872 mining law to address modern realities and create a leasing system for hardrock minerals. Additionally, the report offers recommendations to address historic inequities in hardrock mining practices. Key among DOI's proposals are royalties as a means to alleviate past negative impacts, such as cleaning up abandoned mines, as well as to address present needs, such as technical assistance grants for Tribes and communities. After generations of inadequate consultation with Indigenous communities and other mining-impacted areas, the recommendations call for specific mechanisms to frontload and strengthen Tribal and community engagement before a project begins. 
While the administration's support for modernizing the mining law is appreciated and a necessary end goal, short term regulatory changes are critical for protecting the communities and places facing immediate impacts from hardrock mining. The recommendations made in the report should serve as a base to immediately begin the process of updating mining rules at the Bureau of Land Management and Forest Service.
The law that governs mining operations on federal lands has remained virtually unchanged since it was passed in 1872. This law has no environmental or community protections, does not require consultation with or consent from affected communities, and overwhelmingly privileges multinational mining corporations over frontline communities. 
Modern hardrock mines continue to cause significant harm to public lands and resources, including polluting surface and groundwater, depleting springs and aquifers, contaminating land and air, harming  fisheries, displacing wildlife and destroying sacred sites.
In September 2021, dozens of Tribes, Indigenous groups and conservation groups petitioned the U.S. Interior Department to improve and modernize hardrock mining regulations and oversight on federal public lands. The groups pushed the agency to update regulations to ensure the protection of sacred and cultural sites, wild places and water. Today's recommendations respond, in part, to that petition. 
While administrative changes to the mining law's implementation can take meaningful steps to safeguard clean water and cultural resources against irresponsible mining, more safeguards are needed. The Interior Department and Forest Service must move swiftly to adopt the report's other recommendations through formal rulemaking. Deeper reforms to ensure our mining laws safeguard water and communities–as the Interior Department recognizes in today's report–rests with Congress. 
"The Havasupai Tribe has fought for decades to protect our beautiful water and traditional cultural lands from the harmful effects of mining, one of the greatest threats to our survival as a people," said Havasupai Tribe Chairman Thomas Siyuja Sr. "We respectfully ask that you place the full weight of your Administration in support of these recommendations. We know you have prioritized tribal issues, including protecting tribal lands. With heart, blood, sweat, tears, and spiritual energy, generations of Havasupai Tribal leaders, elders, and members have fought to protect our cultural sites, landmarks, and the traditional significance of the Havasupai's connection to land, water, air, earth, and spirit.  We will never stand idle as our land and water are destroyed."
"The communities within the Norton Bay Watershed are completely dependent on healthy rivers and streams for subsistence uses," said Doug Katchatag, President of the Norton Bay Watershed Council. "It is not acceptable to destroy these resources because the mining industry has decided that it can now fuel profits with so-called 'critical minerals."
"It's deeply disappointing that the Biden administration didn't seriously consider our petition for rulemaking," said Kathy Bancroft, Tribal Historic Preservation Officer for the Lone Pine Paiute-Shoshone Tribe. "For too long our tribal cultural resources have been threatened by mineral exploration, and consultation remains inadequate. To uphold Indigenous sovereignty, I once again urge the Biden administration to revise the outdated mining regulations."
"The clean energy transition cannot occur on the backs of Indigenous people," said Tohono O'odham Nation Chairman Verlon Jose. "As the Biden Administration supports the expansion of domestic mining, it is imperative that these modest reforms are implemented immediately and that Indigenous voices have a full seat at the table."
"As we look to build out the clean energy infrastructure of the future, we must ensure we're sourcing our minerals in the most ethical and sustainable way possible," said Earthjustice Senior Legislative Representative Blaine Miller-McFeeley. "These recommendations show that both Congress and the Biden Administration have a responsibility to update our mining laws and regulations to meet this moment and ensure that communities have a seat at the table when mining projects impact their lands and natural resources. Our leaders must make it clear that our clean energy future should not be built on a foundation of dirty mining that sacrifices communities, water resources, and sacred places." 
"As we transition to clean energy, we must avoid repeating the injustices of fossil fuel extraction," said Earthworks Policy Director Lauren Pagel. "It is imperative that the White House use its existing authority to strengthen mining permitting rules and give communities–particularly Indigenous communities–a proper say in what happens to their land and water. While a legislative overhaul would be the best way to reform the 1872 Mining Law, we cannot afford to wait for more Congressional inaction."
"These modest reforms are a good first step, but they're not enough to safeguard our water and communities," said Allison Henderson, Southern Rockies director at the Center for Biological Diversity.  "We can't repeat the grave mistakes of the past in our urgency to ramp up renewable energy to address the climate emergency. The Biden administration should use its full authority to update these antiquated mining laws, prevent more mining industry devastation and preserve a livable planet for future generations."
"A just and clean energy transition isn't possible if the mining industry and its destructive practices carry on business as usual. Since even before the 1872 Mining Law, Tribal nations, Black, Brown, rural and frontline communities have fought for their health and future in the face of insufficient environmental protections and no requirements for mining companies to pay to clean up their pollution after they leave town," said Kiara Tringali, senior government relations representative at The Wilderness Society. "We need a renewable energy transition and it cannot be an excuse to perpetuate injustices and corporate favoritism. We are encouraged by the recommendations in the Interagency Working Group on Mining Reform's report, and look forward to working with the administration and Congress to ensure that the minerals we need are extracted responsibly with careful consideration for the wellbeing of our communities, health, water and cultural sites."
"Irresponsible mining is one of the biggest threats to Western lands. The mines of the 20th century polluted waterways, poisoned communities, and left scars all over the West. We can have clean energy and healthy Western lands and communities, but only if we update our mining laws and regulations for the 21st century," said Center for Western Priorities Policy Director Rachael Hamby. "Today's recommendations from the interagency working group are a step in the right direction. We are grateful to the Biden administration for convening this working group and urge the administration to act on these recommendations immediately through a formal rulemaking process. We cannot allow the mining industry to use the clean energy transition as an excuse to continue harming Western communities and landscapes." 
"For decades communities across the West—especially Indigenous communities on the front lines of historic mining operations—have been waiting for measures to protect their cultural and natural resources from the historic burdens of mining," said Josh Axelrod, Senior Policy Advocate at NRDC (Natural Resources Defense Council). "This report lays the foundation for better guardrails and reforms to protect communities in the face of the coming energy and economic transitions that may include increased domestic mining."
"As our country strives to solve the climate crisis, the administration's recommendations for modernizing and reforming our nation's antiquated hardrock mining laws is a necessary and critical step," said Charlie Olsen, Climate Policy Manager for the National Parks Conservation Association (NPCA). "From Alaska's Brooks Range to Florida's Everglades, mining proposals near national parks continue to threaten drinking water, clean air, and fragile wildlife habitat, not to mention surrounding communities. The Biden administration's recommendations provide a path to transition our country towards clean energy in a way that prioritizes healthy communities and ensures that our most special places aren't sacrificed in the process. Now, Congress must meet this plan with action and move our country towards a safe, equitable and responsible energy development future."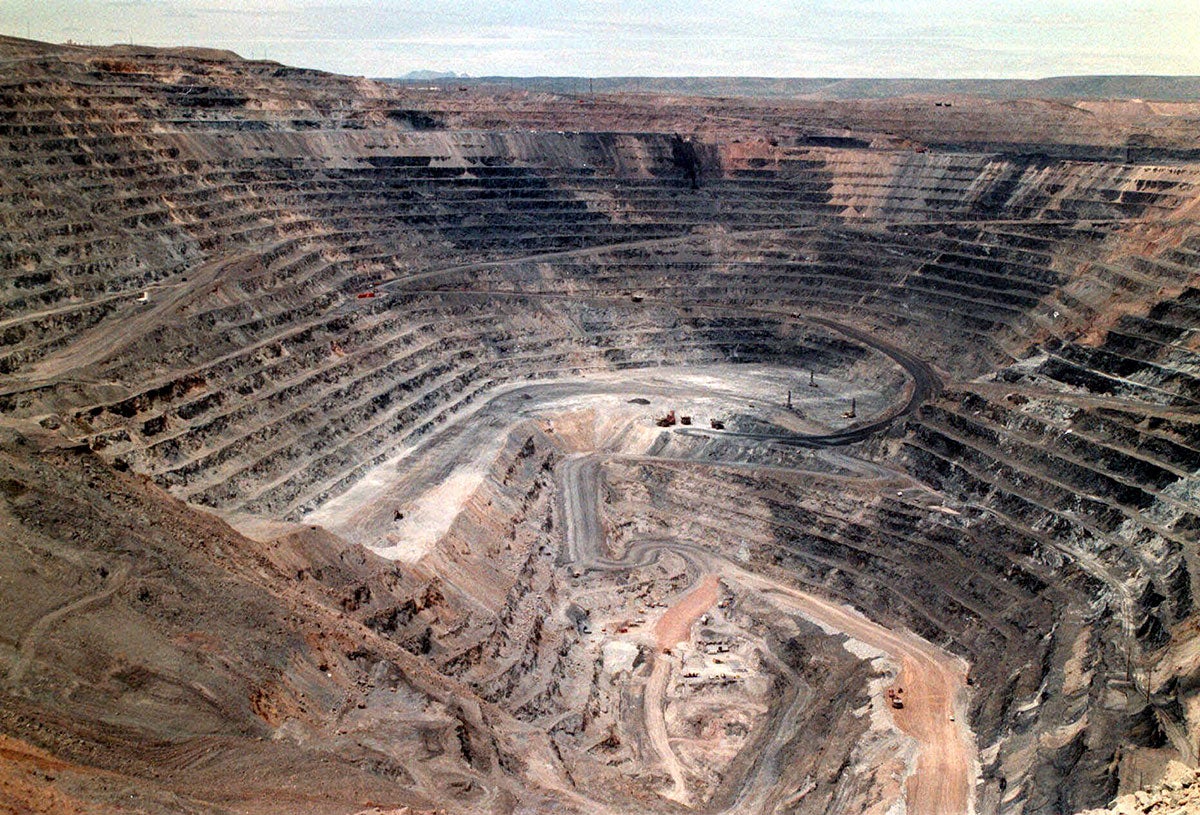 Earthjustice is the premier nonprofit environmental law organization. We wield the power of law and the strength of partnership to protect people's health, to preserve magnificent places and wildlife, to advance clean energy, and to combat climate change. We are here because the earth needs a good lawyer.