Environmental Groups React to New BLM Rules for Oil and Gas Leasing on Federal Lands
Bureau of Land Management revisits oil and gas leasing system for first time in decades
Washington, D.C.
—
The Bureau of Land Management (BLM) today proposed a set of long-overdue reforms concerning oil and gas leasing on federal lands. The proposed reforms would apply to hundreds of millions of acres of lands owned by all who live in the U.S. and managed by BLM, an agency housed within the Department of the Interior. Fully 90% of the 245 million acres of federal land under BLM authority are currently designated as open to oil and gas leasing and development, with more than 26 million acres under lease as of 2021.
Despite the fact that public lands are supposed to be managed to benefit all of us, the reality is that federal land management policies are riddled with de facto subsidies for fossil fuel companies. Today's proposed rule marks the first time in decades that BLM has revisited how it handles industry efforts to obtain oil and gas leases on federal lands.
The current system lets oil and gas CEOs reap record profits while offloading the costs of pollution and ecosystem destruction from their operations onto communities. Under the status quo, the annual rate for a fossil-fuel company to lease an acre of public land is merely $3. Although royalty rates increased slightly last year, oil-and-gas industry profits soared in the same timeframe. The five largest oil companies reported combined profits of $196.3 billion in 2022, reflecting a massive upswing and more than the economic output of most countries.
Nevertheless, bonding rates and rules haven't been updated in 60 years and are insufficient to cover the costs to clean up spills and abandoned wells. Leaving these drilling sites unplugged leaks toxins into groundwater and the air and can emit large amounts of methane — a heat-trapping gas far more intensive than carbon-dioxide — into the atmosphere. New bonding proposals in today's rule will better protect taxpayers from footing the bill of clean-up and restoration costs when oil and gas companies leave hazardous messes behind.
The regulations cover a range of issues such as rents, fees, bonding and royalties, proposed reforms that reflect an important step forward and will help improve management of public lands oil and gas operations.
Environmental groups issued the following comments in reaction to the proposed rule:
"We all want a fair chance to live full, healthy lives, but the impacts of air and water pollution, and climate change, threaten public lands' ability to help us do that." said Jamie Williams, president of The Wilderness Society. "For far too long, federal public land policies have prioritized fossil fuel companies' profits at the expense of communities' wellbeing and public lands themselves. The proposed Oil and Gas Rule is an important step towards the BLM taking a more holistic conservation, climate, and community-centric approach to managing public lands."
"The Biden administration is recognizing that over a century of business as usual by the oil and gas industry is incompatible with a world being ravaged by climate change, a crisis induced primarily by the industry itself," said Josh Axelrod, senior policy advocate with the NRDC (Natural Resources Defense Council). "These changes were badly needed — to put it mildly — and will help make onshore leasing more fair to taxpayers and hold industry accountable for its harms. The agency is aiming to limit leasing to areas with existing development and the most viable resources, and is clarifying how it will implement fiscal reforms in the Biden administration's historic climate law. But we can't continue to lease our public lands for fossil fuels while facing climate and biodiversity emergencies — and what is truly key moving forward is for the agency to forge an approach for measuring and mitigating the program's impact on climate."
"We're encouraged to see the Bureau of Land Management introduce long-overdue reforms," said Earthjustice attorney Mike Freeman. "Our public lands provide critical wildlife habitat, essential grounds for hunting and fishing, and clean, fresh drinking water. Instead of being sacrificed to boost oil companies' profits, our public lands can and should be managed to benefit the public. By seeking comments on greenhouse gas considerations, BLM also is taking a valuable step toward bringing federal oil and gas development into alignment with our national climate commitments."
"Big Oil has benefited from handouts and de facto government subsidies for decades. Look where it's left the American people: high energy costs, a volatile power market, scarred public lands, and a climate catastrophe," said Evergreen Action Policy Lead Mattea Mrkusic. "BLM's draft rule proposes long-overdue fiscal reforms to the federal onshore oil and gas program. These common-sense changes will help hold polluters accountable for cleaning up their messes. Increasing minimum bonding requirements will aid remediation efforts on public lands devastated by Big Oil. The rule also implements changes to royalty rates from the Inflation Reduction Act and steers development away from important wildlife habitats and cultural sites. But fiscal reforms alone won't solve the problem. Looking ahead, BLM must tackle the climate impacts of our out-of-control federal oil and gas program head–on and support communities most affected by ongoing fossil fuel extraction. In addition to making polluters pay with these fiscal reforms, it's time for the Biden administration to align our federal fossil fuel program with America's transition to a clean energy economy. BLM's request for comment on greenhouse gas considerations is an encouraging first step and we look forward to working with them to fully implement that effort."
BLM also took an important step toward preventing the harmful impacts of climate change on public lands caused by oil and gas development. While the proposed rule does not specifically address climate change, BLM invited members of the public to provide input on how climate considerations should be addressed in oil and gas leasing decisions.
In May and June, environmental groups organized under the Climate Action on Public Lands Campaign made a significant investment into a targeted digital ad campaign to call on the Biden administration to align its decisions about fossil-fuel development on federal lands with national commitments to slash greenhouse gas emissions. A coalition of conservation and environmental justice focused organizations reiterated this plea in a June letter to the BLM. Under the status quo, oil-and-gas leases and permits are essentially issued in a vacuum, without limits designed to ensure these decisions are consistent with broader climate goals.
Climate-related events such as extreme heat waves and large-scale wildfires are on the rise, destabilizing impacted communities with tragic outcomes as well as economic harm and ecological degradation. The U.S. ranks as the second-largest emitter of climate pollution on the planet, and the Biden administration has the authority now to significantly reduce greenhouse gas emissions by addressing fossil-fuel development on federal lands. Climate scientists have repeatedly warned that the only path away from the worsening climate crisis is to end the extraction and burning of fossil fuels.
Public lands play an important role in supporting healthy and vibrant communities and ecosystems. But climate impacts caused by drilling for and burning oil and gas threaten these cherished spaces: extreme drought, wildfire, heat, flooding, and species loss already harm public lands. If we want to protect these lands and their values for current and future generations, we must stop letting them fuel climate change in the first place.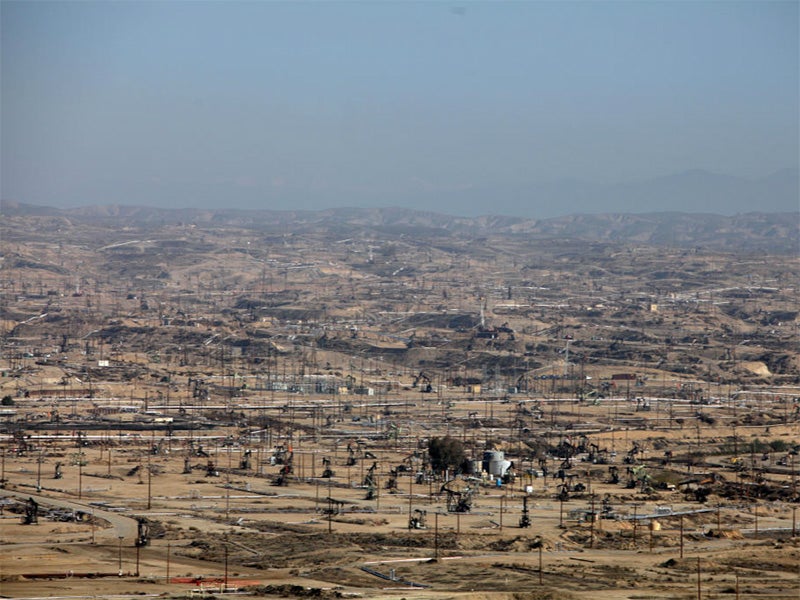 Earthjustice is the premier nonprofit environmental law organization. We wield the power of law and the strength of partnership to protect people's health, to preserve magnificent places and wildlife, to advance clean energy, and to combat climate change. We are here because the earth needs a good lawyer.