Report: An Estimated One in Five New Yorkers May Be Drinking Water from Lead Service Lines
Staggering borough and neighborhood lead line data show urgency to act
New York, NY
—
According to a new report, No Excuses, NYC: Replace Lead Drinking Water Pipes Now, an estimated one in five New Yorkers, or 21% of the City's residents, may be drinking water transported through lead service lines. The report also explains how the federal Lead and Copper Rule is not enough to protect from lead exposure; outlines the extent of the problem of lead service lines in New York City (NYC), including borough and neighborhood-wide data; identifies funding sources to pay for lead service line replacement; and examines Newark, New Jersey, as a case study for lead service line replacement.
The report used NYC Department of Environmental Protection, consumer, and voter database data to determine that in New York City:
Up to 41% of water service lines are lead or possible lead service lines,
As many as 902,974 households have lead or possible lead service lines,
As many as 1,845,119 individuals, or 21% of the city's population, live in a household with lead or possible lead service lines,
Compared to the citywide lead/possible lead service line average of 41%, two boroughs are below the average (Staten Island at 39% and Queens at 40%), while three are at or above the average (Brooklyn at 46%, Manhattan at 44%, and the Bronx at 42%),
And the Port Richmond neighborhood in Staten Island has the highest lead/possible lead service lines (60.67%) in the entire city, while Fresh Meadows in Queens has the lowest rate (20.56%).
"Generations of children have not and will not achieve their full potential because they have been poisoned with lead, especially in communities of color and low-income communities. New York City has the opportunity right now to take major steps to ensure safe water for all by using federal, state, and local funding. This is a crisis that so severely affects our children and communities that we need real solutions, not excuses," said Joan Leary Matthews, senior attorney for NRDC's (Natural Resources Defense Council) Safe Water Initiative. "As the nation's most populous city, New York must act to protect its residents from lead exposure by embracing the same political will seen in Newark, New Jersey's transformation."
"New York City's drinking water supply is the envy of many other cities. Yet, for all of the money we have invested to protect our watershed, our return on investment is greatly diminished with each lead service line that remains in the ground," said Joshua Klainberg, senior vice president for the New York League of Conservation Voters Education Fund. "The findings of this report leave no room for doubt. Our elected leaders must put New York City on a path to replacing all lead service lines quickly, efficiently, equitably, and transparently. We cannot afford excuses — we expect solutions."
"Lead is a poisonous heavy metal and decades of studies make clear: exposure to any level of lead presents the risk of harm. In 1986, Congress banned installation of lead pipes for water delivery, yet, over 35 years later, lead pipes are still delivering water to our homes. The Environmental Protection Agency has estimated that there are at least 494,000 lead service lines in New York, making it one of the top six states with the most lead service lines. The good news is that federal and state funding is available for cities to replace lead pipelines, as the report details. Cities like Newark, NJ have demonstrated that complete replacement of lead pipelines is possible and proving to be successful in reducing toxic lead exposure," said Marissa Lieberman-Klein, associate attorney at Earthjustice. "We urge NYC lawmakers to take action and help prevent toxic lead exposure, especially for our children who can be irreparably harmed by lead in their drinking water."
"New York has a massive amount of lead service lines, ranking it as one of the top six states in the nation. Having a lead service line increases the likelihood of lead exposure through water," said Brandon Kielbasa, Director of Organizing at the Cooper Square Committee. "It is well understood that there is no safe level of lead exposure for children, so these lead service lines are especially concerning for children. However, we need to start acknowledging that even low-grade, chronic exposure to lead can affect the health of adults as well. NYC lawmakers have the power to take action and help prevent lead exposure through our service lines and we are calling on them to do so now. Let's not wait to take action on this important issue."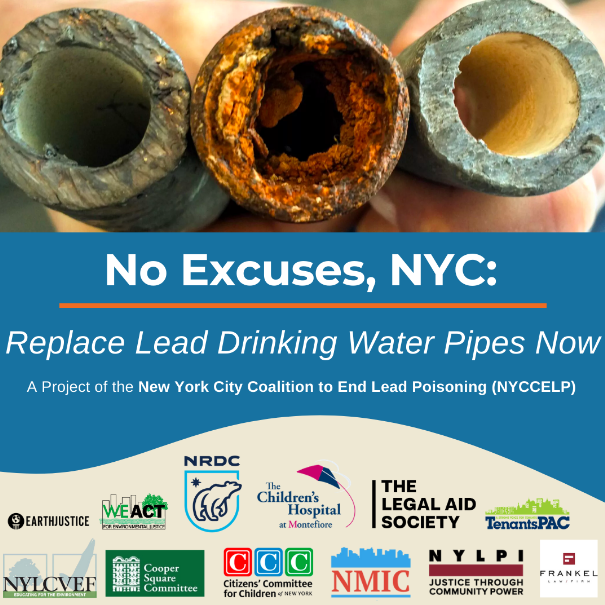 Earthjustice is the premier nonprofit environmental law organization. We wield the power of law and the strength of partnership to protect people's health, to preserve magnificent places and wildlife, to advance clean energy, and to combat climate change. We are here because the earth needs a good lawyer.