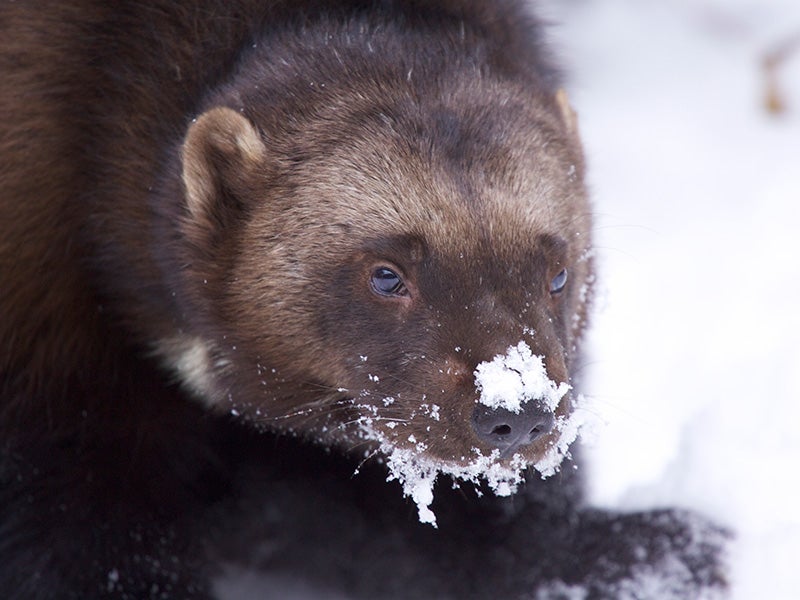 Visceral Image / iStockphoto
What's at Stake
The wolverine is among the rarest mammals in the lower-48 states and faces severe threats from habitat fragmentation and disturbance, trapping, and climate change.
Case Overview
Once widespread across the northern states, wolverine populations today remain only in isolated patches of alpine habitat in Montana, Wyoming, Idaho, and Washington. This largest terrestrial member of the weasel family is generally intolerant of human disturbance in its habitat. Its presence in an area signifies untrammeled, uncompromised wilderness. As a snow-dependent species, the wolverine is especially vulnerable to warming conditions brought on by climate change. The best data available suggests there are fewer than 300 animals across the entire western U.S., with only 35 individuals—just a tenth of the population—successfully breeding.
For more than a decade, Earthjustice has persistently fought to win new legal protections for the wolverine.
In October 2006, a federal judge agreed with us that the FWS wrongly rejected scientific information regarding the wolverine that "shows a dramatic loss in range, the tangible decrease in population with the commensurate threat of genetic isolation of subpopulations, and the threat posed by human encroachment on wolverines."
In July 2011, the Fish and Wildlife Service announced that it will determine whether wolverines deserve full protection of the Endangered Species Act by 2013.
In February 2013, the Service announced its proposal to list the wolverine in the lower-48 states as a threatened species under the federal Endangered Species Act. If finalized, the move will focus new resources on wolverine recovery and take steps to help the species survive the impacts of climate change. The proposal resulted from more than a decade of consistent pressure from several conservation groups, including three separate legal actions taken to secure an ESA listing.
Stay Connected For Updates
Join our community of 1 million supporters and receive urgent action alerts.