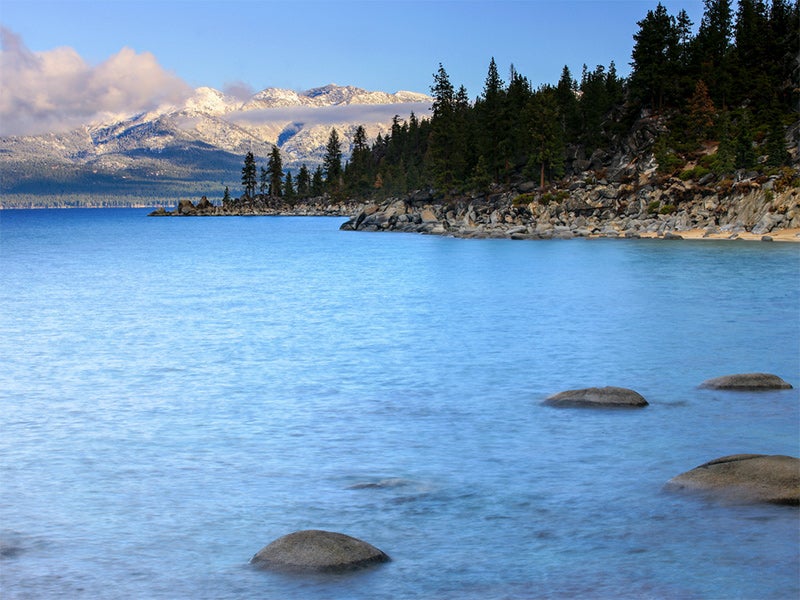 Photo courtesy of Beau Rogers
Case Overview
Situated between Nevada and California, near the crest of the Sierra Mountains, Lake Tahoe is one of the deepest and clearest lakes in the world, and only one of two EPA-designated "Outstanding National Resources Waters" in the western United States. Due to increasing human activities and urban development around the lake, however, its famed clarity, which once measured 100 feet deep, has declined 30% since 1968. Further, 75% of the region's environmental standards, including water quality and air quality standards, have not been achieved. The Tahoe Regional Planning Agency's new plan to allow the construction of 138 piers and the placement of several thousand buoys in Lake Tahoe's shorezone would only cause more harm to the Lake's fragile environment. These additional shorezone structures would impede the public's recreational access to the shorezone, degrade the lake's natural scenic beauty, and result in over 62,000 additional motorized boat trips on the lake per year, leading to more pollution of the lake's waters and further declines in lake clarity.
This lawsuit challenges TRPA's plan to dramatically increase shorezone development, in violation of the agency's mandate to protect and restore Lake Tahoe's natural beauty and health.
The agency also failed to perform adequate environmental studies of the new development, and relied on an unformulated and undefined "Blue Boating Program" to offset the increased pollution. Without further specifics, however, the Blue Boating Program cannot assure that the lake's clarity will not suffer further damage and that environmental standards will be met. This lawsuit seeks to stop additional shorezone development until TRPA can show that its plan will achieve the region's standards.
In September of 2009, a federal district court judge issued an injunction halting construction of new piers, boat ramps and other boat facilities, and placement of new buoys along the Lake Tahoe shoreline, pending resolution of the lawsuit.
Earthjustice is suing on behalf of conservationists.