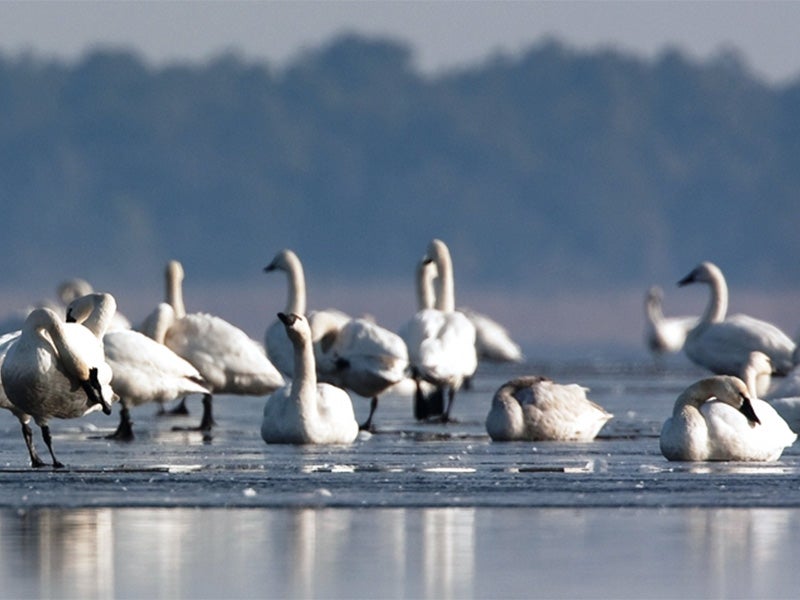 Case Overview
Rose Acre's Hyde County facility, the largest industrial egg farm in North Carolina, includes twelve high-rise henhouses equipped with giant ventilation fans. The henhouses currently hold nearly 4 million egg-laying hens. These millions of hens generate an enormous amount of urine and fecal matter. Bedding material soiled by the dropped excrement, and excrement-associated pollutants, including fecal bacteria, ammonia, nitrogen and phosphorous, are then released through the ventilation fans.
The fecal matter, feathers, dust, ammonia and other pollutants blown out of the chicken houses enter the surrounding areas and the Pocosin Lakes National Wildlife Refuge, which is less than one and a quarter miles from the RAF facility. The pollution from the facility degrades the water quality for the 300 wildlife species living in the wildlife refuge, diminishing this very special habitat that is enjoyed by local residents and thousands of visitors each year.
Rose Acre's experts acknowledge that the facility deposits up to 73 tons of nitrogen each year into the surrounding areas, including the Pocosin Lakes National Wildlife Refuge. Other reports confirm that significant amounts of pollution from the Rose Acre facility are deposited into the surrounding areas, including into surface waters. North Carolina's Division of Water Quality, for instance, found that ammonia, nitrogen, total inorganic nitrogen, total phosphorus, and fecal coliform concentrations in the surrounding waterways had increased significantly since Rose Acre began operations in 2004. The U.S. Fish and Wildlife Service also found that Rose Acre releases large amounts of ammonia onto the wildlife refuge and surrounding areas.
In November of 2011, Earthjustice and Lynch & Eatman represented several North Carolina conservation groups in a motion to intervene with the North Carolina Environmental Management Commission, defending the State of North Carolina's issuance of a Clean Water Act permit for concentrated animal feeding operator Rose Acre Farms. A Superior Court in Hyde County, NC ruled in January of 2013 that the state has authority to require Rose Acre to be regulated under the federal Clean Water Act because of pollutants released from ventilation fans in the henhouses. Rose Acre Farms had argued that the Clean Water Act does not apply to pollution from its ventilation fans.
Hanging in the balance in Rose Acre Farm's legal wrangling is the adjacent wildlife refuge and the entire Tar-Pamlico River system, which is the lifeblood of the people and communities who live within its watershed and the base for the economic health of the region. The issuance of a Clean Water Act permit for Rose Acre would allow the factory farm to continue its business, but would help protect the surrounding waterways and nearby Pocosin Lakes National Wildlife Refuge from the harmful ammonia emissions emanating from the facility.
Earthjustice and Lynch & Eatman, LLP represent Pamlico-Tar River Foundation, Waterkeeper Alliance, Inc. and Friends of Pocosin Lakes National Wildlife Refuge.
Stay Connected For Updates
Join our community of 1 million supporters and receive urgent action alerts.