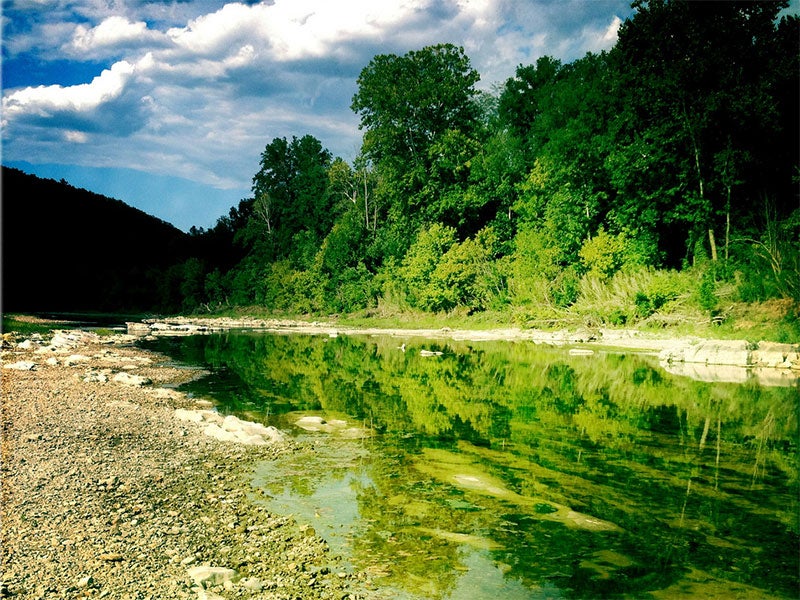 Photo courtesy of Seth Anderson.
Case Overview
A coalition of conservation and citizen groups, represented by Earthjustice, are challenging the U.S. Department of Agriculture Farm Service Agency and the U.S. Small Business Administration for their inadequate review and improper authorization of loan guarantee assistance to C&H Hog Farms, a 6,500-pig factory farm located on a major tributary of the Buffalo National River, a national park site and the country's first national river. The facility, C&H Hog Farms, is under contract with Cargill, an international producer and marketer of agricultural products.
Designated in 1972 by President Richard Nixon as America's first national river, the Buffalo National River travels freely for 135 miles and is one of the few remaining undammed rivers in the lower 48 states. The river watershed is home to over 300 species of fish, insects, freshwater mussels, and aquatic plants, including the endangered snuffbox mussel, the endangered Gray bat, and the endangered Indiana bat. A popular camping, canoeing, and fishing destination, the Buffalo National River attracts more than one million visitors a year.
C&H Hog Farms received a loan, 90 percent of it guaranteed by the FSA, for the purchase of 23.43 acres of land in Mount Judea, Arkansas, and for construction of two barns. The barns would house an estimated 6,500 pigs, making it by far the largest of six existing swine farms in the Buffalo River Watershed. Plans are to spread the estimated two million gallons of waste produced by the C&H facility on seventeen fields totaling 630 acres. Eleven fields are adjacent to Big Creek, a large tributary of the Buffalo National River.
The C&H facility's loan and guarantee were issued in the summer and fall of 2012. Because of a failure to notify local residents, however, the community in and around Mount Judea did not find out about the facility's construction until this year. The lack of adequate public notice is just one of a number of egregious failures on the part of the state and federal government to ensure that this facility will not have detrimental impacts on the exceptional natural resources of the Buffalo River watershed.
Earthjustice, Earthrise Law Center, and local attorney Hank Bates are representing the Arkansas Canoe Club, Buffalo River Watershed Alliance, National Parks Conservation Association, and The Ozark Society in filing this complaint against the USDA and SBA.
Stay Connected For Updates
Join our community of 1 million supporters and receive urgent action alerts.