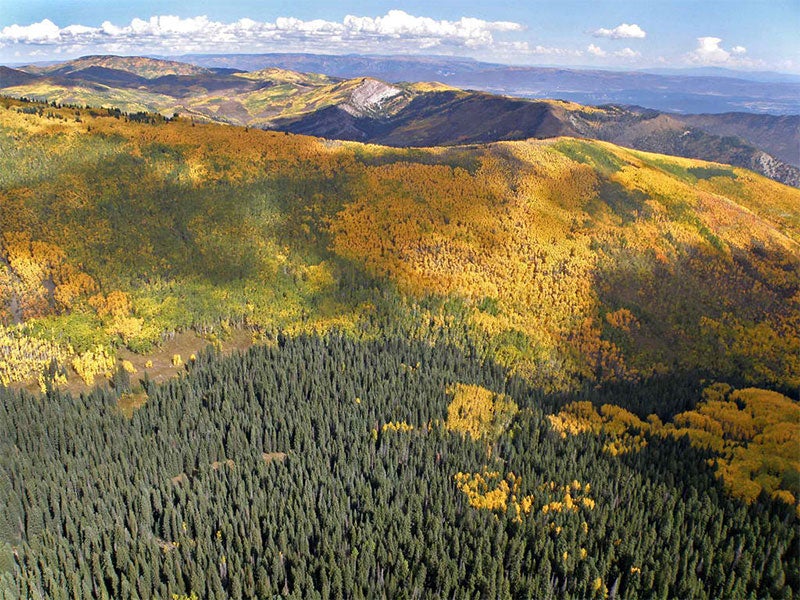 Photo courtesy of Ecoflight
Case Overview
Earthjustice, representing Wilderness Workshop, has filed an administrative appeal seeking reversal of the April 9, 2013, Colorado Bureau of Land Management (BLM) decision that extended the lives of 25 oil and gas leases set to expire in 2013. These leases, which BLM admits were illegally sold and which have sat unused for ten years, are located in the heart of the Thompson Divide, a prized refuge of public lands in the White River National Forest.
The Thompson Divide covers more than 200,000 acres near Carbondale, Colorado, and includes no fewer than nine different roadless areas. The Divide consists primarily of mid-elevation forest lands that provide important habitat for a variety of wildlife and threatened plant species. The Divide is also an important local economic driver that supports outfitters and recreation companies, and is used for livestock grazing by ranchers.
During the Bush administration, however, BLM issued a series of oil and gas leases blanketing the Thompson Divide. Included in those sales were the 25 leases at issue in today's appeal. Those 25 leases cover much of the Divide, including extensive portions of designated roadless areas. If these leases were drilled, the chemical spills, air and water pollution and industrialization from oil and gas development that have scarred much of western Colorado over the last decade would spread into the heart of the Divide.
The administrative appeal filed challenges BLM's decision to extend the life of the leases—and the likelihood that they will be drilled. The 25 leases were issued in 2003 and fortunately sat undeveloped for their entire ten-year life. As a result, the leases are due to expire in 2013 according to their own terms.
Earlier in 2013, however, the two companies holding the leases asked BLM to extend the lives of the leases by suspending them. Suspension stops the 10-year clock, artificially extending the period that the companies may hold the leases.
Thousands of citizens and local governments fiercely opposed the energy companies' request and asked BLM to let the leases expire. Doing so would simply hold the companies to the terms they agreed to when they purchased the leases. Instead, BLM on April 9, 2013, granted the suspension requests. In suspending the leases, BLM failed to follow federal law or its own rules governing lease suspensions.
When considering the suspension request, BLM found that the leases were sold in violation of the National Environmental Policy Act. Moreover, while most of the leases lie in Forest Service roadless areas, they lack any express stipulations protecting these pristine lands.
Allowing the leases to expire would have corrected the errors the agency made when issuing them in 2003. Instead, by extending the leases until April 2014, BLM has decided to keep the leases alive—and extend the threat of drilling—for another year. Wilderness Workshop is now asking the BLM Colorado State Director to overturn the suspensions so that the leases will expire.